Carl Frampton believes he can improve on his winning performance against Leo Santa Cruz in their "dream" WBA featherweight title rematch in Las Vegas on January 28.
'The 'Jackal' moved up from super-bantamweight to inflict the Mexican's first defeat in 34 professional fights in Brooklyn in July.
That bruising majority-decision victory (116-112, 117-111, 114-114) secured the belt that manager Barry McGuigan had held 30 years previously and meant that Frampton became just the second Irish boxer, after Steve Collins, to win world titles at two different weights.
The 28-year-old is determined to hold on to that crown and preserve his own unbeaten record (23-0-0) ahead of a planned home-town bout in Belfast next summer.
"It's going to be a good night. It's going to be one I'll never forget," he told RTÉ Sport. "It's a dream come true to be topping the bill in Vegas.
"Our styles gel well together. We could fight 100 times and it would always be a good fight."
"But it's important for me to get the win and I'm determined to do whatever it takes to do that.
"No matter who I fight, I always get better the second time. I feel like I have a good boxing brain and can adapt and understand their style.
"The only person I've fought twice as a professional is Kiko Martinez and I was much more comfortable the second fight."
Carl Frampton to defend title in Las Vegas https://t.co/N4x2rbTpPN

— RTÉ Sport (@RTEsport) November 29, 2016
Frampton is expecting a backlash from Santa Cruz but believes the right combination of training, tactics and heart will be enough to repeat the trick.
"He's a great fighter. I gave him his first loss and he'll be looking to get revenge but I'm training very hard," he said.
"I've already started sparring and I'm in good shape for being so far from the fight.
"If I use my brain a little more in this one and don't get dragged into a fight I can win more convincingly.
"But there will be times when I'll just have to bite down on the gumshield and fight like you know what. That's what I'm prepared to do."
The respect the opponents hold each other in was also clear in the words of Santa Cruz, himself a three-weight champion.
"Carl Frampton's a great fighter, a great champion and a great person," he said.
"Anything could happen in the fight but I'm confident in my training and what I'm going to do.
"I'm going to work really hard, try to do my best in the gym and hopefully that pays off in the fight and we get the win."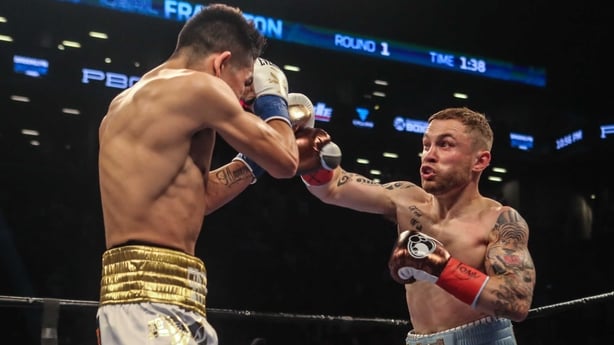 Controversy has erupted this week over Frampton's omission from the BBC'S Sports Personality of the Year shortlist of 16 athletes, with McGuigan - who won the award in 1985 - suggesting it was a snub to the sport.
"It looks - I hope it's not - but it looks anti-professional boxing," he told the BBC.
"Frampton has been monumental this year and they've just disregarded that and it's shocking and upsetting for me as a former winner.
"He went out to America, he beat a three-weight division world champion - an unbeaten three-weight world champion - in his own country. He unified the title in February at super bantamweight.
"I'm just so gutted for Carl Frampton, he may never have another year like this. To not even be ranked, we feel is below the belt."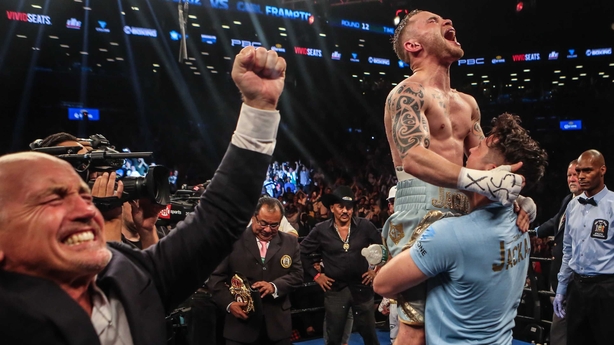 Frampton added that while he wouldn't have expected to win the prize, it was a surprise not to feature in the shortlist, which he suggested smacked of regional bias.
"I feel like there's people on that list that I deserved to be on, in front of," he said "Andy Murray's going to run away with it, he's going to win it and deservedly so, but I still feel out of the 16 I would like to have got in."
"What it looks to me is maybe anti-boxing and maybe anti-Northern Ireland, who knows. I'm not going to cry about it, I'll get on with my career."