It was a very different primetime showdown. But the sentiment? The sentiment is worth recalling.
"I'm from Brooklyn. In Brooklyn if you say 'I'm dangerous', you'd better be dangerous."
The words were Larry King's as he tore into Piers Morgan, his successor on one of the most vaunted news television slots in America.
Tonight in that very New York borough, Carl Frampton gets to show Brooklyn just how dangerous he is.
The former Belfast bantamweight leaves that division behind at the Barclays Center and steps on up to featherweight for a primetime showdown of his own - potentially the most seminal of his fighting life.
Leo Santa Cruz, the three-weight world champion, and reigning WBA super featherweight titan meets Frampton in the ring for a bout that has boxing buzzing Stateside.
The undefeated champion is that peculiar commodity, a star on the west coast of the country who has yet to really grab the east in the same way.
The challenger has equally never been beaten in his life and comes into this one having unified his own division with a dominant victory over Scott Quigg earlier in the year.
So it is New York where these two champions have convened. They meet in their absolute prime with so much on the line.
For his part, Frampton, was taking it all in his stride on Friday as he stepped aboard the scales and smiled out at the assembled crowd, including a green and white swell from home.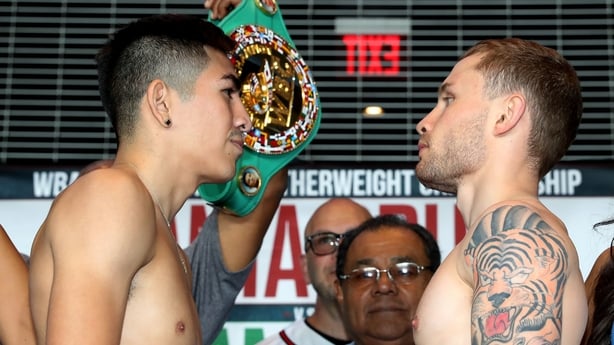 "I'm a natural featherweight," said the 29-year-old after stepping on the scales at 125.25lbs, his heaviest ever weight as a pro.
"This is the easiest I've made the weight in five or six years. It's the best I've ever felt.
"I wanted a big name. I want to prove myself. I know I can deal with these guys. Whatever it takes to win, I'm gonna do. I'm coming home with that title."
Styles make fights might just be the most worn-out three words in the sporting lexicon. But this time no one could argue with you rolling them out.
A bout that has all the makings of a high-summer classic, Santa Cruz and Frampton will likely size each other up for a while and then get down to what they're best at.
"This is the easiest I've made the weight in five or six years. It's the best I've ever felt.
For the 27-year-old Mexican-Californian that means output - on a frenzied, near pneumatic scale.
Santa Cruz throws his fists like they're on fire, reeling off punches that blur the vision. He has the stamina to rarely let that up. On top of which, he has shown he has a solid chin too - never more so than in last year's rip-roarer with Abner Mares.
Frampton didn't get here by bluffing though. He's a devastating counter-puncher and his footwork can be truly bewitching to watch up close.
"He'll have to adapt. It's different because Santa Cruz is committed," said Frampton's manager and spiritual leader Barry McGuigan.
"I don't want to talk bad about Scott Quigg but Scott can be afraid to commit. Santa Cruz will come and get Carl.
"It might start off tepid but it will build up and become exciting quickly. He'll be down the barrel with Santa Cruz all the time, he throws on average 150 punches a round. The mesh of styles makes for a fantastic fight."
Frampton is competing for plenty here - there's riches on the line. History too.
He can become the first two-weight world champion from our island since Steve Collins. He can also reclaim a belt that 30 years ago, his guiding light lost in the blinding sun of Las Vegas.
"It's not if," we were scolded by McGuigan, whose defeat by Steve Cruz saw him relinquish the same WBA featherweight title in 1986.
"He's going to do it. No ifs, buts or maybes. He's going to beat the living daylights out of this guy. He's going to ship a lot of shots in return but he's going to beat the hell out of him."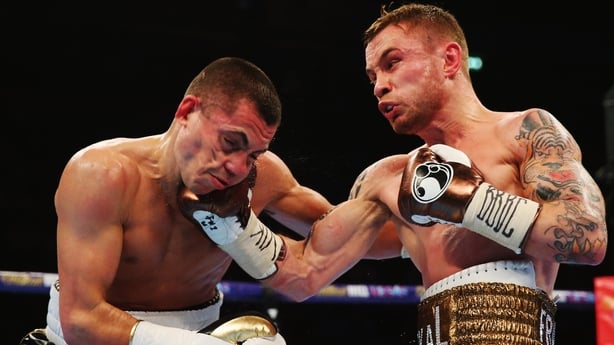 This is Frampton's primetime bow on this side of the Atlantic. But he made his proper debut here last summer. We were in El Paso that afternoon as he flirted with disaster - sent to the canvas twice in the opening round by Alejandro Gonzalez Jr before bouncing up to devour the unheralded Mexican over 12 rounds.
In the aftermath, McGuigan predicted that the nature of the performance would endear Frampton all the more to the American audience. He was right.
"Human beings like to see to adversity. How do you deal with getting back up off your arse?" said McGuigan. "When you get knocked down, people go 'that guy's human, let's see what he's got now'.
"Every great fighter has been knocked on his arse - Ali, Frazier, whoever. So many of them have been hurt and knocked down and that's what makes you human. People like to see humanity, at all levels of sport."
"I've been boxing since I was seven years old and everyone seems to be bigger than me. It's no different here."
It's also the kind of jarring experience that will stand to Frampton and his trainer Shane McGuigan at the Barclays Center.
A professional for seven years now, he's often bided his time, some have suggest been too patient at times. But he's been through plenty.
All of it will count for something tonight as he climbs through the ropes as underdog for the first time as a professional.
"He's a very good fighter. He's relentless, he throws a lot of punches. He's got a big reach advantage [eight inches] over me and a height advantage too," admitted Frampton.
"I've been coming up against bigger guys all my life. I've been boxing since I was seven years old and everyone seems to be bigger than me. It's no different here.
"I feel like I have very good distance control. I'm very explosive, I can get in and out of range very quickly. I can punch hard too and that might be difference."
For the Jackal, the talking is now done. Under the Saturday night lights of Brooklyn, he'd better be dangerous.