The Dream Hotel in Lower Manhattan was abuzz Thursday lunchtime as streams of guests and visitors piled on up to the in-spot's star attraction, a second-story rooftop pool with a glass floor that hangs over the lobby.
Carl Frampton was oblivious to the peculiar view on offer above him as he strode through the place for the final press conference ahead of his date with destiny in Brooklyn on Saturday night.
The Belfast fighter will himself be wading into unfamiliar waters at the Barclays Centre when he takes on one of the most potent forces Stateside, WBA super featherweight world champion Leo Santa Cruz.
His long-awaited first headline fight in the US coincides with a step on up from the bantamweight division the Belfast fighter has dominated for so long, having unified it with victory over Scott Quigg earlier this year.
Not one for dipping his toe, the Jackal is clearly relishing the chance to dive into the deeper pool when he steps out into the Barclays Center in Brooklyn.
"I think you'll see the best performance yet from me," said Frampton, yet to lose a fight as a professional. "If I'm being honest I probably outgrew 122 about a year and a half ago. I was probably out there performing on fight night at maybe 80 per cent of my best, that's how much it hurt me to get down to 122.
"At 126, I'm full of energy here. Mentally and physically I'm very strong. You're going to see a big performance from me on the night."
Frampton and mentor Barry McGuigan sat on one side of the dais on Thursday with Santa Cruz and his father Jose the other as promoter Lou DiBella drummed up the hype for a bout that many see as having the potential to be fight of the year. For the headline duo, things were civil, in keeping with the track record of both of these fearsome fighters who keep it friendly outside the ropes.
"He's a nice guy, he's very respectful and I believe I've been respectful to him," said Frampton.
"We're two good fighters, going to fight for a world title. It doesn't need any aggro, this fight sells itself. It's an amazing fight, two undefeated fighters who are ready to go to war and do what it takes to win.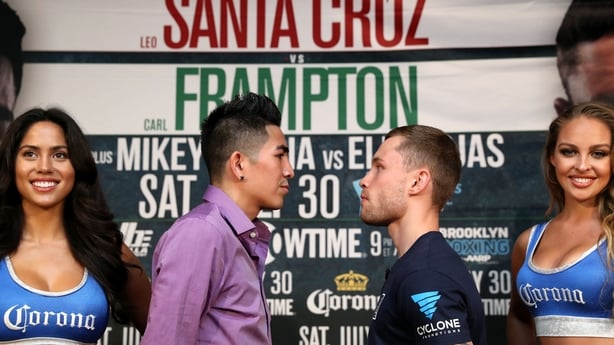 "We're two relaxed guys. When you do that [hype and aggro], it's all media stuff. I don't really play into that stuff too much. Maybe as the fight gets closer, things may get a little more heated. But we're respectful of each other and that's the way it should be."
This city is unfamiliar territory for both Santa Cruz and Frampton. The challenger's only fight Stateside came in Texas last year, while the champion has rarely ventured further than his home on the west coast, where he is a favourite with Californian crowds.
Yet both find plenty of common ground here. They pitch up in Brooklyn on Saturday night as undefeated champions.
The Jackal, an underdog for the first time in forever, admits this ranks as the toughest fight of his life.
Santa Cruz, when asked to shape up the challenger from across the Atlantic, echoed those sentiments, as he predicted a "war" at the Barclays Centre.
"Carl Frampton, he has everything. Great footwork, great punches and power. He's undefeated. So he's the best I've faced," said the 27-year-old Mexican.
"We've both come here hungry. We don't want to suffer that first loss so we're going to leave everything in the ring. That's why it's going to be some fight. We're going to roll with everything we have to make sure we don't lose.
"He's a great person, a great guy. We have real respect for each other. Once we step into the ring we know that all that changes. We have to fight for our future.
"He has my respect, I know he respects me, so we're going to go out there and give the fans a great fight."