Former Irish, British and European champion Matthew Macklin, who revealed his retirement earlier on Thursday, has reflected with pride on a career that saw him tackle the very best fighters in the middleweight division.
The Birmingham-born boxer failed to land a coveted world title in a 15-year career, losing on three occasions fighting for the world belt.
Macklin's first attempt at a world title was against Germany's Felix Sturm and many felt that the Irishman was unlucky to lose out on a split decision.
Another fine attempt ended in failure as Sergio Martinez stopped Macklin in the 11th round on St Patrick's Day 2012 at Madison Square Garden in New York.
Macklin's third and final attempt at a world title was less impressive as he was outclassed by reigning champion Gennady Golovkin, who finished the contest with a powerful body shot in the third round.
A final career win was recorded last month as he overcame Brian Rose in a tight 12-rounder at the O2 in London and while there had been speculation that a world title eliminator might be on the horizon, Macklin has now decided that the time to hang up his gloves has arrived.
Asked on 2fm's Game On whether the decision was a tough one to arrive at, Macklin told listeners: "It wasn't really in the end because I gave myself the right amount of time, and to be honest, I was going to retire after I lost to Jorge Sebastian Heiland at the 3Arena in 2014.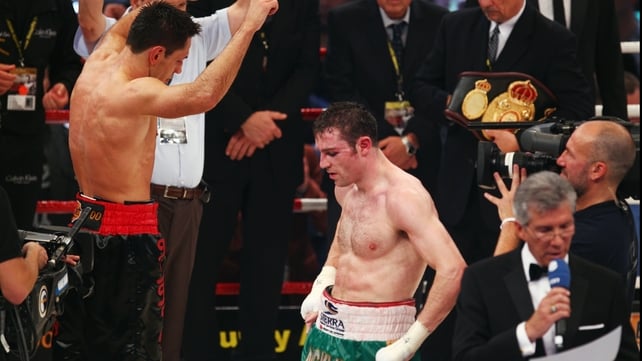 "I'd go after that night, I thought, because where do I go from here?
"But then opportunities were coming up, and I came back with a few wins, and I got myself going again, and I thought I'll have one last stab at this.
"I didn't perform great in the fight I had in October. But then the preparation didn't go well for me. I struggled to get up for the fight. It was a bit of a meaningless fight.
"But this fight with Brian Rose, it was going to tell me what I needed to know.
"It was going to tell me what was left. I got my hands on him around the fifth and sixth rounds and and I knew it wasn't there anymore.
"But I bit down on the gum shield. I wanted to end my career on my terms, go out on the win. The days and weeks that followed, I did a lot of reflecting and going over things and now is the right time."
Shedding light on the exacting lifestyle of the professional pugilist, Macklin added: "I'm 34 on Saturday and I was 19 when I turned professional. It's a young man's game and it doesn't get any easier as you get older. I found that out for sure.
"Even how tough the life gets, you're living on your own and you're away for weeks on end and you're training hard. It's a tough life.
"It was brilliant - wouldn't change a thing, I loved every minute - but I'm ready for other things in life now."
Macklin never shirked a challenge and may have paid a price by never pursuing a more cautious route to a world title belt, but he insisted: "I never wanted to be a big fish in a small pond. I didn't want to be the flavour of the month with a strong promoter and manoeuvred into a minor world title.
"I wanted to know how good I was. I wanted to fight the best.
"When I retired, whether I'd lost three, or four, or 10, or whatever it was, I wanted it to be a real record. I wanted to fight the best and I wanted to know how good I was. I can proudly say I did that."
Macklin struggled to single out his career highlight, but added: "There were several highlights. It's hard to pinpoint one. I think the Sturm fight, had I got that decision, would have been the one.
"The atmosphere was unbelievable. There were 300 or so friends and family that came over from Ireland and England and they outsang 19,000 Germans all night long.
"It was a great fight, he was a long serving champion and everyone across the world knew I won the fight - I just didn't get it on the night in Germany. Things like that can make you disillusioned with the sport at times. But it was still a great night and the next day we celebrated anyway, because we knew we won and so did they."