Amir Khan is convinced he is going to have to "clearly" defeat Saul Alvarez if he is to stand a chance of earning a decision from the judges in Las Vegas on Saturday night.
The 29-year-old has stepped up two weight divisions to challenge WBC middleweight champion Alvarez at a catchweight of 155lbs at the new T-Mobile Arena - and he remains the significant underdog.
Alvarez's advantages in size and power already mean Khan has much to overcome, and that he is fighting Mexico's most popular fighter on the weekend of Mexican holiday 'Cinco de Mayo' in the city the champion is such an attraction in has not been overlooked.
It was in Las Vegas that Alvarez was inexplicably awarded a score of 114-114 from judge CJ Ross when he dropped a majority decision to Floyd Mayweather on a night he was clearly outboxed, and also where he was awarded a split decision win over Erislandy Lara when many observers believe he lost.
If there was an argument for Alvarez defeating Lara it came in his superior aggression and Khan recognises he cannot risk being as indecisive as the Cuban.
The Briton said: "I really have to win it quite clearly. It's not about winning it closely. I want to win it and I don't want people thinking 'Oh, it was a close fight, it could have gone either way'.
"I want to win it clearly, winning it with a couple of rounds at least. I'm also the 'away' fighter."
Donegal man Jason Quigley will fight American James De La Rosa on the undercard.
Much of Khan's reputation has been built on an entertaining, speed-based, high-intensity style and the accepted wisdom is that his greatest chance of victory comes in focusing on his speed.
Where he has in the past often been guilty of rushing, however, Khan insists his next bout will at times more reflect "a game of chess" - and is also wary that as the smaller fighter needing to evade Alvarez's power he will have to preserve his energy to succeed for the full 12 rounds.
"It's going to be like a game of chess at times," he said. "He's going to be putting a lot of pressure on me, pushing me back, but we just have to be smart in there.
"There are a few things we're going to be doing differently in this fight. The feinting, the movement - but movement's not in the sense where we're going to be running around the ring, it's about making the right moves.
"I don't want to be burning too much energy. Will I have that much energy by running away all 12 rounds? I'm going to have to stand there at times and trade with him."
Alvarez has dismissed the notion of feeling under pressure at being Mexico's leading fighter during 'Cinco de Mayo' week in Las Vegas.
Alvarez follows a generation of fine boxers including Erik Morales, Juan Manuel Marquez, Julio Cesar Chavez and more, and upon his arrival at the MGM Grand on Tuesday was greeted by numerous fans wearing the red headband Chavez made famous but which was embossed with the name 'Canelo'.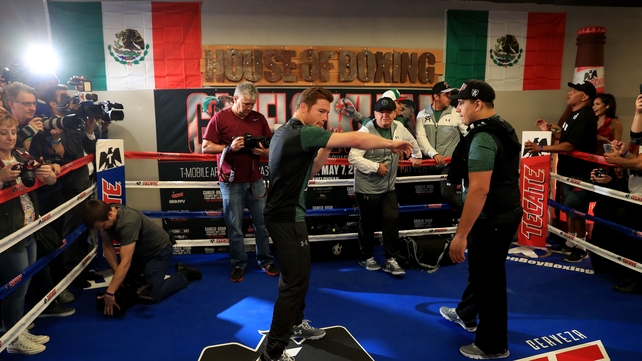 Mexico's Cinco de Mayo public holiday is also a time of great significance to the nation, and Alvarez is also widely expected to convincingly win Saturday's fight - but, asked about the pressure his status brings, he responded: "No pressure.
"It's a great responsibility, but no pressure, I've learned to assimilate it with hard work, and fight by fight you gain that experience to continue on.
"It's a responsibility. (The Mexican greats), they've written their story, their history, now I have to do mine. With that, it gives you that motivation to work harder and give it that extra mile."
Khan also spoke of studying Alvarez's fights with Floyd Mayweather, which brought his only professional defeat and in a convincing manner, and Erislandy Lara - who many believe he lost to.
The 25-year-old's only other blemish came in his fifth professional fight when aged only 15 he drew with the little-known Jorge Juarez, but even with Khan insisting parts of Saturday's fight will be "like a chess match" and that Mayweather and Lara exposed his flaws, he does not believe Khan will show anything new.
"I'm not worried or concerned about that," Alvarez said. "Amir Khan's never been in a boring fight so I don't think it'll start now, he's always been in exciting fights.
"(And) let's not forget about the courage he has: when he's been down he's got back up. He's very courageous and you've got to respect that."