Andy Lee maintains that he will celebrate the anniversary of his world title win in style by successfully defending his belt against Billy Joe Saunders on Saturday night.
Both fighters weighed in on Friday afternoon for the WBO world middleweight title bout at the Manchester Arena, with Lee coming in at 11st 5lbs 12oz, while Saunders was bang on the middleweight limit as he hit 11st 6lbs on the scales.
While the champion holds a three-inch height advantage, Lee appeared even taller than Saunders during their head-to-head face-off after the weigh-in as the Limerick native, wearing footwear, towered over the shoe-less Saunders.
The fight will take place just one week after the anniversary of Lee's title win when he claimed the vacant belt with a stoppage victory over Russian Matt Korobov in Las Vegas, but Limerick's Lee has delayed any anniversary or festive celebrations until tomorrow night when he hopes to be celebrating his first successful title defence.
"It's one year ago last weekend, it's been a good year and I'm very proud to be a champion. I know how long and hard it was coming, it took a lot of hard work so I'm going to fight to keep it," said the 31-year-old champion.
While Lee was due to defend the belt against Peter 'Kid Chocolate' Quillin last April, Quillin's failure to make weight for that bout saw it go ahead as a non-title contest.
The champion is now keen to add a successful title defence to his CV, which reads as 34-2-1 after a near 10-year pro career that started back in March 2006.
Castleconnell native Lee spent most of his paid career under the tutelage of the late Emanuel 'Manny' Steward, trainer to Tommy 'Hitman' Hearns, at the legendary Kronk Gym, and had to bounce back from two losses, including a title-fight defeat to Julio Cesar Chavez Jr before finally reaching the Promised Land.
"I always expect to knock them out and I'm not really too worried about the judges"
"It meant so much more to me to win it and the way I won it and where I won it," reflected Lee ahead of his first defence. "Had I gotten it years ago, I would've loved it but maybe I wouldn't have been the same and maybe I wouldn't be as good a person as I am now – I'd be a lot more arrogant and I wouldn't be the same person.
"It is a cliché but it probably is [a blessing in disguise]. You learn from it and you do grow as a person and you value the right things."
Saunders now stands in his way, with the 26-year-old Hatfield native rated as a favourite by many pundits ahead of the fight which pits the younger boxer/mover against the veteran champion, who has gained a reputation as a knockout artist.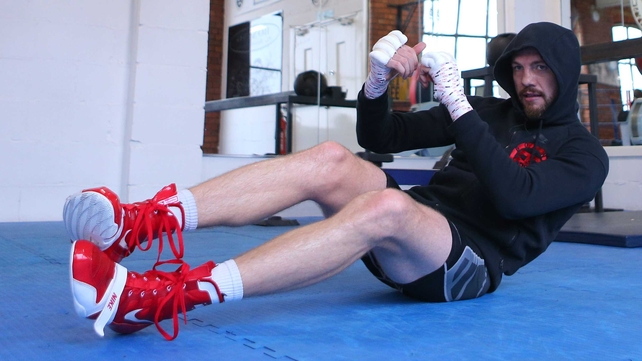 But Lee insists that he has the skills to outwit Saunders in a bout that even the bookmakers have priced as 50-50.
"It's a good fight - he [Saunders] is fast, he's quick, but technically he's not as good as me. He's not as strong as me and I have the reach on him, which I think is a big deal as well," said the champion, who dismissed concerns about fighting in enemy territory if the fight goes to points.
"Winning on a decision is good but I always expect to knock them out and I'm not really too worried about the judges, I think I'll get a fair shake here," said Lee
"The British board are one of the strictest and most well-established boards or commissions in the world. They won't rob me, but it mightn't even go that long."
Saunders, meanwhile, has been preparing for the bout at Macklin's Gym Marbella, the Spanish training base of Lee's domestic foe Matthew Macklin.
The Englishman, a former European, British and Commonwealth champion has not tasted defeat since he was an amateur at the Beijing Olympics, and he insisted that he is in top condition for his title shot.
Previously, Saunders appeared to tire in the latter rounds of big fights, including his win over Chris Eubank Jr who he defeated on a split decision last year.
"I am the fittest I've been and you will see no fading. You'll see a strong, good class performance from Billy Joe Saunders on Saturday night," said the challenger.