With just over a week to go before Andy Lee defends his middleweight title against Billy Joe Saunders in Manchester, the world champion is keeping a low profile as he admits that has no time for the trash-talking that dominates boxing now, preferring to do his talking in the ring.
In the build-up to big bouts such as this highly anticipated world title fight, it has become almost mandatory for a boxer to taunt his opponent to maximise publicity, as demonstrated in the build-up to the recent heavyweight clash between Tyson Fury and Wladimir Klitschko.
But the quietly spoken Limerick fighter has said that he prefers to do his talking in the ring.
"It has never been my style to get involved in that," he told Sky Sports News on Thursday.
"It lowers our sport. Boxing is a gentleman's sport and we should carry ourselves as gentlemen.
"Lowering it to 'he said this and he said that...' I prefer to keep it respectful and let the fighting do the talking."
Lee, a former Olympian, fights Saunders in their twice-postponed WBO World Middleweight title fight on Saturday week and as Saunders is unbeaten, he presents a very real threat to the Irishman's belt.
"He has beaten everyone he's fought and he's number one contender, so he's a serious, serious challenge for me," said Lee.
"I've done everything possible in training to be prepared and I have left no stone unturned so hopefully that will show in the fight.
"It has been a long hard road, pro for nine years before I became world champion and I had a failed title attempt with Julio Cesar Chavez Junior. It looked like it wasn't going to happen for me."
Renowned trainer Adam Booth has brought new life to the Limerick's man career and he does not want to give that new energy up: "I linked up with Adam Booth and he turned it around for me. We won the belt and I am going to do everything to hang on to it."
Lee credits trainer Booth, pictured below with the fighter, with helping to turn his career around, culminating in his world title win against Matt Korobov in 2014.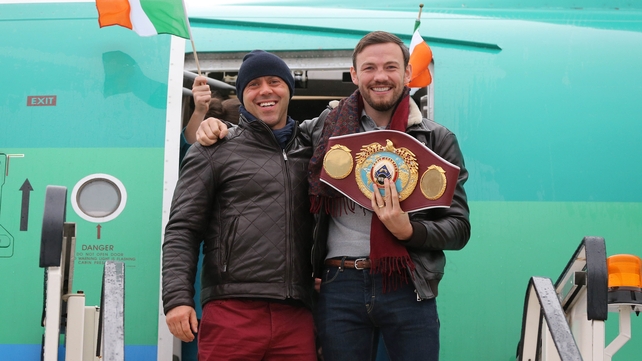 "Adam has a way of seeing things that others can't see and he can verbalise what he wants from you in a very clear and concise way," he said.
"I used to watch him and he always stood out for me and since working with him for three years I can see it every day – he can communicate with his fighters in a way they can understand."
Booth also trains highly rated English middleweight Chris Eubank junior, who could end up fighting Lee if he wins his London fight against Cork's Spike O'Sullivan on Saturday.
"The winner will be propelled into being a serious challenger."
"They are definitely contenders, on the fringes at the moment and the winner will be propelled into being a serious challenger," said the champion southpaw.
"You can see ways both fighters can win. O'Sullivan has a big punch and he's a tough guy, Eubank has a big punch too and he has a lot of finesse as well.
"I'm looking forward to it. I know Spike O'Sullivan from our amateur days and I've shared a gym and a trainer with Eubank so I know them both well. I favour Eubank because he has a bit more finesse."
Lee and Saunders were first supposed to fight in September and then in October, but both fights were postponed due to a Lee illness and Saunders injury respectively.