Andy Lee has insisted the pressure is all on Billy Joe Saunders ahead of their WBO world middleweight title fight on Saturday night.
The pair finally clash at the Manchester Arena for a fight that has been a year in the making, with promotional activity for bout having lasted six months after the clash was twice postponed.
While the bout has been billed as a 50-50 clash with the bookies unable to separate the champion and the undefeated challenger, 31-year-old Lee believes that 26-year-old Saunders may be under more pressure in what is his first world-title challenge.
"To me it's another fight, but for Billy Joe it's the biggest night of his career. It's another fight and he's another opponent and that's the way I'm approaching it," said Lee.
"He's very hungry but that may work against him. If he's eager, it might leave him open and expose him a little, but we'll see, it's all immaterial until we're in the ring.
"There's always pressure to win from both sides. I'm not sure, I don't try to gain false confidence from it or how he's feeling. I only think about myself. I feel very good… and I feel like it could be one of my best fights. My concentration is on me and nobody else," added the champion.
Much of the build-up has centred on the lack of trash talk between the pair with both fighters' sense of mutual respect stemming from their proud Travelling backgrounds and strong amateur pedigree, but Lee insisted that the lack of hostility in their pre-fight meetings should not leave anyone expecting a polite fight this weekend.
"I'm a different person when that bell goes, I'm a different man"
"Myself and Billy Joe have a lot of respect for each other and when this fight is over we'll shake hands and we'll see each other around and be friendly, but when the bell goes it's business," said Lee at Wednesday's final pre-fight press conference.
"I'm a different person when that bell goes, I'm a different man. I'm not the man you see sitting here. The time I walk to that ring, a transition and change comes on me and you'll see that at the fight.
"When I leave the dressing-room and it's time to go, that's when it happens and it's instant," added Lee, who said he is in top condition, despite the fact that the bout was twice postponed from September and October dates.
"It doesn't really matter, he's here, he's the mandatory and when there was a couple of cancellations I still knew it would happen eventually because we'd agreed to it and we'd signed the contract.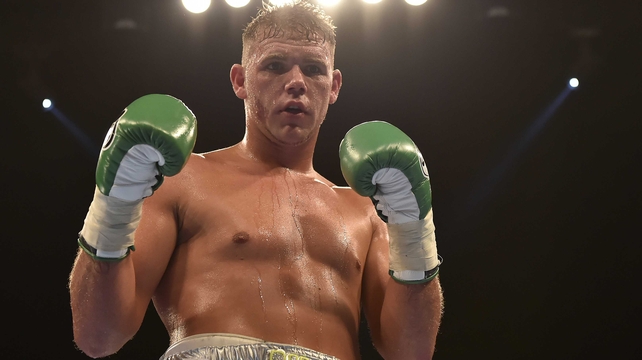 "I'm in fantastic shape. Adam [Booth, trainer] and everyone else involved has done a great job of getting me ready. This fight has been a long time coming and we're both eager to get in there and get it on. There's no point in talking, I know I'm going to win."
The undefeated challenger dismissed any sense of pressure on his shoulders, claiming that he is ready to take his chance to become world champion after waiting over a year for his shot since becoming the WBO's No 1 contender.
"I've been patient, I've waited and I feel Andy is the right man for me at the right time," said Hatfield native Saunders.
"Andy shouldn't be underestimated; he's been down on the cards and pulled it out [in past fights], but I think I'm a smart fighter and if you underestimate me and look at me from the outside you might think you can catch me but when someone's in the ring with me it's a different story.
"It's been a long time coming with the postponements, but I've had a brilliant camp out in Marbella, everything has gone spot on, so I just can't wait to get in there and get the job done," continued Saunders, who has been training in Macklin's Gym Marbella, the Spanish base of Lee's domestic rival Matthew Macklin.
"I'm in the shape of my life and I've never wanted anything so bad as I want this win on Saturday night," said the former British champion.
"Andy's a good fighter, but I believe I've seen the best of him when he's challenged for and defended his title. We know that this title shot is going to bring the best out me."