Newly crowned world heavyweight champion Tyson Fury has insisted that allegations of homophobia and racism are untrue - and that he still holds an ambition to fight at Croke Park.
Fury, who defeated Wladimir Klitschko on Saturday night in Dusseldorf, responded to the news that dominated the build-up to the fight - when he was reported as making homophobic slurs in an interview with the Mail on Sunday.
"I'm not homophobic, I'm not racist. I'm not against any people."
Speaking to Sean O'Rourke on RTÉ Radio 1 this morning, Fury denied he held such views and said his comments were "misquoted".
In the article, Fury was quoted as grouping homosexuality and abortion as three "evils" alongside paedophelia.
"There are only three things that need to be accomplished before the devil comes home," Fury told the Mail.
"One of them is homosexuality being legal in countries, one of them is abortion and the other one's paedophilia. Who would have thought in the 50s and 60s that those first two would be legalised?"
Speaking today, Fury claimed he was misquoted. "It's newspapers trying to sell papers on writing bad things about me. I don't have any hate for anybody.
"I'm not homophobic, I'm not racist. I'm not against any people. All I have for people is love. At the end of the day, we're all brothers and sisters in god. What people do is none of my business."
On the subject of his next fight, the champion is unsure of what his next bout will be - but a second fight with Wladimir Klitschko is still a possibility.
"I don't know if he is going to take the rematch or not. There is a contract to say he is entitled to a rematch. I don't know where it is going to be. I have always said I would like to fight at Croke Park. Maybe that can be a reality one day.
Fury said there were always certain venues he wanted to box in: "One of the was Madison Square Garden and I did that one. One of them was Old Trafford and I haven't done that one. And the other one is Croke Park. They are the three venues I wanted to box in - I wasn't really interested in Las Vegas and all of them places. The three I always said was Croke Park, United and Madison Square Garden. "
He spoke of the disappointment at not being able to represent Ireland in the Beijing Olympics in 2008 and revealed how his Irish heritage was a big part of his life growing up - Fury's family traces back to Galway and Belfast.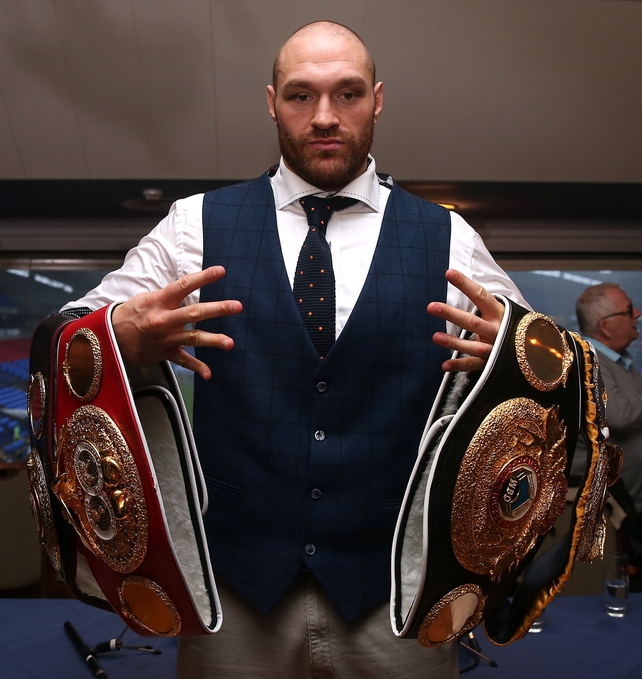 "It was heart-breaking. It was heart-breaking for my family and my Dad. They tried to deny his Irish heritage and it was really upsetting time for the family. You can take a man out of Ireland but you can't take the Irishness out of the man. Growing up I was brought up around Irish music, Irish traditions.
"Even though I ain't Irish and I'm born and bred in Manchester, with Irish heritage and roots, you're always brought up around that sort of thing and it was heart-breaking form my Dad to see it. There was a lot of politics going on and Ireland were denied an Olympic gold medal in 2008."