Michael Conlan is through to the World Championship bantamweight final, but Michael O'Reilly will have to settled for bronze after losing his bout.
Conlan went through to the gold medal fight after a 3-0 unanimous decision win over Dzmitry Asanau of Belarus in 56kg semi-final.
Conlan, who is already qualified for the Rio Olympics next year, dominated his bout with Asanau to book a decider with Murodjon Akhmadaliev of Uzbekistan on Wednesday.
The 23-year-old Belfast native claimed a 30-27, 29-28, 29-28 win after controlling the fight, although two judges surprisingly scored the second round for Asanau, the World No 17.
"I'm really looking forward to the final now," said Conlan. "The lads [in the corner] told me I needed to win the third round and I was confident. I kept my cool and held by patience, I didn't panic.
"I just knew I had to keep to my gameplan because he [Asanau] was going to fold – he's only a young lad," added Conlan of his 19-year-old opponent.
O'Reilly was unable to deal with the class of Uzbekistan's Bektemir Melikuziev, the world No 17 and Asian champion in the 75k middleweight semi-final, losing two rounds to one.
This now means the Portlaoise boxer could face a box-off with the the other last four loser to book his place at the Rio Olympics next year.
This isn't certain though as convoluted AIBA rules mean another path may possibly open up depending on other results.
Joe Ward is one win away from booking his Olympic spot, but the Moate light-heavyweight is not in semi-final action until Monday, taking on Ishod Rasulov of Uzbekistan.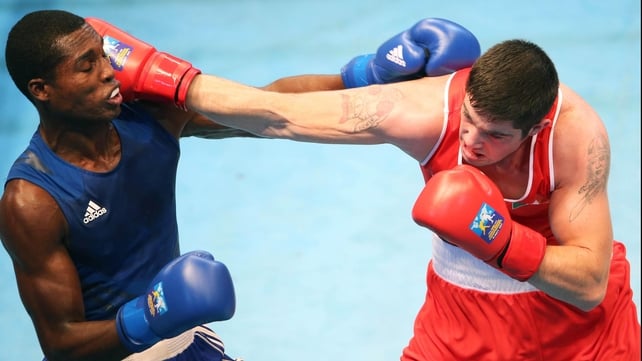 "He has a really tough battle on Monday," said head coach Billy Walsh. "Joe's fought him before and the Uzbek has been around the block.
"He's a good boxer, of good quality, so it'll be a very tricky one for us. As the stakes get higher, some of the performances drop, people are looking at finishing lines and we have to get Joe into the right frame of mind and doing what he's good at," added Walsh.