Jordan Blount is finally back in Cork after spending over 10 years playing basketball abroad.
He is returning to Neptune, the side he left just after his junior cert to see how far he could go in the game. His journey took him to Plymouth Raiders Youth in the UK, before a move to Gran Canaria.
"I had the option to go to Real Madrid at that time but chose to go to the academy because I had goals of playing in the States," Blount says at the launch of the InsureMyVan.ie Men's National League.
"I went to the States for five years, was in Cleveland, Chicago, got my degree, played at the highest possible level over there. Then I turned professional in the last couple of years and played in different places; Spain, Iceland
"It's been a long journey."
Neptune are the most successful club in the men's game in Ireland, but their last league title came nearly 20 years ago in 2003. They'll open up their new season with a derby against Cork rivals UCC Demons.
Tom O'Sullivan was recently elected chair of the club, with Paul Barrett moving on after 10 years in the role.
That formed part of the reason for Blount to move back to Ireland, but his personal circumstances also changed in the last few months.
"I got married this summer and I didn't want to keep jumping from country to country," he says
"I've been abroad for 11 years now. I left so young that I never got to play at the highest level with Neptune, my home club. With the changeover of ownership and the new plans, and everything that's happening, it's a great time to be part of the club, they're doing a lot of really good stuff."
Blount has been a regular in the Ireland team over the last few years, and he was involved in the EuroBasket qualifiers in the summer.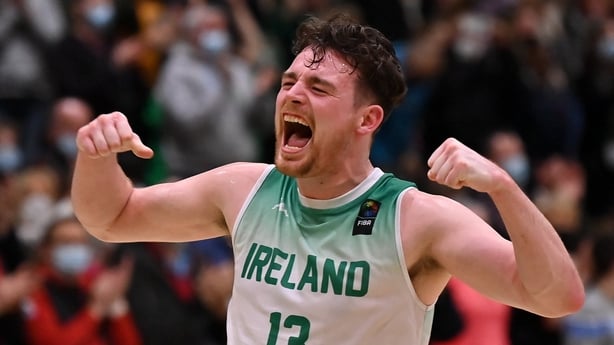 Things didn't go to plan as the Boys in Green lost games to Austria and Switzerland, with Blount suffering ankle ligament damage in the first game, as well as a few broken toes.
"I played two days later, which didn't really help it. I had a month and a bit off right after that window. It's probably the only time in my career that I've had that length of time off where I didn't do anything.
"I spent a lot of time in the sea, I spent a lot of time doing absolutely nothing, and just giving it time to recover, and I'm back to full fitness now.
"It was two and a half or three years straight where I didn't get any type of a break. Even through that 10 or 11 years, I would never have had a straight month off.
"It was different, it refreshed me, it almost sent me into retirement because of how good it felt," he jokes.
Still only 25 years old Blount is clear that retirement is not on his mind any time soon.
"In the Irish Super League I could continue playing for another 10 years, at least," he says.
"That's not my goal, I don't want to be that. My ego is too big for me to continue playing when I don't feel like I'm the best player on the court. So I had that conversation with my wife, as soon as I don't feel I'm the best player on the court, I'll be done."
While Blount wants to stay on court for a few more years, he's also interested in bringing on the next generation. He's involved in coaching Under-15s in Neptune, and was recently appointed as the Munster Boys coach at U15 level.
"I've had the blessed opportunity of playing at the highest level in Europe and the States, and seeing the academies and colleges and the professional side of things," he points out.
"When I was beginning my process I didn't have anyone I could go talk to, or learn from, that did what I did. The pathways for kids in Ireland to go abroad is very much more realistic. If they want to go to Europe, I've been there and experienced it, same for the States.
"My whole thing is that I want to be as much a part of as much of the youth basketball as I can to give everything that I've learned."