Ireland succumbed to a 92-66 loss against Austria in their FIBA EuroBasket 2025 Pre-Qualifiers in Salzburg.
Taiwo Badmus, who has been Ireland's leading scorer in the campaign, topped the scoring charts again, adding another 15 to his tally to bring it to 84 in the five qualifiers so far. CJ Fulton also caught the eye on his EuroBasket debut, with 10 points.
The visitors started brightly, Fulton got their first points in the second minute to make it 2-2. Midway through the quarter it was 10 apiece, following a three point jump shot by Jordan Blount and two free throws from the lively Badmus. However, 60 seconds later Austria established a seven point advantage, their run completed by Thomas Kelpeisz's three-point pullup jump shot.
Ireland responded with an impressive 12-point run. It included a great steal and assist by Jordan Blount to set up a trademark dunk for Lorcan Murphy and they trailed 17-16 with 2'42 to go in the first. A pair of three point jump shots followed, from Taiwo Badmus and captain Sean Flood, which gave Ireland a 22-17 lead with a little over a minute to go in the opening quarter, however Austria finished it strongly and moved 23-22 ahead and never looked back after that.
A pair of Renato Poljak three point jump shots, which brought his personal total to 11, made it 33-26 three minutes into the second quarter. Ireland struggled from the free throw line at times and in the meantime the hosts were proving clinical overall - Bogic Vujosevic three point jump shot saw them push 36-26 ahead with 6' 12" to go.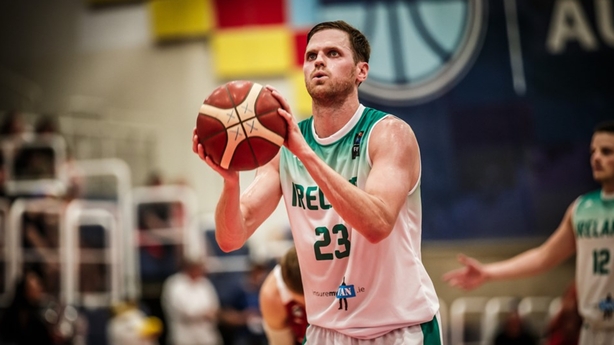 It prompted Irish coach Mark Keenan to call a timeout and it stemmed the flow somewhat. Will Hanley's two point driving lay-up and meant Ireland trailed by nine, 40-31, with four minutes remaining.
Ireland were chasing the game, a Fulton three point jump shot in the last 30 seconds of the quarter brought his personal total to six points and it was 49-35, however a Poljak fadeaway jump shot with the last play of the half saw Austria go 51-35 up.
Keenan's needed to make early inroads in the third and duly did so, a pair of Blount three pointers reduced the deficit to 12 points, 55-43, midway through the quarter. Ireland struggled to build a score despite having a strong quarter, however a driving lay-up from Badmus brought his tally to 15 points and it was 58-45 with just under three minutes to go. Austria finished strongly to hold a 71-50 advantage going into the last quarter.
Austria's defence was proving hard to break down, while offensively they kept the scoreboard ticking over. A three point jump shot Jonathan Knessl opened up a 86-59 lead with a little over two minutes left. Ireland kept plugging away and responded with an eight point run, a Lorcan Murphy fadeaway jump shot, a three point jump shot from Eoin Quigley and a James Gormley layup, reduced the deficit to 86-66 with a minute remaining.
Austria picked up a pair of three-point jump shots to finish, from Lanmuller and Knessl, to wrap up a 92-66 win, moving them top of the group.
Speaking to TG4 afterwards, Ireland head coach Mark Keenan said: "It was a tough defeat after such a bright start. We were right in the game, but to be fair, they shot the lights out again tonight, as they did in Dublin. Before the start of the game, we said we were going to give them something and it was that weak side three and they made it all night."
Ireland will now face Switzerland on Sunday at a sold out National Basketball Arena. The Swiss slipped to a 71-63 to Cyprus to leave second place in the group mathematically possible for Ireland, however Switzerland hold a superior points difference of 77 points.