After what has been a difficult couple of years in Irish basketball, the sport emerges into the light this week as the Irish women's senior team take their place among the European elite for the first time in 12 years.
Amidst all the boardroom upheaval and the crushing pandemic restrictions that have hobbled the game here, 2021 has in fact been an excellent year for Ireland's elite teams.
The women's team reached the final of the FIBA European Championship for Small Nations in July, then the men's team won the male equivalent in August.
And the women once again take their place among the elite of European basketball after a 12-year absence, a spell in the wilderness triggered by the financial crisis when Basketball Ireland opted to "de-activate" the men's and women's senior international teams.
Tomorrow, they begin their EuroBasket 2023 qualification campaign, as fourth seeds in a formidable group containing Belarus, Czech Republic and Thursday's opponents, the Netherlands.
Irish basketball great Niamh Dwyer - long-time international player, currently head coach of Fr Mathew's and older sister of present Irish joint-captain Gráinne - spoke to RTÉ 2fm's Game On about the long journey back to this level.
"We haven't been at this level since '09. It's been a long time coming for the basketball fans out there. It's great to be back at the elite level again," said Dwyer.
The Irish women's basketball squad begin their Eurobasket qualification campaign in Amsterdam on Thursday - @jacquihurley spoke to coach @jamesweldon1 and players @grainne_dwyer and Sarah Kenny pic.twitter.com/tAtuVED14B

— RTÉ Sport (@RTEsport) November 9, 2021
"We have a squad of young players coming through who have been very successful at underage basketball. They've silver medals from competing at underage European championships.
"We're dipping our toe back into the water. We're actually jumping straight into the deep-end to be honest! But it's great to give those girls a chance to develop even further and we've the experience of the likes of Grainne [Dwyer] and Edel Thornton there as well.
"We've a nice mix of players going in and they deserve to be at this level."
In August 2009, Dwyer was part of an Irish side that pulled off a landmark win over the Netherlands in the Basketball Arena. Within six months, the sport was in deep crisis, saddled with a debt of €1.2m and forced to wind down all international teams.
'We have always had a hand-to-mouth existence here," executive chairman Paul Meany explained at the time. "But a combination of bad financial information and maybe trying to develop the sport more quickly than was feasible has left us with no choice but to make these decisions."
Reflecting on the hard road back, Dwyer says that the clubs and the grassroots are owed a debt.
"'09 was the last time we played at this level and then the financial crash kicked in. The governing body struggled and this had a real impact on the senior teams. All the underage teams were pulled as well [from European competition] at that stage, just to get a financial grounding back into the sport.
"Over the years, the underage was gradually re-introduced. Those players have had the experience of playing in underage European championships and now they're old enough. And now, finally the women's team are back in the European qualifiers. It has been a long process to get back here. It's been a step by step process, starting with the underage.
"Anyone involved in basketball will understand the support network that's there, on and off the court. It's been phenomenal.
"I remember media organisers of events (from outside Ireland) talking about how big a following on social media that Irish basketball gets. For a nation in Europe that wouldn't be known for basketball, they're always surprised at the large amount of support we have.
"And that has been reflected in bringing these young players through where they're ready to step into the elite of European basketball.
"The clubs have to take a lot of credit, the grassroots have to take a lot of credit, to keep it going and keep it developing and having to reset and restart over the years. There's been a lot of work done on the ground. Thank God it's starting to show at the top level, as well."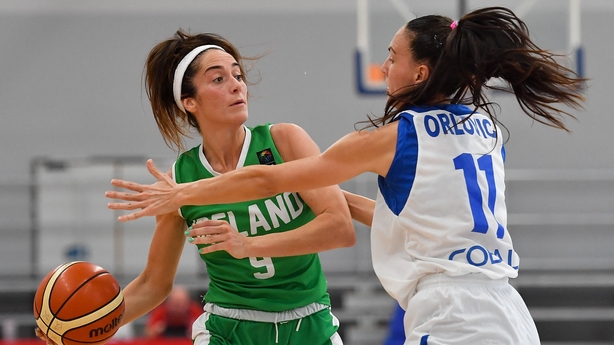 The qualification process is rather strung out, consisting of three windows across eighteen months, with two games in each window.
After the game in Amsterdam against the Dutch, Ireland host Czech Republic in Tallaght. The next window isn't until November 2022, with the final two-game window in February 2023, five months before the finals.
With Ireland exiled from this level for just over a decade and feeling the effects of the lengthy pandemic restrictions, Dwyer stresses the importance of realism.
"We just got back into this level a couple of months ago at the end of the summer after a very competitive small nations competition. This is going to be a big step up from the summer international programme.
"We have to remember that basketball, as an indoor sport, had a year and a half out due to the pandemic. So, this is another step-up for these girls. I think they are very realistic.
"This window is being used to gauge where we are, performance-wise, against these teams. And then come back and strategise and set more strategic goals after we get a sense of where we are when we play Czech Republic and the Netherlands in the next few days."