Eanna head coach Darren McGovern has outlined his concern that "the door is wide open" for budding multi-sport athletes to be lost to basketball if there is no reversal of the guidance that has left juvenile games gridlocked.
It comes amid mounting frustration among those involved in grassroots basketball following Sport Ireland's guidance issued last Thursday to Basketball Ireland that no games - with the exception of elite national and international fixtures - can take place unless all players, coaches and officials involved either possess a valid Covid-19 vaccination certificate or proof of having fully recovered from the illness.
That has led to uncertainty for underage competitions, many of which are at a standstill because children under 12 are not currently eligible for vaccinations, while government regulations also forbid teachers or coaches from asking under-18s what their vaccination status is, the latter of which has had a knock-on effect on schools competitions.
Speaking to RTÉ's Game On, McGovern said the guidance from Sport Ireland took basketball people by surprise.
"It was a massive shock to everybody. We 100% didn't see anything like this coming. There wasn't a whisper. When the news came through on Friday, it was very disappointing," he said.
McGovern said that schools basketball was "at a standstill" currently and added "that's not right", before outlining concerns of losing players to the most established outdoor sports like Gaelic games, soccer and rugby.
"It's always a concern that we would lose players to them sports. It's inevitable that you lose players to other sports anyway but now the door is wide open for these players to disappear altogether and I think that's a huge shame," he said.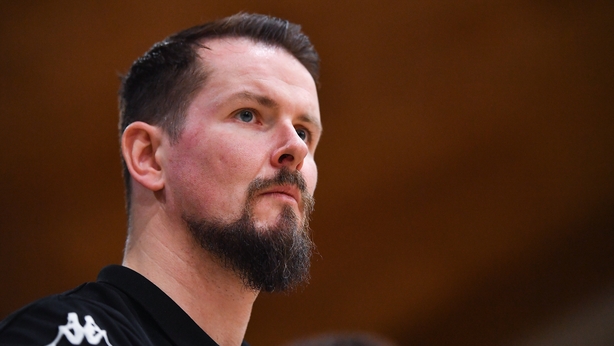 "Because one thing I've always advocated, I was a multiple sport athlete when I was younger - I played football, basketball and soccer - and that helped.
"And I understand that our best athletes right now like current Olympians, current champions, they're all multiple sport athletes.
"But if you take these sports away from children, are we going to get these great multiple sport athletes in the future as well? That's a huge concern going forward, especially in the female ranks.
"We're all fully aware of how difficult it is to keep females in sport. Well, this is the easiest way to get them out, not to allow them to play and it's an absolute shame."
Underpinned by the vocal support of coaches, clubs and parents, McGovern outlined that his hope would be to see that pressure paying off in order to see the decision reversed.
"To hit the under-18s like this it's rather unthoughtful, rather unjust I think and I just don't think due diligence was actually done on this decision whatsoever," he said.
"I would be very low in my optimism (that it will be overturned) but I don't think it's going to stop the drive of us trying to make this achievable for change."