There is increasing frustration among the grassroots basketball fraternity at the current guidance from Sport Ireland, which has caused confusion and uncertainty around juvenile games.
Last Thursday Basketball Ireland was told by Sport Ireland that no games can take place unless all players, coaches and officials involved either possess a valid Covid-19 vaccination certificate or proof of having fully recovered from the illness.
This doesn't apply to National League or international games - which can continue as before because they are deemed to be elite - but it greatly impacts juvenile fixtures.
In Ireland vaccines have been administered to anyone aged 12 and over since August, however children under 12 are not, as yet, eligible for vaccinations. It means, as per current guidelines, that many underage games can't take place.
To complicate matters further, schools competitions have also been postponed because although under 18s can play if they have proof of vaccination, government regulations also forbade teachers/coaches from asking children what their vaccination status is.
Basketball Ireland said last week it is seeking clarity on how the guidelines apply to those under the age of 18, with submissions made to government. They expect an update this week, but for now there is concern and despair at the long-term impact of grassroots basketball effectively being wiped out for 16 months.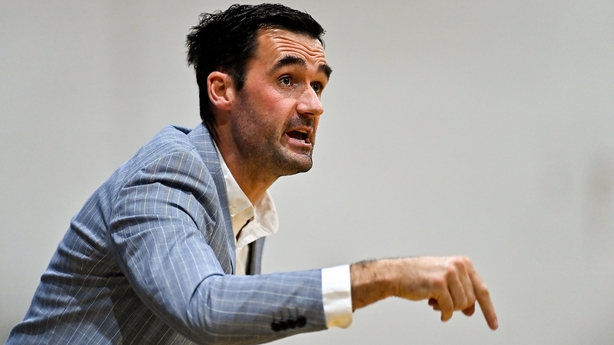 John Dowling is the head coach of men's Super League side Garvey's Tralee Warriors. The 36-year-old teacher also coaches juveniles at Mercy Secondary School, Mounthawk and at the Tralee Imperials basketball club.
"The PPSC [Postprimary Schools competitions] suspended the school basketball competitions that were due to start this week because we're not allowed to ask for vaccination proof in schools. It's not allowed at all," Dowling told RTÉ Sport.
"Right now it looks like there's going to be no school basketball of any kind this year - for a second year running.
"People don't realise that a lot of kids play basketball and that's it. They don't play anything else. You've a lot of Eastern European kids, African kids here, they don't know what GAA is really and they just play basketball. Of course you have a lot of crossover with football and hurling but there is a cohort in the basketball community that don't have anything else but basketball."
The concern for Dowling is that a generation of players is falling away - and they won't be back.
"The last four or five weeks they'd kind of started to come back because everything was pointing in the right direction. There was absolutely no mention of vaccine passports for kids. Nothing. It wasn't even a whisper on the wind.
"It's almost like they make decisions but they don't really understand the sport itself."
"Everybody was hoping basketball games would be back in November after the October break. That's what we were all presuming. We were all preparing for that. Last Thursday, when that was announced, the direct effect was, I had phone calls from parents looking for their money back. And they're absolutely 100% right," he said.
"We have an Under-18s boys team. If all of them are vaccinated, they can play as normal, and they can train as normal, but we can't ask those kids if they're vaccinated.
"We were originally told we could in the first press release last week by Sport Ireland, but it was very quickly pointed out that there's a law there that you can't actually ask under 18s their medical status.
"We got an email from Basketball Ireland yesterday saying we have to get written permission from each parent to ask their son or daughter if they are vaccinated or not to distinguish whether we can put them in pods of six, or if they can train normally. If they refuse to give us that permission we've not been given any direction about what we do then."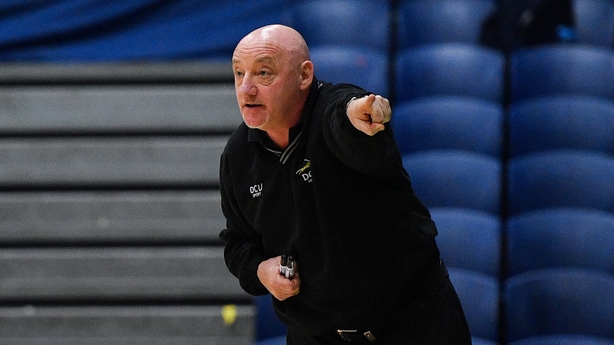 DCU Mercy head coach Mark Ingle shares Dowling's frustrations. He believes that regulations around indoor sport have been too broad, thus making anomalies and contradictions inevitable.
"It's extremely frustrating. It's just looked from the start that indoor sport wasn't micro-managed. It's almost like they make decisions but they don't really understand the sport itself," he said.
"Ireland didn't allow the leagues to go ahead last year but in England, Spain, France, Italy - all over Europe - the leagues went ahead with no consequences. None of the leagues shut down. They all finished their proper rota. Why are we the only country in the world stopping under 12s playing?"
Highlighting the perils of teenage players missing out on a large chunk of formative development, Ingle added: "I've a kid there that we coach. I would have projected her finishing school this year and going on a Division 1 scholarship [to the USA]. But I think her skill level has gone way down.
"We've been back now six to eight weeks trying to get her skill levels back up - they're not coming back up quick enough. She's probably lost 18 months of development because the sport was closed down.
"We're not talking about too long ago when basketball participation rates were through the roof. It's a sport that boys and girls play. Most sports have gone that way now but the LGFA modelled their system on the basketball system that was there in schools. Most kids would have it as their second sport. I think that's where the effect will be."
"The numbers are going to dwindle. People are going to walk away from it. If this goes on for another year it's a disaster. The sport will be on the ground."
Dowling warned that without a swift, clear pathway towards the resumption of basketball at all levels, the impact will be grim.
"If it continues this way for a year where we're off-on, off-on, the sport is going to go back 20 years," he said.
"You'll have kids who are super athletes involved in multiple sports and they'll be like, 'there's too much hassle here, I'm going away'. The numbers are going to dwindle. People are going to walk away from it. If this goes on for another year it's a disaster. The sport will be on the ground," he added.
"In August the European Championships or Small Countries [which Ireland won] took place in Dublin behind closed doors. Croke Park was half full across the road.
"We haven't played right through this pandemic. We were the first to be shut out... we got back for a month last year in pods of six, and we were shut out again. I can go to a nightclub on Saturday night but 12 kids can't play each other [in a basketball game]. It makes no sense."