Back in August, Team Ireland had two representatives in the final of the men's 5000m final at the European Championships in Munich: 22-year-old UCD student and Cork native Darragh McElhinney, and 24-year-old University of Washington's Brian Fay of Raheny Shamrocks.
Earlier in the year, Glengarriff native McElhinney discovered just how difficult the step up from underage sensation to senior athletics would be.
Competing at the World Indoor Championships in Belgrade, his first major senior championships, he finished ninth in his men's 3000m heat and didn't qualify for the final.
Now in Munich, among the best of the middle-distance runners in a world-class field, he was holding his own. Much more than that in fact.
As the bell rang for the final lap, after covering earlier breaks, he found himself in eighth place. One hundred metres later, he was up to seventh. Then he simply ran out of juice.
The race was won by the imperious Jakob Ingebrigtsen, with McElhinney losing nine places in the final half lap.
Compatriot Fay was among those to ease past on his way to an eighth-place finish and the best by an Irish man in the event since Mark Carroll in the same stadium 20 years ago.
For McElhinney however, there are no regrets.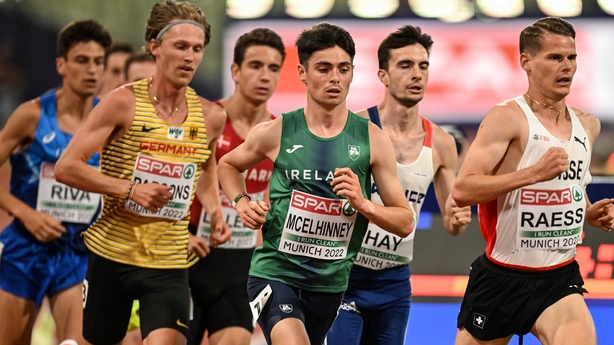 "It's funny, most of the time I kind of beat myself up badly after bad races, and I think if somebody had told me before the race I was going to come 16th, I would have been absolutely fuming with myself," he told RTÉ Sport ahead of the 123.ie national cross-country championships which take place this Sunday in Donegal.
"But to be honest, I just didn't feel right to be annoyed with myself because the way the race panned out. I did everything I wanted to do. Although it didn't work out in the end... I was looking back after and I did everything I said I wanted to do in terms of covering moves early.
"It wasn't the type of thing where I died with 800 metres to go. It very nearly paid off. That's why I don't think I have any regrets with it.
"At the same time it is kind of a painful experience when you just know there are so many lads passing you and there's nothing you can do about it.
"The funny thing about it was that I actually thought I felt grand until it happened. I was loving life with a kilometre to go and I could tell that I was picking off a few of the bodies that were beginning to die.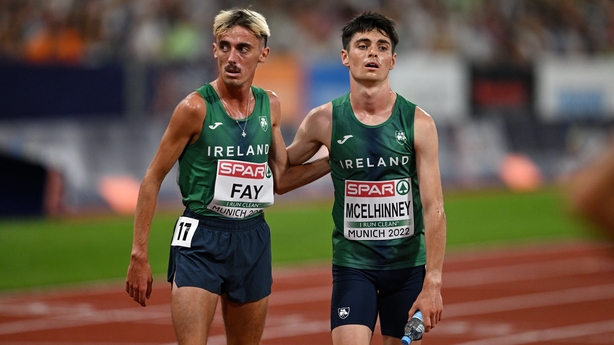 "I was kind of nearly pinching myself, thinking it was going exactly how I wanted it to go. It wasn't even that painful, I just couldn't go any quicker and my legs just completely seized up. I simply couldn't go any quicker.
"Obviously, the wheels came off badly, but then again, if I went out and ran safe and came 10th or 11th, I don't think I'd be any more happier than I am."
Having set six new PBs in 2022, as well as winning two national senior titles, it was a memorable 12 months, yet the History and Politics final year student has some lofty goals for 2023.
Retention of his national 5000m outdoors and 3000m indoors is high on the agenda, while the European Indoor Championships in Istanbul (March) and World Championships in Budapest (August) are looming on the horizon.
He's acutely aware that further improvements will be required to mix it with the elite.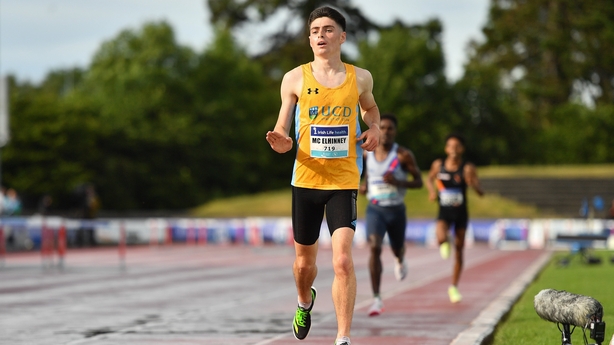 "Let's call a spade, a spade: if I qualify for Budapest I'll be doing fairly well because realistically you probably need to be a sub-13:08 guy to make the final," says McElhinney, who set his PB of 13:17.17 in May.
"But you also need to get very lucky; there's 13-flat guys getting dumped out of the heats at World Championships. You kind of just go there, do your best and see where that gets you in the heat.
"A natural progression for me would be to break 13:10 next year. That would be my aim.
"I think I have a good chance of doing well in Istanbul. I could definitely make a final at the European Indoors and hopefully finish in the top six or eight, or something like that."
The European Cross-Country Championships roll around to Turin next month, but before that is the defence of his national title at the Rosapenna Hotel and Golf Resort as the event moves out of Dublin.
Having been edged into silver by Great Britain's Charlie Hicks in the final 700m and part of the Irish U-23 team that claimed gold at least year's Europeans, McElhinney is focused on going one better this time around.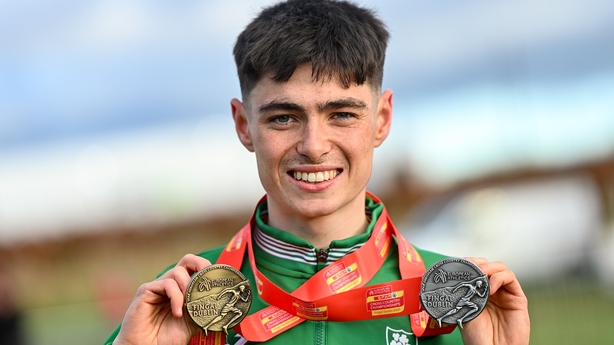 "Nothing is going to satisfy me unless I win individually, and gold for the team. I was second last year, and still in the same age category this year, against the majority of the same lads.
"It wouldn't make sense for me to be aspiring to do anything other than win it. Team wise, to be honest, I think we are even stronger this year. We didn't have Efrem [Gidey] last year.
"Myself and Keelan [Kilrehil] were in the top-six last year and Efrem who got bronze at the event [U20, in 2019] before.
"We have an unbelievable team, there's no two ways about it. Going to Turin, I'll be going into the race to win it and hoping to lead the team to gold."
Proud of his Glengarriff roots - "growing up in such a rugged area, it definitely instilled a bit of steely determination into me" - the underage star continues to go from strength-to-strength.
Even in the course of 12 months, the final year student can appreciate the upward curve.
"Things are definitely in a good place"
"Last year I was doing things in training in the lead-up to nationals where I was always checking my watch twice after to make sure it was right," he said.
"Whereas now, after running 13.17 (5000m) over the summer, I see myself more as a 13-minute flat guy hopefully next year.
"All those things I couldn't believe I was doing last year are the norm now.
"One indicator is the road relays. I ran five seconds quicker this year than I did last year. When I got over the line last week, 13.57 for three laps, I knew just off that that things are definitely in a good place."