For Ciara Mageean, some of the praise coming her way doesn't feel quite right.
Her incredible performance in winning silver in the 1500m last week – pushing the formidable Laura Muir all the way in an absorbing final lap – will sit alongside the bronze collected in 2016.
In between those two feats, by her own admission, the road has been rocky at times.
Two disappointing Olympic outings – particularly Tokyo where a calf injury on the eve of the Games hampered her performance significantly – injuries and Covid interruptions at a crucial part of her career means the Portaferry woman has even greater appreciation for the highs when they come along.
For all the setbacks, there was never any question of packing it all in. In fact the 30-year-old doesn't feel the praise heaped on her for sticking with the sport is even merited.
"It didn't occur to me to give up. It wasn't a battle, because I never thought of stopping," she told RTÉ Sport when asked if the younger version of her would have coped so well with such adversity.
"The 22-year-old Ciara was injured and she didn't stop, it didn't faze her and she kept going. Maybe it's a little in-built resilience that I do have.
"Of course the years of racing, the ups and the downs, it gives me a lot more to reflect on. I realise my opportunities at major champs are more limited now. I'm not a young athlete. I have to take every opportunity I get."
The decision to stay away from the World Championships to focus on the Commonwealth Games and Europeans was fully vindicated.
SILVER FOR MAGEEAN - 'This is the best she has ever run in the championship!' @CiaraMageean takes a silver medal with a magnificent run at the European Championships 1500m, GB's Laura Muir taking gold
📺 https://t.co/XnOP6grnB7 pic.twitter.com/T8p4g7bq8I

— RTÉ Sport (@RTEsport) August 19, 2022
A season's best time of four minutes 2.56 seconds kept the pressure on Muir until the final 50 metres, while Poland's Sofia Ennaoui couldn't make up enough ground to challenge for silver.
A silver medallist from Tokyo, Muir was always the favourite for gold, but having got to know her and many of the Team Great Britain athletes over the years, there is a great deal of respect among the track rivals.
"I get on really well with Laura and over the years I have got to know her very well.
"We are all on the same journey together and quite similar. As much as we are competitors, it's nice to come away from the sport and have some friends from it too.
"I'm never happier for an athlete when they are doing well as I am for a lot of those girls I meet along the way, have dinner with and share the ups and downs.
"I was delighted for Laura this year and last year, to finally get her global medals. I have admired her as a competitor and as an athlete on the track, and she is bringing me on too. I'm going to push on her heels and try to surpass her eventually."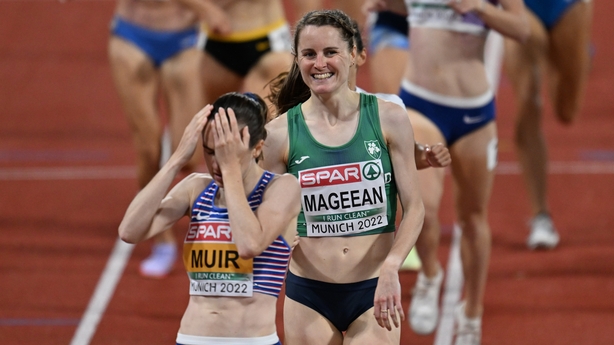 With the rush from the final, Mageean admits she has been struggling at times to take it all in.
A return to training this week helped, and while the Worlds next year - "I definitely believe I was in the shape to be a world finalist this summer, but I made the decision to focus on two other champs" - and the Paris 2024 are part of the bigger picture, and the Euro Cross season looming on the horizon, there are more immediate short-term goals.
Namely national records.
The 800m record she broke in June 2020 was in her possession for less than two years before Louise Shanahan, aided by Mageean's strong front running at a Belfast meet, lowered that again this summer.
That is a target, while so is Sonia O'Sullivan's top time in the 1500m. The Cobh woman's time of 3:58.85 from 1995 is dangling there in front of her. She is yet to dip under four minutes, but has been shorn of fast races this year to seriously threaten number one position.
Her two Diamond League outings were more tactical affairs and Mageean feels now is the time to strike for number one spot.
"I know I am in sub-four shape. It is something I have been setting my sights on for many years now."
The comparisons to O'Sullivan, Ireland's most decorated athlete on the track, were almost inevitable from her early days as a successful junior, but Mageean never felt weighted down by expectation.
"I always feel honoured to be compared to such an athlete as Sonia", but says not everyone reacts in the same way. Not all athletes are able to let such talk wash over.
"Whenever I see someone doing it to a young athlete now, I get a little bit annoyed on their behalf. Just let them travel on their path. Not everyone's journey is the same."
Ciara Mageean, 2022 European Championships silver medalist #Munich2022 @irishathletics @ciaramageean pic.twitter.com/sGPfYjWqT6

— RTÉ Sport (@RTEsport) August 20, 2022
With 11 top-8 finishes and a further three top-10 placings in Munich, Team Ireland surpassed their previous best total of half a dozen top-8 placings at a European Championships in 1998 and 2002.
It has led to more focus on athlete pathways and coaching structures.
As a full-time Team New Balance athlete based in Manchester, she is under the guidance of full-time coaches Helen Clitheroe.
Mageean is hopeful that coaches in Ireland can be better supported and that athletes can slot more easily into team environments rather than slogging it out predominantly as individuals.
"If I reflect on what I have got in Manchester and how I would want that to be emulated back home, it's that team aspect of having people around you and living that professional life.
There is a huge sense of responsibility to be that role model
"Not everyone is as lucky as I am to be able to be a full-time athlete."
She'll need more time to sift through the well wishes and messages of support, but the ones that really stick out are those from the youngest generation, those that may not be fully aware of what she has achieved, but want to follow in her footsteps.
"It's the little kids who are inspired, kids who have never seen an athletics track and want to give it a go, honestly those messages are the ones that really mean the most.
"It's humbling to think I am a role model for those children. It's something I take great pride in. There is a huge sense of responsibility to be that role model."