The dust has barely settled on a memorable World Championships for Chris O'Donnell, but the North Sligo AC runner is keen to continue his form in Munich.
The 24-year-old marked a first outing at a World Championships with a place in the semi-finals of the 400m, while he went one better with the 4x400m mixed relay team involving Sophie Becker, Jack Raftery and Sharlene Mawdsley, meaning he has now World and Olympic final experience in the team event.
The relay was the main focus of attention - "the individual turned out to be a bit of a bonus territory" but what was most pleasing was how he performed given the travel and jetlag.
Even with the Europeans so close on the calendar, his schedule was carefully set up with both in mind.
"In April we went to a warm weather training camp in Florida," he told RTÉ Sport. "We were there for a month, so I had practiced going over and coming back from there. I made notes of how I was feeling, how I got over the jetlag etc.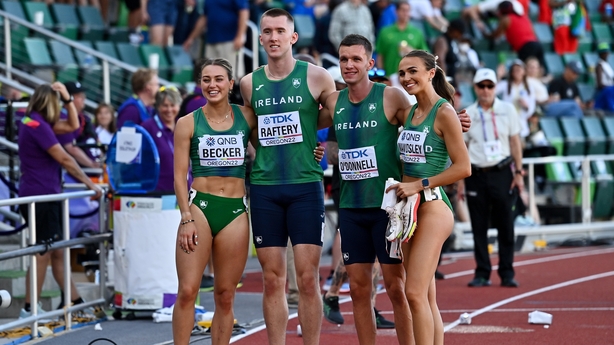 "I've never done anything in my life like the relay; two races in the one day with the emotion of making the final (mixed relay), putting everything into it and coming back for another round. Then making the semi-final (400m) again.
"I put my body through something it has never been through before. I was running on empty. I put everything into the relay. We've done three world finals in a row and it was trying to keep that streak going. When we did it I was really happy because a lot of people had said that Tokyo was a bit of a fluke, so I was really determined to show them that Irish teams can compete in world finals."
With no mixed relay commitments in Munich, the 400m is the only show in town for O'Donnell.
Two months on from his PB of 45:26, and with fresher legs than was the case at the Worlds, he is looking to make a further dent on that time.
"I'm just looking at going all out. If it's going to come to the last 30m, and I'm in a better position than I hope for, then we'll take it from there.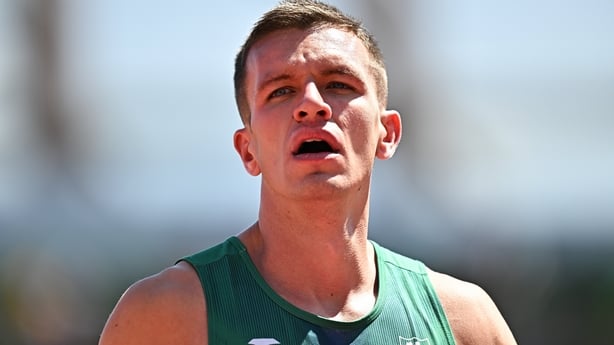 "But I'm just looking to get a good Q (secondary qualifier) and a good lane for the final. Two all out runs in two days isn't going to be a problem for me with the training I've done.
"If I can run my PB, that should be good enough to make the final. But again, it's going to be about positioning, and that's what I've been working on more than times. To medal in the final you're probably looking at the 44 territory, but I think that's more than within my capabilities.
"I've been working years and years towards this and I think I'm going to be peaking at these championships. I don't think 45.2 is my best this year; I think there's more in there so I'm very confident."
Follow live and extensive coverage of the European Athletics Championships in Munich, 15 – 21 of August, on RTÉ2.