While Andrew Coscoran could be forgiven if he was tempted into easing up and reflecting on the landmark year that was, he is not planning to rest on his laurels even briefly.
This past year saw a big step forward taken in the burgeoning career of the middle-distance runner as he made his Olympic debut in Tokyo.
It was a Games that saw him draw attention to his own potential as the Balbriggan native reached the semi-finals of the 1500m where he finished a creditable 10th and just outside his personal best.
Most recently, he came close to a medal as part of the mixed relay team alongside Ciara Mageean, Luke McCann and Síofra Cléirigh Büttner at the European Cross Country Championships which took place in Dublin earlier this month.
But it's "full steam ahead" as he uses late December and early January for getting into gear for what he hopes to be a huge 2022 when he will tackle World and European Championships as well as major indoor competitions.
"I don't think I'll rest and recover, we'll just continue to build and get the training done. There's a big indoor season coming ahead and a lot of ranking points on the table or a chance to run 'A' standards to qualify for World and Europeans," he said at the launch of the Irish Life Health 'Runuary' programme, confirming that he will look to open his season with the Millrose Games which begin on 29 January in New York, before prospective races in Birmingham and Metz.
"There's a lot of competition coming next year as well. World Indoors and then straight out to Europeans, Worlds and World University Games.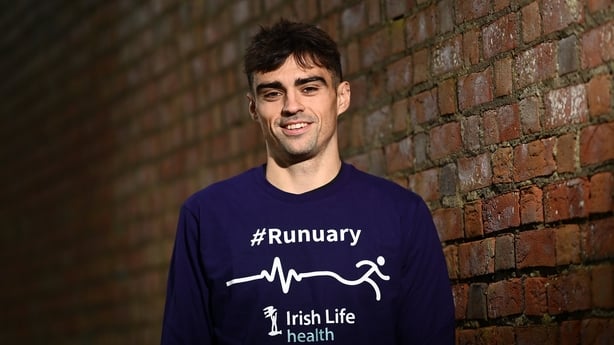 "At the moment, we're definitely looking at World Outdoors as a huge competition and then we'll see what else we fit in to the schedule.
"But we should probably be targeting as many competitions as possible."
Looking back on 2021, the 25-year-old feels the year has given much to build on for the near and distant future.
"For me, it's been a huge breakthrough year. I've got to places I didn't think I would and it's kind of giving me a platform now and opportunity to strive for higher," he said.
The Tokyo experience is something he hopes will stand to him with the presence of mixing it with the world's elite in his discipline levelling the playing field more in his mind.
"Being there in the middle of it in the semi-finals, you just observe everyone and see everyone's human at the end of the day," he said.
"Everyone does the same thing, they put their runners on and go for a run and get consistency in training and that's how they get good. That is how you can get to that level so you kind of see that it is doable.
"We'll be aiming for big performances this year coming. Last year proved that we can be competitive up the top so this year with another year of training behind me and another year of experience at a high level, we're aiming for finals - and depending on the competition - maybe even a medal here or there going forward."