In less than seven days, 25 athletes from Team Ireland's athletic track and field and walk team will be jetting off to Japan with their lifelong Olympic dreams finally within touching distance on the Tokyo horizon.
The 'Best of Luck' and 'Congratulations' banners have been basking in the sun of Newport, Tipperary since May after local athlete Sharlene Mawdsley was part of the 4x400 metre mixed relay team that qualified for the Olympics at the World Relays in Poland.
Until last Monday, Mawdsley was set to be added to the long list of Tipperary's esteemed Olympians. Her seat on that plane was as good as assured. After just one phone call that afternoon, gone in the wind that fluttered the banners around her small hometown were all her big Olympic hopes and dreams.
Mawdsley was beaten by Cliodhna Manning at the National Championships last month, with Manning twice running faster than the Tipperary athlete this year, it was she who made the plane for Tokyo, once Rhasidat Adeleke decided against running the 400m in Santry.
"I got that call from Drew [Harrison] to say I wasn't being considered and was given no reason why. I was just devastated. Totally heartbroken," said Mawdsley, speaking to RTÉ Sport.
"What really hurt me the most was how much I committed to the relay team since 2019. I was the one who was there the whole way through when no one else agreed to it. There was no reason to it.
"I'd committed to this relay team since 2019. I ran a 51.86 split over in Poland. I was the quickest female on the team.
"All I know is that the girl who replaced me ran 0.2 quicker than me and that's all I have to go off. I felt like my experience and being known to be a really good relay runner would have gotten me there but that's athletics. It's cruel and you just have to take it and move on.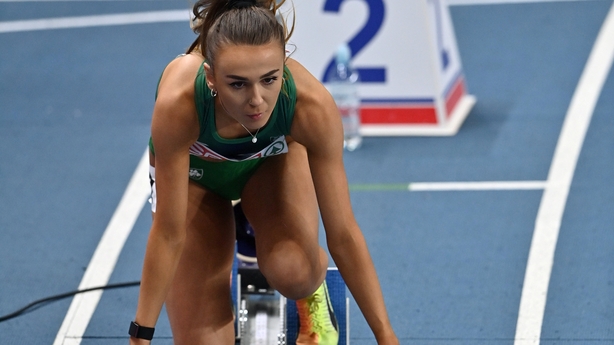 "Thankfully I have a great support team around me. I've my trainers and a sports psychologist to speak to. Luckily these things are put in place for me because I got the worst news I've ever received in my life and you're just meant to deal with it.
"I just sat down for the whole day on Monday and just cried. I didn't know what else to do. I remember coming home and my mam asking if I was okay and I just didn't want to talk to anyone. It was just awful."
Like everyone, Mawdsley found the 2020 lockdown tough. The final year student in UL spent three months living alone on campus so that she could continue to train on the track and keep her Olympic goal alive despite the turmoil and uncertainty around the games in the beginning of the pandemic.
"I was training really well until Covid happened but then it really affected me, not having anyone around me. That was definitely the most difficult part, finding the motivation," she said.
"It was really hard to be training for a long period of time without knowing what was coming next. For me, I had a lot of mental battles. I didn't know how I was training. When I went to race I didn't know what shape I was in. It was kind of a shock to the system.
There's only so many times you can walk to do groceries before they're like, 'you've already been here this week'
"Last year during Covid I did two really low-key races and called it quits then because training on my own just really didn't work for me. Living on my own probably didn't help either.
"I suppose, because I was literally doing nothing else, I would train in the morning and I'd the rest of the day to do nothing so I found myself over-training and over-exercising. It was the only thing I knew how to do. There's only so many times you can walk to do groceries before they're like, 'you've already been here this week'.
"At the time I thought it was great. Then when I raced I realised my body was wrecked. I thought I was doing the best thing for my training but in the end I don't think it was."
Despite being disappointed with her two 200-metre races coming out of lockdown last year and ending her season somewhat hampered with over-training, she returned to a routined training schedule in September with a clear path to Olympic qualification in mind.
"By then I went back training with him and with my training partner, things were able to go back to normal. I was going into my final year so things had to be routined again otherwise it wouldn't sit well with me. When I went back to college and I was back in with my housemates and in a routine, that's when things clicked again for me," the Sociology and New Media graduate said.
"I went over to Ghent in February which was very unlike me, I'd never travel for indoors but I knew I hadn't ran well last year and no one would be over there. As an elite athlete we had an exemption to travel. I ran 54.8 and I knew, this isn't great. I knew I had a lot more to give. Then Athletics Ireland put on a micro-meet the week after and I decided to run it.
"Phil [Healy] was in lane six, Sophie [Becker] in five and I was in four. It was just the three of us. I didn't even know what the European standard was because I'd just ruled it out completely. We all ended up getting the qualifying standard. Going into the World Relays I knew that meant the three of us were going to be on it."
Mawdsley had discovered the most likely and most surprising route to Tokyo for her was indoor relay racing and the fire inside had been ignited.
"There was a lot of talk about the mixed relay since 2019. I committed to it back then. It's been a long journey up until this year. Back in 2019 we went to Geneva and I committed to just the 4x4. I didn't run any individual races. A thunderstorm came and we couldn't race so it was a bit of a disaster.
"Drew, the team manager asked if I'd continue on my season until mid-August to race in the Morton Games. I said I would and no one else on the team committed to it. I ran the Morton Games with what was essentially a B Team. We didn't run well at all. 2020 was a bit of a miss. Then this year when Euro Indoors happened it was kind of like, that's who will be on the team for World Relays."
We need your consent to load this Instagram contentWe use Instagram to manage extra content that can set cookies on your device and collect data about your activity. Please review their details and accept them to load the content.Manage Preferences
On 1 May, the overjoyed faces of Mawdsley, Phil Healy, Chris O'Donnell and Thomas Barr lit up screens across Ireland after the team ended a stunning semi-final run in the mixed 4x400 metre relay setting a new national record and securing Olympic qualification.
The joy and relief was evident in the athlete's post-race interviews and the online support oozed with pride. Barr – who is travelling to Tokyo but will not partake in the relay team as it is scheduled too close to his individual race – ran the final leg of the race and said afterwards, "There was no work left for me to do. Sharlene got me in the lead...I am absolutely buzzing. We have seriously run out of our skin."
"I was in really good shape," said Mawdsley. "I'd prepared myself to be in good shape because I knew we needed to qualify. Obviously, the media just created a storm when they saw how much it meant to us. It was unreal. It was a dream come true."
The National Championships took place in a windy Santry Stadium just two weeks ago and for many competitors it was their last chance to perform and get themselves into Tokyo consideration.
At 4.44pm as Mawdsley and her competitors waited on the track to be called to their marks for the Women's 400m, David Matthews said on RTÉ commentary, 'there's possibly tickets to Tokyo resting on this race'.
By 4.46:17pm, Mawdsley was on her knees watching Phil Healy, Cliodhna Manning and Catherine McManus cross the finish line in front of her.
If I kept going I felt like my Tokyo dream was completely over. If I stopped, it might not be. It ended up being over anyways
"For the first 280 metres I wasn't thinking at all. I heard my coach shout, 'relax', but he does that for every race.
"Getting closer to the home straight, coming off the bend I could feel something. My hamstrings are always tight, I've just accepted that. A tight muscle is a fast muscle but when it was in my calf I had to think about what to do. There's times in training where I've pushed myself too hard and gotten injured and then you're out for weeks. I had to make the decision to pull up.
"I said, 'I either keep going and make this worse or I stop'. If I kept going I felt like my Tokyo dream was completely over. If I stopped, it might not be. It ended up being over anyways."
Despite the bitter disappointment Mawdsley faces, she is committed to supporting her teammates when they set out to compete for medals beginning on Friday 30 July, particularly her childhood friend Chris O'Donnell.
"We're such good friends. We were at schools internationals together and went the whole way up together so it's just disappointing that he'll be there and I won't. Obviously I wish him all the best. I know how much it means to him because that's how much it meant to me so I hope they do unreal," she said speaking emotionally.
"Even though it's so raw I still want the team to do so well. At the end of the day, I was still a part of the team to get them there. I hope they appreciate that as much as I appreciate them being there.
"Come next when World Championships roll around again there won't be a question if I make the team or not. When I got the news I knew there were two ways to look at it, I could either hang up my spikes because it was the most gut-wrenching thing of all time, or take the motivation and kick on. That's my mindset now. I'll be coming back fighting hard.
"I'll do another couple of races this year and hopefully I'll run quick enough that Athletics Ireland are thinking, 'we should have picked her'."
Follow all the action from Tokyo 2020 with our 24-hour coverage on RTÉ.ie/sport and the RTÉ News app, watch live on RTÉ2 and the RTÉ Player or listen to updates and live commentaries on RTÉ Radio.