Even by Olympic standards, it's been a hectic year for Irish marathon runner Stephen Scullion.
In 2020 alone, he qualified for the Tokyo Olympics, announced his retirement from running, rowed back on that decision shortly after, underwent a kind of surgery more widely associated with race horses and then a week before Christmas, he swore off the drink.
An over-indulgence for alcohol isn't usually something you'd usually associate with marathon runners - and they were rare occurrences - but to paraphrase a celebrity of the internet age, when Scullion did go at it, he'd go at it awful and very hard.
He explained "I went home for Christmas around 17 December, and just woke up, in this bedroom in a pile of my own sick, had drunk way too heavily, and thrown up all over the bed.
"I ended up booking a flight back to England the next day, so I didn't even stay home for Christmas, because I pretty much didn't trust myself to stay, and not drink again.
"I'd watched that video from Anthony Hopkins where he was off the drink for over 40 years. So I tried to think of one time where alcohol has actually done something good for my life, and I couldn't think of one thing. I think I used to not drink because of running, that training would be better the next day.
"This time, before Christmas, I made the decision I was going to do this for me. I do all this work to try improve my mental health, try to be happy, and then to go ruin it, just by being greedy with alcohol. I just decided I don't want to do this anymore.
"Honestly, it's not like I had a drinking problem. The problem was I'm greedy, I just got to the point where when I did drink, I have this problem where I can probably handle it at the time, but not handle it in the end.
"I can drink and drink and drink and everyone thinks I'm fine and in a great mood, and then my body decides I can't process all this alcohol, because you never drink, you normally live up a mountain like a saint, and here you are hammering 10 pints or 12 pints and shots, and yeah them my body just rejects it, and I'd be incredibly low-low."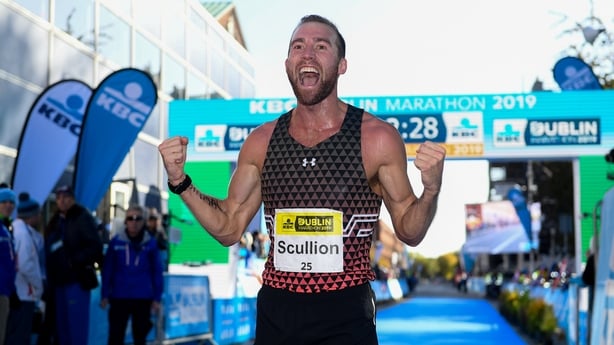 That low that Scullion speaks of played into his battle with mental health.
Scullion is a natural story-teller and frankly honest when speaking about his efforts to maintain balance in his life.
Last September just weeks before running a time of 2:09:49 at the Elite-only London Marathon which secured his place at the Tokyo games, he reveals that he was struggling.
The Northern Irish Sports Institute put him in touch with a sports psychiatrist and as well as talking through his issues with the psychiatrist, Scullion started on a course of anti-depressants as soon as the London Marathon was finished.
It's a practical issue for the Belfast man, who knows that's there's no one magic, quick-fix solution.
"If you take a hay fever tablet and run off into a field where there's grass and horses, you're still probably going to have hay fever, and anti-depressant medication tablet cannot fix everything - it can help," he said.
Scullion admits however that the nature of his sport and the constant drive to remain competitive can be a double-edged sword.
"I had to change a lot on things in my life to give me a chance to be happier. Sports really helps, there's a lot of pressure and you put a lot of pressure on yourself.
"I tweeted not lot ago 'do you exist or do you live?' And part of being a good professional, there are probably times when you have to just exist.
"That means getting up early, doing your training, sleeping, resting, focusing on all the little details because other people are willing to do that, other people are willing to go to places where they're probably not happy at all.
"If you want to be competitive of course your life might not always be in balance, but in order for me to protect the longevity of Stephen Scullion and so that my career flourishes in three, four or five years time when I can be the best possible athlete I can be, I need to move away from that existence every now and then and live."
Where as once that may have involved boozing with friends, Scullion now finds his joys elsewhere, from spending time with his friends and visiting his parent's allotment where chickens are freely roaming and potatoes and onions always need looking after.
"I honestly don't know everything that makes me happy, but I'm starting to find little things that add to my day."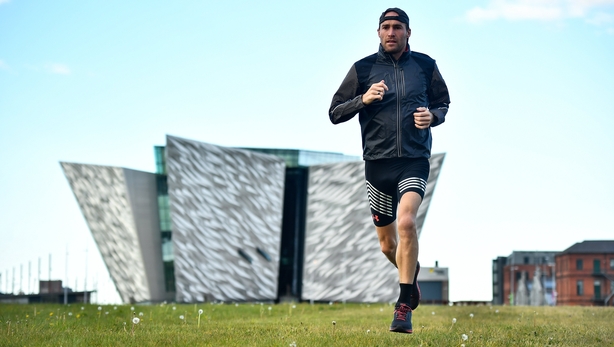 That attention to detail towards his mental health also spills over into Scullion's athletic life.
The constant search for an edge and for improvement led his to a surgical procedure that's usually more associated with thoroughbred race horses than runners.
Doctors discovered that Scullion has exercise-induced laryngeal obstruction, a condition that was initially misdiagnosed as asthma.
"The condition basically means your vocal cords are working against you, as you breathe, closing your airways,"
"In Ireland, thoroughbred race-horses get this surgery and they essentially burn away two little lumps that help us swallow. In race-horses they burn them off completely because for most race-horses in ten years they won't be alive anyway, but for me, they were able to remove some of it.
"It's made my breathing quite a lot better. It was quite an ordeal, but well worth doing.
"For 10, 15 years of my life breathing was the biggest thing that held me back, so to be almost set free is really cool."
Stephen Scullion was speaking at the launch of the 2021 KBC Virtual Dublin Marathon and Race Series with distances of 4 Mile, 10km, 10 Mile and Half marathon available.
Entries are now open on kbcdublinmarathon.ie. Runners who have secured a place for the KBC Dublin Marathon race event on Sunday 24th of October, will receive confirmation by Friday, 25 June on whether the event can go ahead.