Nadia Power's new Irish Indoor record over 800 metres in Torun, Poland, is one of the biggest leaps in the colourful and deep Irish history of one of the classic disciplines in track and field. 
Power broke two time-barriers in lowering her own Irish record of 2:02.44 to 2:00.98 seconds which represents a fairly astonishing improvement of more than ten metres of track.
It's a time that has elevated the Dublin City Harrier, who is coached by sub-four minute miler Enda Fitzpatrick, up to eighth in the 2021 world rankings.
With the European Indoor Championships to be staged on the same track in Torun in a fortnight's time, a place in the six-woman final now beckons for the 23 year-old after Ciara Everard achieved that distinction in 2013 and Aisling Molloy in 1990.
The improvement of 1.46 seconds on her own Irish record set less than three weeks ago - a personal best either indoors or out - takes Power into a new territory of anticipation at senior level having already shown her competitive steel in winning a bronze medal at the European Under-23 Championships in Sweden in 2019. 
After the winter season shuts down in a few weeks, the next goal will be on securing Olympic qualification, the prospects of which have been considerably enhanced by her performance in Torun.
She will have an eye on Ciara Mageean's Irish outdoor record when the summer track campaign opens in May as she seeks to achieve the absolute certainty of Olympic qualification which she can secure outright by running inside the standard of 1:59.50 in the next few months. 
Until 1968, the 800 metres was the longest event allowed at the Olympics for women and Ireland has a long history of representation at the highest level, being well represented by Maeve Kyle at the Tokyo Games in 1964 and Mary Purcell in 1972.
Caroline O'Shea broke new ground by reaching the Olympic final in 1984 finishing 7th in Los Angeles setting a record of 2 minutes 00.70 seconds along the way. Sonia O'Sullivan only broke that mark ten years later by a mere .01 of a second.
O'Shea's time from 36 years earlier, was only substantially improved upon by Mageean eight months ago when she became the first Irish athlete to crack the 2 minute barrier in an outdoor race in Bern, Switzerland.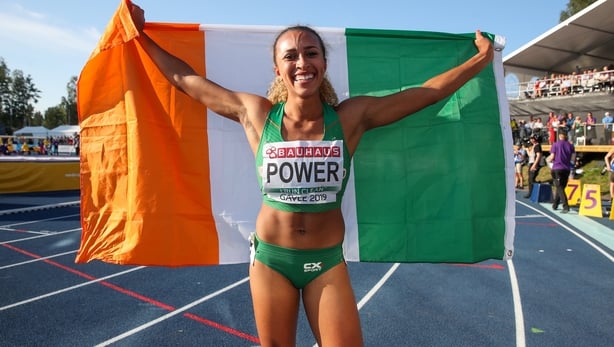 In truth, 800 metre women's running in Ireland has long been among the most static events in terms of improvement over the years and so Power's performance yesterday along with Mageean's breakthrough time of 1:59.69 seconds from last summer have been decades overdue.
Mageean's main focus though is over 1500 metres while Power is now a specialist 800 metre runner who is making extraordinary strides both literally and figuratively in an event at which no Irish female athlete has ever won a medal at a major championship.
The 23 year-old marketing student and former camogie player though is not without prospect of changing that state of affairs.
Her performance in Poland was clear evidence that she is one of the most exciting emerging talents in a winter of considerable progress for Irish athletes who have been starved for almost a year of the level of competition they badly need at this juncture in the Olympic qualification and preparation cycle.