After day one of the World Athletics Championships, I thought they would never end. The days were long, due to a ridiculous timetable of events starting late and some finishing well into the small hours.
On the track, however, in terms of athlete performance, these were one of the best championships we have ever seen. 
The USA's Dalilah Muhammad setting a new world record in winning the women's 400m hurdles, beating compatriot Sydney McLaughlin for only the second time this season (both runs were WR time).
The last 100m of the men's 3km steeplechase, Kenya's Conseslus Kipruto fighting back to win with a dip on the line and taking gold by .01
I watched the women's 800m amongst a bunch of Ugandan fans, and it was electric watching their star, Halimah Nakaayi, take a surprise gold. Nakaayi's celebration was brilliant, as she and team-mate Winnie Nanyondo, who finished fourth, danced themselves around the stadium.
These championships threw up plenty of headlines. The ten-day programme kicked off with marathon runners dropping out, struggling to deal with the grueling conditions on the midnight streets of Doha, raising questions as to who in God's name decided that it had been a good idea to host the event in Qatar.
By day three, the echo was loud and clear. Only 7,000 showed up on Sunday night and by the time Shelly Ann Fraser Pryce carried her son around an empty Khalifa international Stadium on a victory lap after winning the 100m, only a few handfuls of people remained.
To be fair, crowds did increase, and figures released suggested over 42,000 people attended last Friday night along, with over 31,000 on Thursday.
The big numbers on Friday were mainly down to hometown hero Mutaz Essa Barshim becoming the first athlete to win back to back high jump world titles with a leap of 2.37 metres.
After the negative headlines that became worldwide news earlier in the week, organisers went into overdrive busing migrant workers and defense force personnel in to get bums on seats.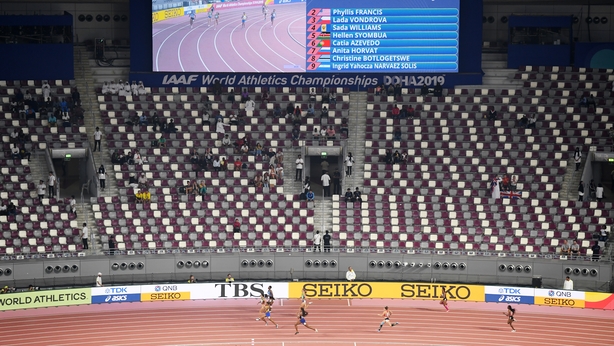 As with all championships, it's a learning curve for organisers and athletes alike, and there will be plenty for the Irish team to take away from Doha. With just under nine months to the Tokyo Olympics, it is a stark realistaion of where each athlete compares against the world's best.
Of course, Ciara Mageean (10th place in the 1500m) and Brendan Boyce (sixth in the 50km walk), will leave Doha full of confidence and the belief that all is in order; coaching set up, training environment and most importantly the ability to perform when it matters at a global championship.
This season threw up so many challenges in terms of planning, peaking and conditions, and both nailed it. In a pre-Olympic year, to perform on a global level, reaching the world's top 10, is an incredible motivator heading into months of hard slog ahead of the 2020 season.
For others, there will be questions. What worked, what didn't and what do I need to do? One thing is for sure, time is not on their side. A change of coach or training base with Tokyo just around the corner might be far too risky at this stage, but like we see when a new manager comes into a Premier League team, a new manger bounce can occur. It is a lot to consider but in some cases you only get one shot and another Olympic cycle may too one too far for some.
The IAAF made plenty of presentation changes at these championships. All track finals up to 400m and 400m hurdles were introduced with a brilliant light and sound display, which was a welcome change and definitely resulted in better engagement with spectators.
It was a positive move and one I'd like to see mirrored for the field events. Some events, for example the men's shot putt and women's discus, went completely under the radar in the stadium. Both were very competitive events but there was no attempt to highlight the athletes as they competed.
"Jesus lads, I'm ecstatic!" - Ciara Mageean is understandably delighted as she speaks to @DavidGillick after sealing a spot in the #WorldAthleticsChamps 1500m final pic.twitter.com/Zf3SrPZS0z

— RTÉ Sport (@RTEsport) October 3, 2019
It seems we are never far from another drug scandal and I have already spoke about Alberto Salazar and the Nike Oregon Project (NOP) in my previous column.
One thing I would add now is that the recently set up IAAF athlete integrity unit (AIU) has the opportunity to now kick into action and investigate Salazar, NOP and all the athletes who are associated with the group.
The follow up on this scandal is vitally important to the credibility of this sport and how it is perceived by fans and the wider public. The US anti-doping agency (USADA) have spent years building up a case against Salazar so I believe there is a lot information and clues as to who was involved and enhanced.
If the IAAF are truly serious on tackling performance enhancing drugs, here lies an opportunity to kick out more cheats.
The Salazar scandal did impact on the championships, with many regarding the associated athletes and their performances with a raised eyebrow.
However, when I interviewed both Ciara and Brendan post their finals, it brought it all back, my love of the sport and raw emotion that goes with it when you have a good day. Those interviews have the power to influence and inspire to those that care.
Stay with it, don't let a few rotten apples spoil the bunch!