Midway through the 2019 World Athletics Championships in Doha and it has most definitely been a busy week both on and off the track.
Highlights for me thus far at the International Khalifa Stadium, Shelly Ann Fraser Price's 10.71, the depth of the women's Pole vault with 12 ladies over 4.70m, almost the height of a double decker bus!  Then there was Tajay Gayle's leap to 8.69 to win the men's long jump, brilliant.
The big duel between Karsten Warholm and Rai Banjamin over 400m hurdles... would there be a world record?  Unfortunately not, but with 100m to run it was a great battle and that is what a world championship final is all about.
Of the Irish, overall probably a little twinge of disappointment. The hope was maybe two track finalists in Tom Barr and Ciara Mageean, whose first round of the 1500m is on tomorrow afternoon. Barr unfortunately just didn't have it off the last hurdle and was ran out of it, finishing fifth in his semifinal and not progressing.
The trio of Mark English, Phil Healy and Michelle Finn were all here on a quota place and were not stupid to think it was going be easy to qualify out of their respective heats. The take away is that it gives an indication of where they are at and what work needs to be put in over the next 10 months in order to book their spot for the Tokyo Olympics.
The shining light so far has been Brendan Boyce's sixth place in the 50km walk.
To go out in the harshest of conditions I've experienced and walk 50km in the Doha night was something else. As he ground out each 2km loop you see this lad was going to not only finish the race but put in one the best Irish performances at this level.
Speaking to him afterwards he was in great spirits but was quick to state that he and his coach - former 50km gold medalist Rob Heffernan - believed he could finish in the top eight. They planned meticulously for this event, focusing on the hydration plan and mapping out the pace of each kilometre in order to maintain body temperature and stamina.
The plan included Brendan leaving his wife Sarah of only three months for a full four weeks prior to Doha, with the promise of a performance and a delayed honeymoon post championship.
We need your consent to load this rte-player contentWe use rte-player to manage extra content that can set cookies on your device and collect data about your activity. Please review their details and accept them to load the content.Manage Preferences
With Tokyo around the corner, he is in a great position physically and mentally to mount a podium challenge come the Olympics.
All of these times, distances and heights are what a world championships are all about, best athletes in the world competing against each other, but the big disappointment is that the stadium is empty. With estimates of just 1500 for the Sunday night's women's 100m final.
Regardless the athletes will perform, their whole year has been built around these championships and it's a shame people are not here to witness world class competition.
I don't think we can be surprised, months ago the warning signs were there as tickets sales were slow, there were timetable difficulties and concerns over conditions for out-of-stadium events.
With the ongoing negativity around the sport due to drug scandals, athletics is trying to rebuild its reputation and I think the outcome of these championships will only add to that negativity. It was back in 2014 when Doha was awarded the world championships when Lamine Diack headed up the IAAF.
As we now know he is under a corruption investigation and is due for trial in France next year, along with his son Papa Massata Diack, who acted as a negotiator for the IAAF.
With the massive success of the London 2017 World Championships it was an opportunity to build on that and the thought of a host city like Eugene, the home of US athletics, which competed against Doha for these world champs, would only add value to the sport, but the decision was Doha.
As a result, the sport has just urinated into the wind and the blame game has started with Sebastian Coe pointing the finger at the previous regime of which he was a part. More questions there.
Suddenly the world's media took note and the disquiet spread like wildfire. If you thought it couldn't get much worse, there is nothing like a drug scandal to fuel the fire.
Two journalists David Epstein and Mark Daly did a lot of work on the back of a 2015 BBC Panorama Catch me if you Can documentary, which investigated serious allegations of doping in athletics. As a result whistleblowers including US athletes Steve Magness (coach to Ireland's Mark English), Kara Goucher and others all bravely came forward and spoke out about the coaching practices of US coach Alberto Salazar and the Nike Oregon Project (NOP).
As a result USADA (US anti-doping agency) launched an investigation into Salazar and Nike's Oregon Project (NOP).
Last night Salazar was found guilty of doping violations and banned for four years, along with the Nike-paid endocrinologist Dr Jeffrey Brown. Both were charged back in 2017 but denied any wrongdoing and the case has been fought out behind closed doors in the US arbitration courts.
The dept of Salazar's and Dr Brown's violations include administration or attempted administration of performance enhancing drugs and trafficking of banned substances and tampering with evidence.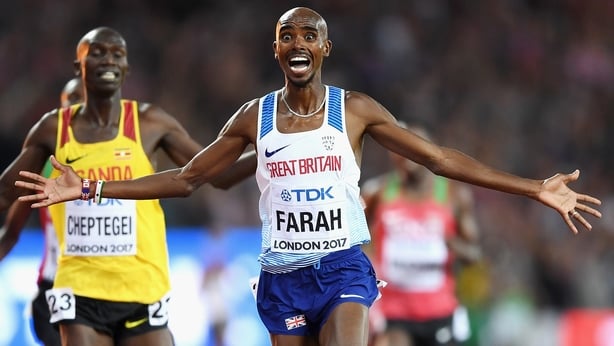 British athlete Mo Farah was coached by Salazar until 2017 when he left NOP and moved away from running track races. Whilst part of NOP, Farah won six world titles and four Olympic gold medals.
Farah has never failed a drugs test but who you surround yourself with will always raise eyebrows and no doubt Farah will come under a lot of questions relating to his time with Salazar.
Farah is due to compete in the Chicago Marathon on 13 October and very swiftly distance himself from the latest news with a statement reading, "I'm relieved that USADA has, after four years, completed their investigation into Alberto Salazar.
"I left the Nike Oregon Project in 2017 but, as I've always said, I have no tolerance for anyone who breaks the rules or crosses a line. I'm glad there has finally been a conclusion."
Here in Doha, Salazar's accreditation has been cancelled so access to the stadium and coaching areas will be denied. He still has athletes competing, one of which Dutch woman Sifan Hassan who won the 10,000m last Saturday night and is due to line up in the 1500m heats on Wednesday.
For a long time within athletic circles there has been rumours about the goings on of Salazar, again just rumours, but with whistleblowers coming forward it has helped ban a coach who was not only cheating the sport but also harming the welfare of athletes.
Again, we see in the world of sport it is whistleblowers who have the power to help change it. 
At the end of the day, I do feel for the athletes. With all the goings on off the track, the ones on it have not grabbed the big headlines, let's hope that changes in the coming days.