Turkey's Ramil Guliyev shocked Wayde Van Niekerk to clinch the 200m title at the World Athletics Championships in London on Thursday.
South Africa's Van Niekerk claimed silver to miss the chance to become the first man since Michael Johnson in 1995 to win the 400m and 200m double at the Worlds.
Guliyev, who represented his native Azerbaijan until his switch to Turkey in 2015, won in 20.09 seconds, with Jereem Richards third.
Botswana's Isaac Makwala finished sixth. He had to qualify for the semi-final by running a solo time trial after he was barred from entering the London Stadium for his heat due to illness.
Afterwards, van Niekerk accused Makwala of a lack of respect over the latter's assertion that athletics' world governing body the IAAF had unfairly quarantined him with a sickness bug to make it easier for Van Niekerk to take 400m gold.
Van Niekerk said: "It really did upset me a bit. I've always shown him massive respect and for him to come out and mention my name among something fishy with the IAAF and pointing me out as some kind of favourite, knowing how hard I've been working in the last few years.
"If I was an overnight success and it was my first gold medal I could accept a statement like that but I've been putting out great performances in the last two years now.
"I definitely deserve way more respect from my competitors. But this is a competition and an area where we want to be the best. We're not here to make friends.
"I've learned a great lesson now so I'm definitely going to be taking the future by focusing on myself and not letting such negativity get to me."
Makwala and Botswana had been critical of his treatment and the 30-year-old said he was still running heartbroken after not being allowed to race in the 400m.
He said: "It's one of the craziest championships. I'll always pray not to have another championships like this.
"I'm still disappointed. If I got a medal in the 200m it's going to be better so now my 100% chance was in the 400m.
"Let's not talk about what's passed, it's bringing back bad memories. If it's not your time it's not your day."
Guliyev, 27, had never won a world medal before but won in 20.09 seconds, with Jereem Richards third and Great Britain's Nethaneel Mitchell-Blake fourth.
Guliyev said: "This is not a shock but this does not feel real. I am so proud. This title means a lot.
"I have shown my best throughout this competition. I delivered my best race at the right time. I'm so happy to be world champion. This is the best moment of my career."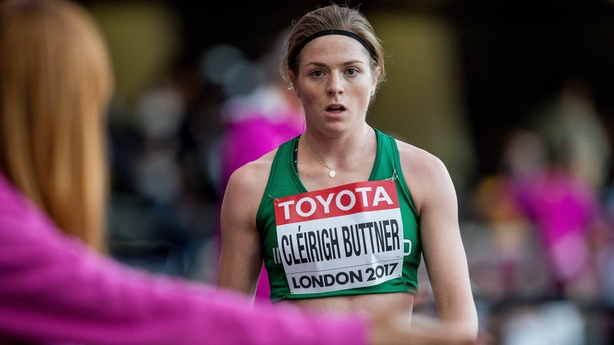 Ireland's Siofra Cléirigh Buttner failed to progress from her 800m heat after finishing sixth in 2:06.54.
"It was going well up until about 500, I was feeling smooth and strong, but I went over a little on my ankle - it hurt, but it was more that I messed up my stride pattern," she said, speaking to RTÉ Sport.
"It was a great opportunity and I wanted to take the most of it. I definitely thought there was a chance I could progress to the semis so it's disappointing, but it will add to my experience for the future."
American Kori Carter pulled off another shock on Thursday, achieving the rare feat of winning the 400 metres hurdles title from the outside lane.
All eyes had been on Carter's US team mate, Olympic champion and favourite Dalilah Muhammad, but Carter in lane nine who maintained her form best as she raced to victory in 53.07 seconds.
Muhammad, the fastest in the world this year, earned the silver in 53.50 to complete a US one-two while Jamaican Ristananna Tracey took the bronze in 53.74.
Double Olympic champion Christian Taylor continued his dominance of the triple jump when he won his third world title, beating fellow American Will Claye into second place.
Taylor leapt 17.68 metres with his third attempt to win by five centimetres. Portugal's Nelson Evora, Olympic champion in 2008, took bronze with 17.19.
The 27-year-old Taylor became the first triple jumper to win three world titles, having also claimed victory in Daegu in 2011 and Beijing two years ago.
Shaunae Miller-Uibo put her 400 metres disappointment behind her to power into the final of the 200m.
The Bahamian came from behind in the last 60 metres to win the second heat in a time of 22.49 seconds and qualify for Fridays final.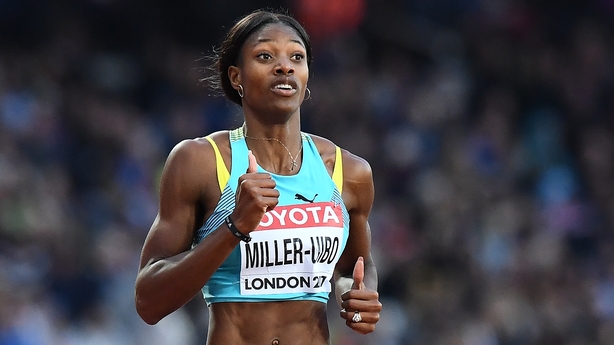 Following the race, she explained what had happened 24 hours earlier when she stumbled 15 metres from the line when comfortably leading the 400m final and dropped to fifth.
"I know a lot of people thought I'd hurt my hamstring," she said. "It was kinda weird. I had the race under control, I looked up at the screen and misplaced my foot and just completely lost my balance."
Dafne Schippers remained on course to become the first Dutch athlete to win successive world titles as the defending champion won the opening heat, ahead of American Deajah Stevens, in the same time as Miller-Uibo.
Olympic champion Caster Semenya maintained her two-year unbeaten record over 800m as she eased through the first round following on from her 1,500m bronze.
Her main challengers, Francine Niyonsaba, Margaret Wambui and Ajee Wilson, also cruised into Friday's semi-finals but defending champion Maryna Arzamasova was eliminated after finishing fourth in her heat.
Caught up with @TomBarr247 #London2017 watch the full interview on Episode 7 of #BehindTheBlocks @RTEplayer https://t.co/k9NTvtWtC1 pic.twitter.com/4T1as5t4xt

— David Gillick (@DavidGillick) August 10, 2017