Fionnuala McCormack versus Turkey. It doesn't sound like a fair contest and it really hasn't been for much of the last 10 years, writes Greg Allen.
On Sunday last in Sardinia, we witnessed the latest in a long tale of lost European Championship medals for the 32-year-old Wicklow woman at the hands of Turkish athletes.
The saga began in 2006 when McCormack headed to San Giorgio du Legnano in Italy dreaming of gold at the Under 23 European Cross Country Championships, but was forced to settle for silver.
Turkey's Binnaz Uslu, a heavily muscled barrel of an athlete, more akin to a boxer than a cross country runner, ran away from the field. A mere three months later she failed a doping test and was banned for two years.
Then in the 2010 European Cross Country in Albufeira on the Algarve, the reinstated Uslu was still running with the tempo of a piston engine and claimed the silver medal in the senior Women's race with McCormack back in fourth place, seething afterwards about losing to a proven doper.
She had just cause to be angry because Uslu was subsequently banned for life from the sport in 2014 for a second doping violation – this time a retrospective one having tested positive at the 2011 World Championships just nine months after her silver medal performance in Albufeira.
So, it's not a great stretch of the imagination to believe that both the 2006 Under 23 European Championship gold medal and 2010 senior bronze should belong to McCormack.
Fast forward to last July in Amsterdam, as a Kenyan-born teenager Vivian Jemutai now going by the name of Yasemin Can, ran away from the field to win gold for Turkey in the Women's 10,000 metres, just four months after being cleared to run for a country with which she has virtually no tangible living connection. McCormack again was bumped out of the medals by one position in fourth place.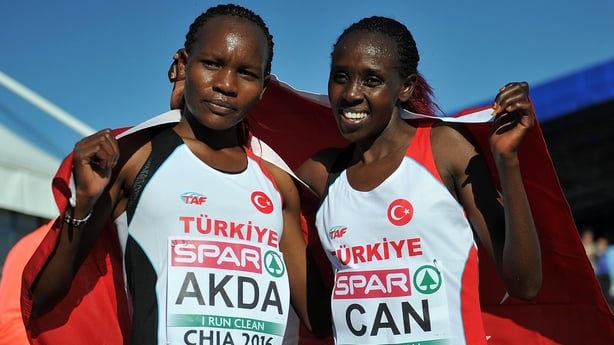 And then on Sunday last in Sardinia as both Kenyan-born Can and Meryem Akda took gold and silver, McCormack finished fifth, the third European born athlete across the line.
Again no medal but in contrast to her heavily vented frustration after losing out in Amsterdam five months earlier, this time she calmly chose her words in assessing yet another loss of a place on the podium at the hands of Turkish athletes:
"I don't think it's right that people can just swap countries and change names whenever they feel like it," she said.
"I don't think those decisions should be allowed. I think it's from the top that a change needs to be made. A lot of the problems in our sport come from the top down."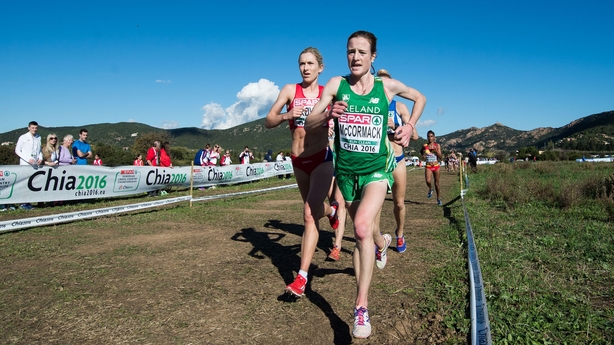 The European Athletics Association is largely separate to the IAAF but it follows international rules on athlete transfer allegiance and therein lies much of the problem.
Once a passport has been issued, the IAAF mostly only require 12 months before they then clear that athlete for competition with their adopted country.
Of course the IAAF have other more pressing crises on their hands at the moment than dealing with the exploitation of this leniency.
The issue of 'allegiance-swapping' has only a minor bearing on the sport globally so the International Federation has dithered about doing something about it as it doesn't severely impinge on their events.
However, Europe's top competitions have been a soft target and Turkey in particular has seen an opportunity and exploited it to an unsettling effect, one that is proving embarrassing for the sport and demoralising for athletes.
At the European Track and Field Championships in Amsterdam in the summer, Turkey brought a team of 52 athletes - no fewer than 17 of them were allegiance transferees. Among them were seven Kenyans, two Jamaicans, a Cuban and a South African.
And while there are short term gains for Turkey performance-wise, the record books in that country are now overflowing with new marks set by athletes who barely set foot in the territory, thus placing them out of reach for a generation or more of native born athletes.
"In spite of stumbling from one problem to another, athletics has rarely been so popular in participation terms"
If the IAAF wasn't fire-fighting in other directions, it may have begun to realise that the exploitation of the allegiance transfer rules has become another contaminating element in a sport struggling for credibility and spectator interest.
As Kenyan born athletes dominated the Senior Men's and Women's races on Sunday in front of a paltry attendance, taking gold and silver in both events, the penny finally seems to have dropped.
IAAF President Sebastian Coe took to social media after the race to address concerns.
"Working on this and will sit with new Athletics Integrity Unit that the IAAF Congress approved – launching April 17," he posted on his Twitter account.
Turkey however are not the only country exploiting the gap in allegiance transfer rules.
 As far back as the 2013 World Cross Country Championships, Bahrain fielded a team of six African born athletes - Ethiopians and Kenyans mainly - to finish fourth in the Women's team race, one place ahead of a strong Irish performance.
Qatar has also seen the value of acquiring African born runners to boost their medal prospects at international championship level .
The irony is that athletics, in spite of stumbling from one problem to another, has rarely been so popular in participation terms but the governing body worldwide has failed to catch the wind of the fitness boom and dwindling spectator numbers, as evidenced at the Olympic Games Track and Field programme is becoming a trend that's hard to stem.
April 17 can't come soon enough.