Irish 10,000 metre runner Fionnuala McCormack says she is dismayed with the lax nature surrounding nationality rules that govern the sport after finishing fourth in the European Championships.
The Wicklow native admitted it was "sickening" to miss out on a medal in Amsterdam after remaining comfortably within the main group for most of the race, but was unable to keep pace with Kenyan-born Turkish athlete Yasemin Can who claimed gold.
McCormack finished a place ahead of defending champion Jo Pavey, but speaking to RTÉ post-race, couldn't hide her disappointment in losing to a competitor she felt shouldn't be at the competition.
Can was born Vivian Jemutai in Kenya and represented the country until 2015, before officially becoming eligible to represent Turkey earlier this year.
The 19-year-old won the race in 31 minutes 12 seconds a clearly frustrated McCormack couldn't hide her frustrations, though added that she wasn't bitter over the result, simply the loophole in the regulations.
"There doesn't seem to be anything that can be done about it. People are taking such a soft approach to this. I think it's a joke really and it's not because I have come fourth," she said.
"I think it's the same in every sport. People shouldn't be allowed hop countries whenever they feel like it.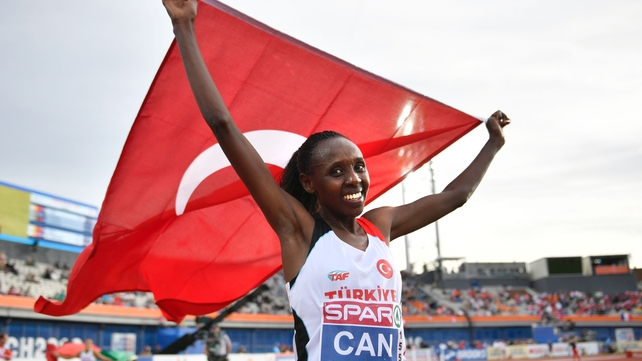 "It's a dangerous country to be living in (Turkey), why would you just decide to represent them? I have no idea and I don't think it should be allowed."
McCormack, who said she plans on concentrating on the marathon for the Olympic Games and was pleased with her fastest time of the year, told RTÉ Sport that she has spoken to authorities about the matter, but nothing has changed and argues that the athletes themselves are simply "pawns" in the process.
"This whole thing is a complete joke. I've said it to people at the top and they have basically just said it's not something you have a choice in," she lamented.
"You go and do it (change country representation) because you are told to do it and it makes it look good to the rest of the public.
"I know journalists say, 'athletes must come forward, they are the ones that have to push things'...I have never seen anybody cheating, but I'm sure there are people out there who cheat, but I've never seen them do it so I can't say anything
"These are the only issues I can bring anything up about, yet I know from experience it has no effect.
"Someone just needs to lay down the law and that should be the end of it. It doesn't need to be something you have a debate about. It's obvious."
Sonia O'Sullivan & Jerry Kiernan discuss Yasemin Can, the Kenyan-born athlete who won 10,000m European C'ship goldhttps://t.co/71EWF7RYgY

— RTÉ Sport (@RTEsport) July 6, 2016
Former Irish Olympian Sonia O'Sullivan agrees that the governing body needs to tackle the issue which is becoming as important as doping.
"I don't agree with it," she said. "There's been a lot of work done by the IAAF to get on top of doping and problems there, but I think this is another area where they really need to work hard and keep athletes in the continents they belong."
RTÉ Sport's athletics analyst Jerry Kiernan, a long-time critic of the exploitation o the rule, reiterated the views of O'Sullivan.
"She's been paid by the Turkish Federation and pitches up at these events and she has no more connection to Turkey than I have."