The first big athletics meeting of the season kicks off on 6 May in Doha, the first of 14 Diamond League events which will see competitors travel across the globe over the summer months.
These competitions are a great spectacle and are held in big stadiums with plenty of TV coverage, along with the main ingredient: superstar athletes.
I was lucky in my career to experience these meetings and they really do provide a massive platform to compete on a regular basis with the best in the world. That helps provide the environment to run fast times, obtain qualifying standards and also earn some money.
However, this is the elite side of the sport and only a small percentage of athletes can get into these meetings. For everyone else, it starts by trucking your way around Europe to obscure villages and towns in search of a performance that will help get you up the ladder.
For many, this is where your time in the sport starts, and plenty of Irish athletes start out on this very path.
I walked away from the 400m in 2013. My last race was in July 2012 and it left me battered and bruised, as well as emotionally scarred.
"I thought I could walk away from the sport and simply just get on with my life. The real world has proven hard."
The 400m is an extremely tough event. The physical demands of trying to sprint for one lap of the track are huge, but I think the mental demands are even greater.
Knowing you are going to hurt yourself and trying to prepare for that last 50m, which feels like trying to run with a fridge on your back, can be hard to get your head around.
My last ever 400m race was a disaster. I had relocated to a different coaching environment and I was struggling with an injury for two years.
It was Olympic year and I was panicking as I was yet to qualify. In my final race, with every stride I listened to my body waiting for something to pop. The home straight was like the Long Mile Road, never ending, and it felt like I was trying to push honey up a hill.
I gave everything to my event, but it in the end it beat me, leaving me mentally scarred, and scared to ever set foot on a track again.
I'd had enough. My body was broken but even more worryingly my head was broken. It spilled into my wider life, affecting my thoughts every single day.
For almost three years I've struggled. I thought I could walk away from the sport and simply just get on with my life. The real world has proven hard. There was a massive part of me suddenly missing and I didn't know how to fix it.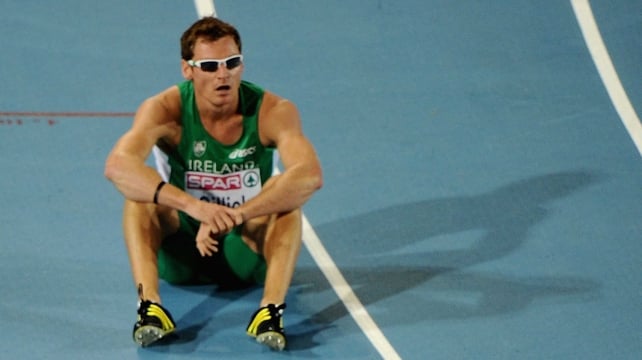 After three years of silently suffering with depression, things got pretty bad late in 2015 and I decided, with a pregnant wife, that I needed to do something about it.
I started to talk about how I was feeling and since then I feel I've managed to get a small grasp on life again. It's the start of a long road but a start nonetheless.
I started running again and began doing some light 400m training. It's what I know I suppose, but it helped to give my week structure and it felt good to get fit and exercise on a regular basis.
With a bit of persuasion I decided to contact a small athletics meeting in Pavia, Italy. It's a very low-key, early season meet. I had to persuade the organiser to let me come. I said I'd pay for my own flights. Her response was: "You won Masterchef!".
Eventually she agreed to give me a lane in the 400m along with one night in a hotel including an evening meal.
Pavia is the first of a collection of athletics meetings called EAP [European Athletics Promotion] - small meets with very little prize money, €100 in some cases for a win. These are the meets where a lot of Irish start out; it's where I started back in 2004.
I left Dublin last Saturday at 5.30am, questioning myself. I thought back to the way I used to prepare for races, when everything had to be a certain way: the same clothes, the same food, very regimented. I was determined to relax this time around and enjoy it - I have nothing to prove.
I was met at the airport by the meet organiser, her husband and their 10-month-old baby boy to be brought to the hotel. Off we went, the family and I. It felt weird on so many levels.
I arrived at the hotel and that fear of who I was going to room with returned. I knew from the starting list that no other Irish were competing, except for one person who wasn't arriving till late afternoon.
"I had to persuade the organiser to let me come. I said I'd pay for my own flights. Her response was: 'You won Masterchef!'"
I got to my room, a standard hotel room with an extra bed in it to reduce costs. Two non English-speaking Italians and me: what am I doing here?!
Finally, a few other athletes I know arrived, along with the laughs and questions: "I thought you retired…"
I decided to jump ship on the Italians and swap rooms, sharing with two lads I know from my Loughborough day - an Englishman Tom Burton and another Irishman Jason Harvey, both 400m hurdlers.
I woke up on race day and felt good. I told myself I had nothing to prove and tried not to think about what might happen and how the race may unfold.
I worried about what time I might run and if my body would be able for it.
I started warming up and then it really hit me, the nerves and anxiety. I picked up my phone and went straight to an old race compilation I put together years ago of clips of some of my best races. It breathes confidence into me and I tell myself, 'this is where I want to be'.
Even six months ago I never thought I would set foot on an athletics track again. I found it hard to watch athletics but when I walked onto the newly laid Mondo track the smell brought it all back. I missed it. I missed the nervous tension, the butterflies that told me I was alive and living.
I set my blocks out in lane six of a six-lane track. I would have nobody to run off, I was running blind in my first 400m race in four years.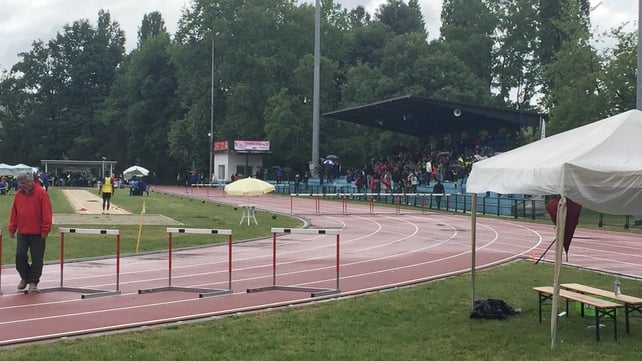 Bang and away I went… slowly! I paced the first 200m too slow and by the time I got to 300m I was well down, but to my surprise I rallied and came home strongly.
Surprisingly I felt okay. I ran very tentatively and wasn't sure if I'd get around in one piece.
My time was 48.05 seconds, a long way from my personal best of 44.77 and it certainly won't send ripples through the sport.
I did this for me and I'm proud that I faced my fears and ran at them. People will have their opinions and I don't mind because very few know what has gone on in my life over the last number of years and how much it has taken, emotionally more than physically, to even put myself on a start line.
I'm grateful that I was given the opportunity to run in Pavia last weekend. I'm also lucky that I was able to share my knowledge with some athletes starting out with their first runs of the season in search for fast times that may lead them to Rio.
I used to look at athletes that were past their prime but still running and think, 'how can they still do it, just for the thrill of it?' Why can't I do that, just get out there and run for enjoyment?
I don't know if this is the one thing that will fill that void and fix me - I'm sure it is more complicated and will require ongoing management - but I think we all have challenges we want to face but find a reason to turn the other cheek and carry on regardless.
It's taken four years and it wasn't pretty but I feel a sense of pride and contentment I haven't felt in a long time.