Sonia O'Sullivan says that having her suspicions about her Chinese rivals confirmed would be more satisfying than being belatedly awarded gold medals from the 1993 World Championships.
Reports emerged in the Chinese media today of a letter signed by former Olympic champion Wang Junxia and several of her team-mates 19 years ago that accused coach Ma Junren of forcing them to take "large doses of illegal drugs".
In Stuttgart, O'Sullivan came fourth in the 3,000m and took silver in the 1,500m, with only Chinese competitors ahead of her in both races.
Qu Yunxia, Zhang Linli and Zhang Lirong made it a clean sweep for China in the 3,000m, with Liu Dong pipping O'Sullivan to gold in the 1,500m.
If the IAAF decides that the Chinese athletes were guilty of doping, O'Sullivan could be retrospectively awarded two gold medals.
Speaking to RTÉ Radio 1's News At One, O'Sullivan said: "If the truth comes out, the difference to me would be just knowing that what you thought was unbelievable and not possible, that you were right in thinking that. You weren't just thinking that because they were much better.
"I always wonder, if you cheat to get something, how can you sleep at night?"
"As athletes and coaches you know when something is not quite right and is out of the ordinary but it's amazing how much it takes to prove that.
"If something like that can be proven all these years later, that the athletes can't live with it any more and they're going to say 'we weren't doing the right thing back then'...
"In a sense, you can't blame the athletes because it appears that it was a system. They were being told what to do and they didn't have a choice. But at the same time, they went out there and they ran the races.
"I always wonder, if you cheat to get something, how can you sleep at night and go on with your life and be happy with yourself?"
O'Sullivan, who went on to win World 5,000m gold in Gothenburg in 1995, said that her initial reaction to the emergence of the Chinese athletes was one of shock rather than suspicion.
"We didn't really know what to think," she said. "These girls came out of nowhere. They didn't compete at any other races except the World Championships.
"They had run some very fast times at races in China so we had an idea that they were going to come to the World Championships in very good shape.
"I was definitely the favourite going in for the 1,500m and 3,000m and I didn't want to believe that was going to be the case. You thought 'well they can do that in China but maybe not in Stuttgart, at the World Championships'.
"When they ran in the 10,000m and blew everyone away, it was just the most mind-boggling, strangest thing ever.
"You had never seen such tactics. The way they ran the race was something nobody had ever seen before. It was a tactic employed with a huge amount of physical ability that nobody was able to match.
"There was a point in the race where they just took off, in the 10,000m it was with 700m to go, the coach was in the stand giving them some sign and off they went.
"The exact same thing happened in the 3,000m. I was a bit unlucky, I was stuck behind somebody. There was a possibility I could have got a bronze but I got stuck and ended up fourth.
"Some of the girls were definitely superior to others, and the third girl in the 3,000m, they were kind of hanging on waiting for her.
"In the 1,500m, I decided 'I'm going to get in the middle of this, I've got to get something out of this'. I wasn't thinking about winning the race but getting in the middle of these Chinese girls and getting some kind of medal."
The Cork woman said that although she found the 3,000m defeat hard to accept it just motivated her to train harder.
"You have to give people the benefit of the doubt until they're proven guilty, and I did," she said.
"I thought, 'at least I got a silver medal, and if I can do that I'll go back, train really hard over the winter and be ready to take them on next year'.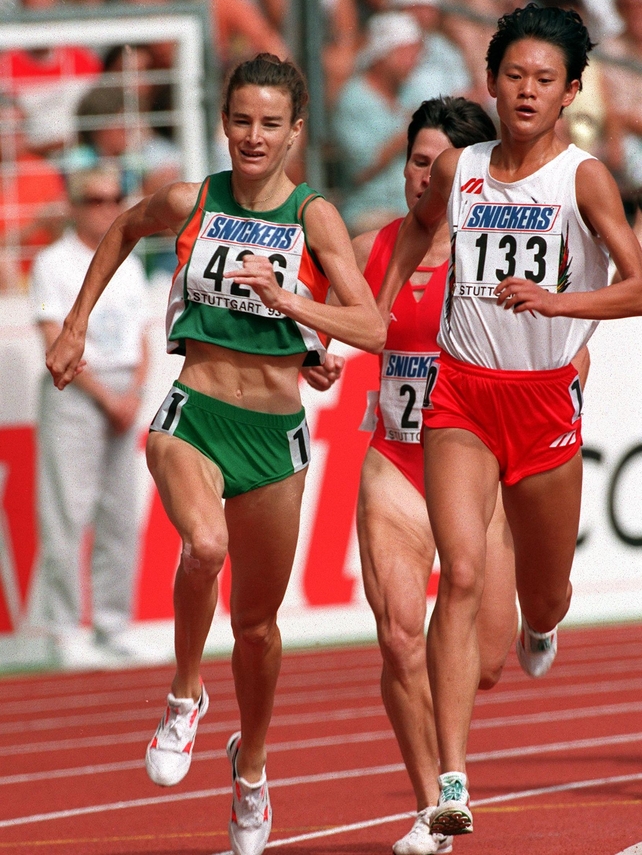 "I was of the mindset that if they were cheating there wasn't a whole lot I could do about that but what I could do was make myself better.
"So I didn't allow myself to go down that path and allow that negativity to enter me and think I wasn't good enough or strong enough. I just wanted to work out, 'how can I compete with this?'.
"Down through the years there are plenty of people who cheat that don't win. You always have one less thing to be worried about when you're standing on the start line when you're not cheating.
"Because they're obviously worried that they're going to get caught. Maybe they weren't, maybe they were way beyond that."
"There was a definitely a lot of talk at the time. People were just curious. How could you be so good? How could you run so fast?
"The word was that they were running 160 miles a week. Most people run 100 miles a week. It just seemed outrageous that girls could do this.
"There were all these stories about turtle blood and this coach that would make them train so hard it was nearly cruel."
"There was a lot of mystery about it. Back then China wasn't a place where people could travel freely. Nobody knew what was going on there and there were all these stories about turtle blood and this coach that would make them train so hard it was nearly cruel."
O'Sullivan added that the culture of the time was favourable to drug cheats and this is only beginning to change.
"I would be a bit frustrated that it took so long. Not that it took so long to find out about the Chinese in '93 but why did it take this long for it to be okay for people to talk about athletes cheating and go after them?
"When there's a little bit of a hint that something's not quite right, we're going to investigate this.
"I don't think that was carried out a lot in the '90s. A lot of stuff was definitely hidden and the system was set up to protect the athletes that were cheating more than it was to protect the clean athletes.
"Until recently, it's probably been the same."