IAAF president Lord Coe continued to deny his association with Nike was a conflict of interest, even after quitting his ambassador's role with the company.
The head of world athletics' governing body finally stepped down from his controversial position on Thursday, admitting the furore surrounding his link with the sportswear giant had become a distraction to his bid to clean up athletics.
"It is clear that perception and reality have become horribly mangled," he said at a press conference in Monaco.
Coe had come under increasing pressure to quit the role, believed to be worth around £100,000 a year.
His announcement came two days after it was alleged Coe lobbied for Eugene to host the 2021 World Championships.
The American city has close links with Nike and was awarded the championships without a bidding process, despite interest from Gothenburg.
"The current noise level around this role is not good for the IAAF and for Nike."
Coe, who has rejected the claims and said his decision was not a reaction to them, added: "The current noise level around this role is not good for the IAAF and for Nike. It is a distraction to the 18-hour days that I and my teams are working to steady the ship."
Coe also announced he would be stepping down as British Olympic Association chairman after the Rio Olympics and that his sports marketing company CSM would not tender any IAAF work.
The 59-year-old emphasised, though, that the IAAF ethics commission had told him he could retain his roles with Nike and CSM.
Coe has found himself at the centre of one of sport's biggest scandals since taking over as head of the IAAF, an unpaid position, from Lamine Diack in August.
Revelations by the World Anti-Doping Agency about a state-sponsored doping system in Russia have seen the country banned from international competition, a sanction the Russian athletics federation (ARAF) has now accepted. And there have been allegations of cover-ups at the IAAF.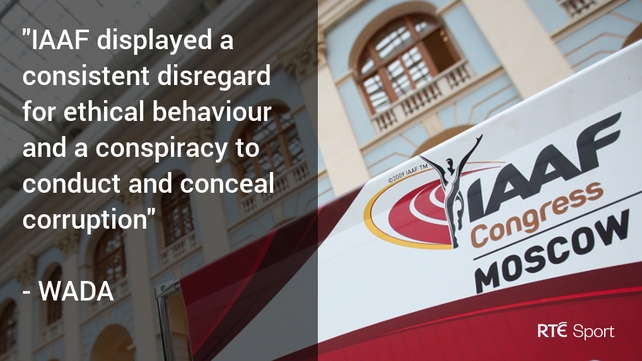 The allegations Coe lobbied Diack about the host of the 2021 World Championships came in a BBC investigation centred around an internal Nike email from January claiming Coe gave assurances he supported the Eugene bid, but had been told by Diack that no decision on the championships would be made in April. Diack later announced the award of the event in April.
Coe said his actions were entirely above board. "I was in a conversation with a Nike official in discharging my ambassadorial role, discussing a range of issues," he said.
"I was asked specifically about my view of what was happening (around the hosting of the championships). It wasn't the only question I'd had in that subject - there was a high level of speculation from both bidding cities as to what the process was going to be. I sought clarification from the president of the IAAF, who told me he saw no reason as to why that bidding process shouldn't continue.
"The best advice I could give to any cities was to put your best foot forward and get into the bidding process."
However, culture, media and sport select committee member Damian Collins said Coe still had questions to answer. He said on Twitter: "Even though Seb Coe has given up his Nike job there are still questions to answer about the awarding of the Eugene 2021 world championships."
Coe was speaking after an IAAF Council meeting where the issue of Russia's doping ban was the key item on the agenda.
ARAF has accepted a full suspension without requesting a hearing and has promised to co-operate with inspectors who will oversee changes to its drug-testing system.