The Irish religious missionary behind many of Kenya's greatest athletics successes says the country must tackle its doping problem.
Brother Colm O'Connell, originally from Cork but based in Africa for nearly 40 years, warns that the issue of drugs could cast a dark shadow over Kenya's involvement in the Rio 2016 Olympic Games.
"If Kenya wants to really move into the Olympics with a clear conscience and with global credibility, then better testing and monitoring of our athletes has to be put in place immediately," he said.
"If this scenario is going to drag on until Rio, then of course (a cloud) is going to hang over Rio as well."
O'Connell trains 800m world record holder David Rudisha and has coached more than 30 world champions and five Olympic gold medallists during nearly four decades in Iten, a small village 8,000 feet above sea level in western Kenya's Rift Valley.
O'Connell said elite Kenyan runners - who topped the table at the world championships in Beijing in August with seven gold medals - were concerned their reputations were being tarnished by an international doping scandal
He said the country's athletics chiefs had been too slow to react in 2012 when a German television documentary alleged it had a doping problem.
At the time, Athletics Kenya (AK) dismissed the claims as efforts to destabilise it ahead of the London Olympics.
"When this documentary came out, we should have taken it a lot more seriously and delved into it to nip it in the bud," said O'Connell.
Over the following years, AK has stuck to the same line, denying that its athletes had a doping problem.
Officials kept repeating that doping was limited to lower-level athletes seeking a shortcut to riches.
O'Connell said a failed drug test by Rita Jeptoo (pictured below) winner of the Chicago and Boston marathons, had blown that narrative out of the water.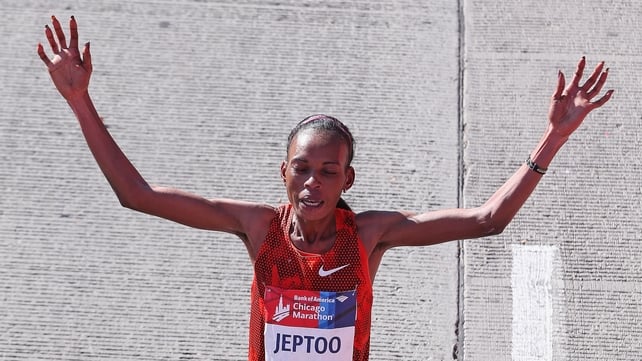 "That's when Kenya started to latch on to the idea that this needs to be tackled," he said. "She was the first real elite athlete to set people back on their heels."
More than 30 Kenyan athletes are believed to have failed drugs tests since 2012.
Apart from Jeptoo, none were among its elite group, although two who made it to the world championships failed doping tests in Beijing.
This week, Kenyan Olympic Committee chairman Kipchoge Keino warned that the World Anti-Doping Agency (WADA) was 'seriously considering' banning Kenya from track and field for four years.
AK said it had received no written threat of sanctions.
Athletics' world governing body, the IAAF, has provisionally suspended Russia from international competition following a report that revealed systematic doping in the country.
O'Connell - an Irish missionary and the catalyst for Iten's transformation from a sleepy village to a global athletics hub - said such a ban would be disastrous for an area where running is an economic lifeline.
"That would be a huge blow to the morale and what's happening on the ground in terms of investment and progress and what the athletes do for this country," he said.