By David Gillick
The indoor athletics season is already upon us and it signals a new year of track and field.
After a successful outdoor European Athletics Championship last August, it's a great opportunity for athletes to back up their performances on the major stage seven months later.
From a spectator's point of view, an indoor athletic meeting is brilliant. So many things are happening on the track and there is always action on the tight enclosed circuit.
The indoor season takes place each year from late January until early March. It's an intense period of races climaxing alternatively in European and World Championships.
This year it's the turn of the European Championships taking place in Prague from 6-8 March.
Love and hate of the indoor circuit
I have a love-hate relationship with indoors. Arguably my best performances have been indoors - winning the 400m titles in 2005 and 2007.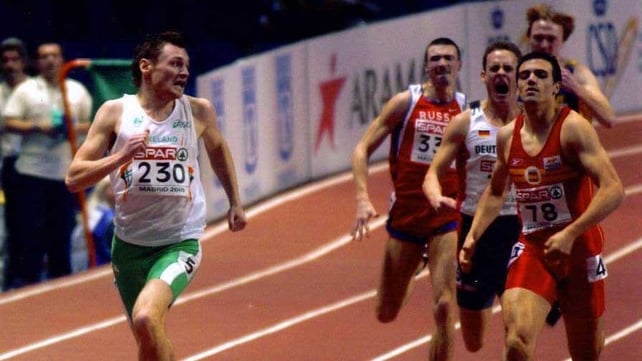 2005 was my first time doing a full indoor season, racing consecutive weeks in the build up to the European Championship in Madrid.
It was all very new to me and as my times were decreasing, I was winning every race I entered in the British Championships. After a good run there it put me in the rankings for a medal in Madrid.
Winning became a habit and Madrid followed suit. It was the moment my athletics career became real.
A week after Madrid I was back training for the outdoor season, which would start around late May.
I was training well and opened up in my first race that season in a personal best of 45.93 - all looked good.
It was short lived. Since the indoor season I felt tired, both emotionally and physically. My early outdoor races proved successful, but halfway through the season I began to fatigue. I got injured in July and was forced to pull out of the 400m final at the European under-23 championships. I didn't recover and again pulled out of the World Championships in Helsinki.
It was a sad end to the year that started so well. I felt due to injury that I didn't realise my potential.
It got me thinking about the indoor season. The 400m is a tough event and doing an intense racing programme in a short number of weeks, I felt took away from my outdoor season.
Obviously, due to racing, my training load was decreased. Again I wondered if that was why I ran out of steam halfway during the outdoor season.
I looked back at previous 400m athletes and to my surprise very few had done a successful indoor season followed by a successful outdoor season.
To date only one athlete, Czech Republic's Pavel Maslak, has managed to back up a full indoor season with a full outdoor season.
Even the great Michael Johnson ran only once or twice indoors.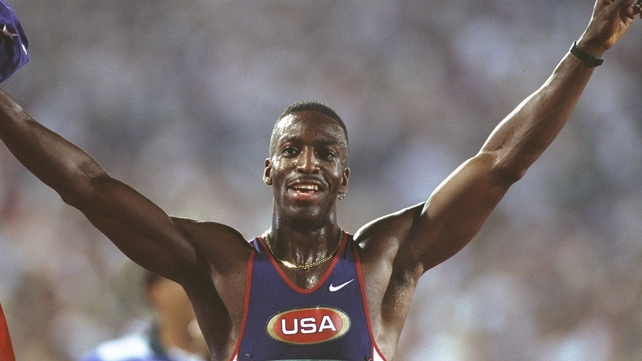 It is important to get the balance right and a clear plan is essential. Plan the dive and dive the plan.
The differences between running indoors and outdoors
400m indoor is a completely different event to outdoor 400m running. First off, the track is only 200m, comprising of six lanes and is banked so athletes can run fast around the bends.
Two laps are required and an athlete breaks after 170m, which means it can get a bit bumpy. The bends are tight resulting in the short 50m straights, the only opportunity to negotiate an overtaking.
The best lanes are on the outside, lanes five and six, and since 2006 the 200m has been absent since the world championships in Moscow, as it was deemed unfair.
Its results had become too predictable. Because of the tight bends involved, athletes not drawn in one of the outside lanes had next to no chance of winning.
In the 2005 European Championships, Paul Hession missed out on a medal because the athlete outside him opened a small gap due to running down the slope in the last 40m off the final bend.
I loved the 400m indoor. Tactically it was completely different than outdoor running. You simply had to get out fast once the gun went otherwise you were left behind with too much work to do in order to get past people.
Go hard and hang on for dear life!
Track events at major indoor championships range from the 60m up to the 3,000m with no 400m hurdles or 200m events. The field has everything bar hammer, discus and javelin. The only relays are run as 4x400m.
In multi-events the women compete over five events (60m, high jump, shot put, long jump and 800m) and men over eight (60m, long jump, shot put, high jump, 60m hurdles, pole vault and 1,000m).
I decided that I wouldn't give indoors a lot of focus after 2005. Funny thing to say as I went on to retain my title in 2007 and also make the 2010 World Indoor final only to be disqualified after a collision with an American athlete.
My main aim would be the summer season, as that was when the Olympics and World Championships would take place. My yearly training plan would support that and my coach Nick Dakin and I would periodise my training in order to run my best outdoors.
I respected running indoor, but I felt that doing an indoor season was not conducive to running fast outdoors. Winning in Madrid really set me up for the next couple of years and gave me huge belief in my ability.
In 2007, I discussed the option of running indoors with my coach. He suggested we focus on the summer and the upcoming World Championships, which was our goal for the year.
He continued and said we will see how you progress over the winter and when away on a training camp in January we will do a time trial and that will tell us if I'm in shape or not.
2007 went exactly to plan. Time trials resulted in a personal best so we decided to run one race and go from there. I set a new Irish record in winning that race in Düsseldorf.
Strike while the iron is hot - I went back into full training and only eased down in the week leading up the European Championships in Birmingham.
I retained my title, set a new Irish record, and qualified for the Beijing Olympics.
I got the balance right as I improved that summer, making the semi-finals of the World Championships in Osaka.
Benefits of racing indoors
Racing sporadically indoors not only proved very fruitful, but mentally it gave me huge confidence. All winter you are training away, slogging your guts out undergoing long tough sessions, not really knowing what race shape you are in. To then come out running fast off the back of that work without doing any race prep is a massive bonus.
It's true, the medals are won in the hard slog of winter.
It is not the same for all events. Indoors is a great opportunity for athletes in some technical events to put their training into practice.
Athletes in jumps, hurdles, throws and short sprint events can all benefit from racing indoors as it can break up the monotony of winter training while not deterring from training.
Irish success indoors
Over the years plenty of Irish have done extremity well indoors, winning European and world medals.
European Championships have proven particularly fruitful and for athletes looking to make the step into the senior ranks the Europeans provide a massive opportunity to qualify and experience a senior major championship.
It could be the catalyst for keeping athletes in the sport and also give belief and confidence coming out of the junior and under-23 ranks.