They say bad things come in threes. Nobody told Kilkenny or Tipp.
Starting on the first Sunday of September in 2009, and separated by two intervals of interminable anticipation, these hurling aristocrats served up an epic saga of passion, skill and determination in three acts.
When the dust settled and the great Croke Park stage was empty, those of us lucky enough to have witnessed the drama were left to reflect on a gripping rivalry to rank with sport's greatest.
Let's hope Sunday's renewal can live up to this thrilling trilogy of finals.
2009
The year began for Kilkenny like so many before under Brian Cody, with Liam MacCarthy safely tucked away in the trophy cabinet.
The Cats had crushed Davy Fitzgerald's Waterford by 23 points the previous September to claim their third title in a row and 31st overall, nudging one ahead of Cork in the all-time honour roll.
Early notice of intent was served by Tipperary the following spring as Kilkenny were taken to extra-time before winning the Allianz Hurling League final.
The Black and Amber then survived an early test against Leinster debutants Galway (2-20 to 3-13), beat improving Dublin by two goals in the provincial decider and were pushed all the way by a Waterford side hungry for revenge in the semi-final.
Tipp had won their first Munster title in seven years in Liam Sheedy's first campaign in charge in '08, and beaten Cork away in the championship for the first time since 1923, but disappointed in their last-four exit to the Déise.
They retained that title with narrow victories over Cork, Clare and Waterford before thrashing Limerick (6-19 to 2-07) in an All-Ireland semi-final that was notable for a Lar Corbett hat-trick and some slick forward interplay.
The emphatic nature of Tipp's semi-final win suggested grounds for optimism but the attitude of Premier County fans at Croke Park on the day seemed more hopeful than expectant.
Kilkenny's skill and high-intensity full-pitch defending, reminiscent of rugby's fearsome All-Blacks, meant their opponents were given little chance of stopping their neighbours from matching Cork's achievement (1941-1944) of four titles in a row.
Tipp fans looked to history for solace in the face of logic, their superior head-to-head finals record (9:4) nurturing a measure of confidence that the 'one a decade' jibe born of a relatively sparse recent title haul (1971, '89, '91, '01) could be put to bed.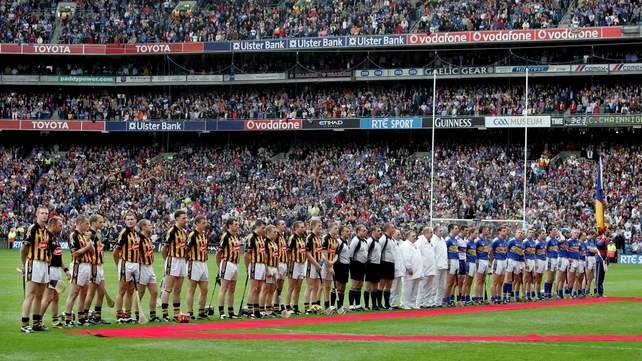 Final: Kilkenny 2-22 Tipperary 0-23
The underdogs started brightly, matching Kilkenny for work-rate and pressure on the ball-carrier. The commitment of both sides' tackling spurred on the crowd and everyone present sensed a classic was on the cards.
Brendan Cummins was forced into an early save from the King himself Henry Shefflin but Tipperary held their own and at just two points down at the break (0-13 to 0-11) their supporters were starting to believe.
Kilkenny fans knew they were in a very different situation to the year before and they were going to have to fight all the way for this one. They needed their heroes to emerge.
Step forward PJ Ryan. The Johnstown man made a fabulous save just after the restart, flinging himself to the left to deny Seamus Callanan a goal and Tipperary the lead.
Ryan made another crucial stop from Eoin Kelly's scuffed effort not long after but with Lar Corbett on fire and Kelly unerring from frees, the Munster champions were a point up by the 54th minute.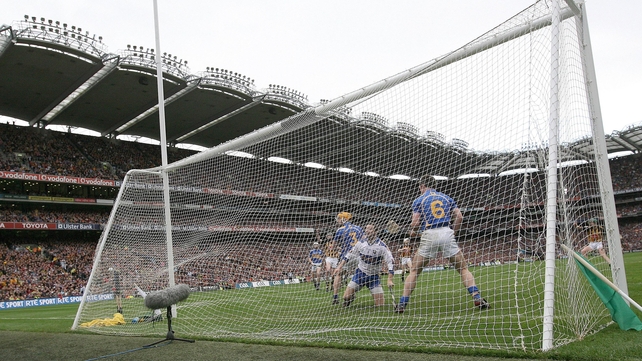 Then came Benny Dunne's moment of madness. Dunne reacted to some close marking from Tommy Walsh with a wild pull, earning himself a red card and handing the momentum back to the champions.
The concern among the Tipperary fans was palpable and that quickly turned to anger just after the hour when Richie Power was awarded a penalty that looked a debatable call by ref Diarmuid Kirwan, not least as the tussle started well outside the square.
Shefflin sent a rocket into the roof of the net (above) and Kilkenny were back in front. Within a minute the Cats broke forward and sub Martin Comerford drove the ball past Cummins.
The Kilkenny fans roared with joy. Tipperary were shellshocked. A six-point swing inside a minute. The dream had evaporated in the blink of an eye.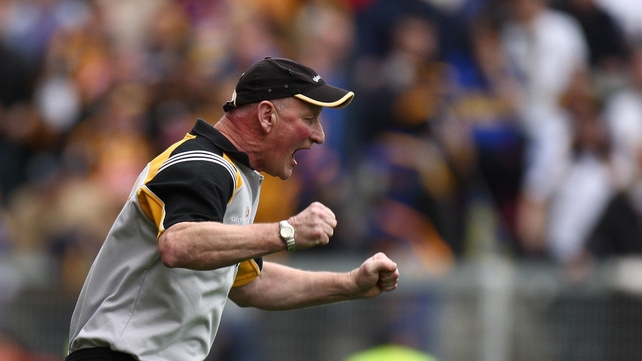 Tipp battled on but Kilkenny weren't going to be caught now and the exuberance of the celebrations suggested this was the sweetest victory of all. They had completed the four-in-a row, against an old enemy and by edging a fierce battle.
The big screen proclaimed 'Plan B' as a wave of Black and Amber streamed onto the pitch, in defiance of Croke Park pleas, but this result was very much Plan A for Brian Cody and his team.
For Tipperary, there was little consolation in losing to what manager Liam Sheedy called "probably the best team in the history of the game" as the fans reflected on that disputed penalty and PJ Ryan's game-changing saves.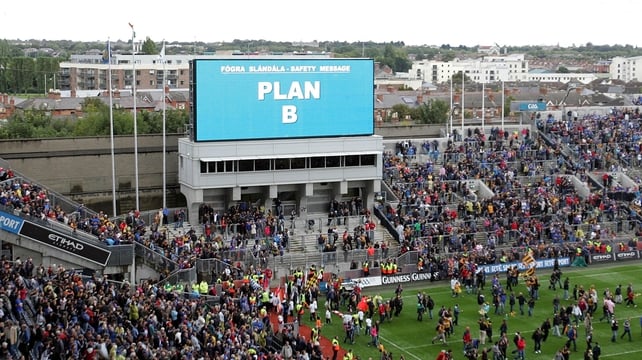 2010
On the last day of May, the chances of a final rematch seemed remote. Tipperary had been abject in their Munster quarter-final, losing by a full ten points to old rivals Cork.
Cork, along with National League champions Galway, suddenly seemed best placed to resist Kilkenny's 'drive for five', the pursuit of a five-in-a-row of championships, never achieved in either football or hurling.
The would-be history makers performed their customary waltz through Leinster, sweeping an out-of-sorts Dublin aside and pulling clear of Galway in the second half of the provincial final.
Cork, who had been edged out by Waterford after a Munster final replay, put up little resistance in the semi final (3-22 to 0-19) and with what now seems deceptive ease, Kilkenny were into their fifth final in a row.
Despite the attempts of Brian Cody and the players to downplay the inevitable hype, they looked on the verge of hurling immortality.
The only black cloud on the horizon was the loss of talisman Henry Shefflin and defender John Tennyson to cruciate injuries sustained in the semi-final.
Tipperary, meanwhile, recovered from that Cork mauling in the soothing surrounds the qualifiers, beating Wexford and Offaly before edging Galway by a single point in a thrilling quarter-final (3-17 to 3-16).
Two goals from captain Eoin Kelly helped to clinch the semi-final victory over Waterford and all of a sudden it was Kilkenny-Tipp 2.0
Few gave Tipperary a chance of avenging last year's defeat. They had lost to Cork and just about edged past Galway while Kilkenny were strolling back to the final.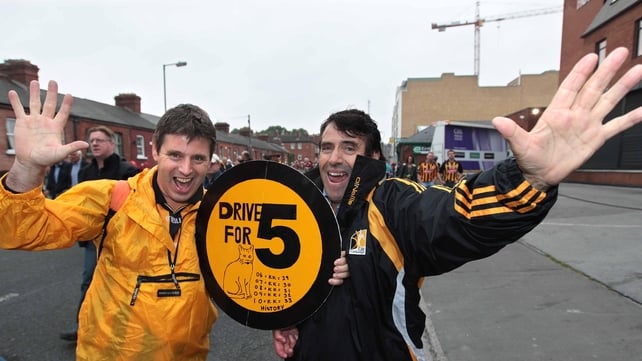 Final: Kilkenny 1-18 Tipperary 4-17
Kilkenny were as low as 4/11 to win and complete the historic five-in-a-row. Shefflin and Tennyson somehow completed 'miracle' recoveries in time to start the final and the stage was set for their greatest triumph.
Tipperary hadn't read the script. In the 10th minute, Lar Corbett gathered Shane McGrath's long ball over Noel Hickey's head and rippled the net for a five-point lead.
A thunderstorm brewed as Croke Park crackled with electricity on the pitch and in the stands.
The players were fired up, fist-pumping after every free won, and the noise in the stands was deafening as Tipp fans started to believe and Kilkenny supporters were forced to contemplate the unthinkable prospect of defeat.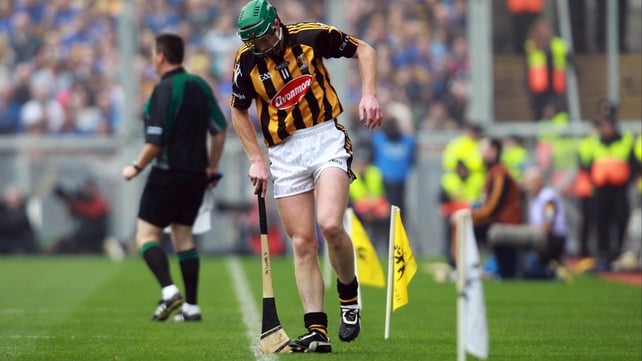 The sad sight of Shefflin hobbling off in the 13th minute was a hammer blow to Kilkenny's cause, the respectful applause from both sets of fans little solace for the loss of their figurehead.
Tipperary continued to dominate but the Cats proved their pedigree with a late scoring burst to finish the half level.
Eoin Larkin's deft handpass fed Richie Power to blast into the top corner at the near post and somehow Tipperary were only a point up at half-time, 1-10 to 1-09.
The Tipperary fans were shaking their heads in disbelief. How could their team be so on top but fail to translate it to the scoreboard? The Kilkenny crowd were quietly confident. They had been here before. You don't win All-Irelands without absorbing some pressure.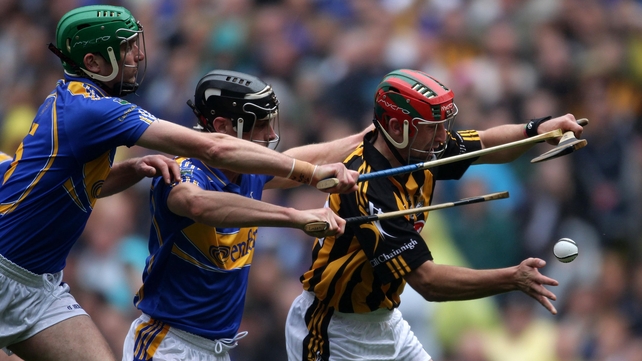 Six minutes after the interval that confidence was shattered. 19-year-old Noel McGrath's ingenious reverse handpass sent Corbett streaking clear and a suspiciously high number of steps helped him elude Tennyson's flying hurl to bury his second goal of the day.
A schemozzle a minute later told us the pressure was building but from the resulting free came the crucial score as McGrath bundled home Brendan Cummins' long free.
Tipp were now seven points ahead and Liam Sheedy's earpiece dangled precariously as he went beserk on the sideline.
Against any other team, that margin would be enough to settle the nerves but memories of last year's two-goal sucker punch were fresh in Tipperary minds and nervous tension swirled around Croke Park along with the sheets of rain as Kilkenny began to chip away at the deficit.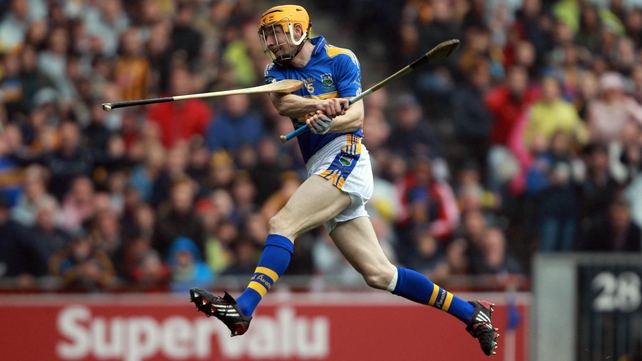 Seamus Callanan arrived from the bench to maintain Tipp's superiority but with three minutes additional time to play, Kilkenny were only four down.
A long-range, redemptive point from sub Benny Dunne settled the challengers' nerves before Corbett put the icing on the cake with his hat-trick goal in the final seconds, prompting a huge roar of joy (and not a little relief) from the Tipperary crowd.
Kilkenny fans were numb but still proud of their team.
The drive for five was dead. Tipp had stopped the best hurling team of all time from setting a fresh record, and emulated Offaly's upset of Kerry in 1982.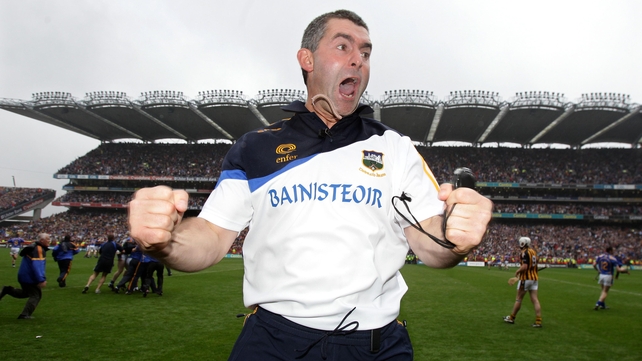 2011
Any thoughts of an end to the Brian Cody era were swiftly dispelled as the Cats set about regaining 'their' title.
They shrugged off a league final defeat to Dublin by retaining the Leinster crown for a seventh successive year, beating the Dubs by 11 points in the showpiece, with Henry Shefflin back to full fitness and notching 1-09.
Two goals from Richie Hogan helped account for Waterford in the All-Ireland semi-final and Kilkenny were one game away from reclaiming the biggest prize.
Liam Sheedy had shocked Tipperary by walking away after reaching the promised land but the appointment of three-time All-Ireland winner Declan Ryan as his replacement encouraged the doubters.
Tipperary cruised through Munster, beating Cork by eight points and Clare by nine, before Lar Corbett scored 4-04 in a sensational 7-19 to 0-19 final hammering of Waterford.
They looked unstoppable, and though Dublin were only beaten by four points in the semi-final, that was put down more to Dublin's defensive setup than to any failing on Tipp's part.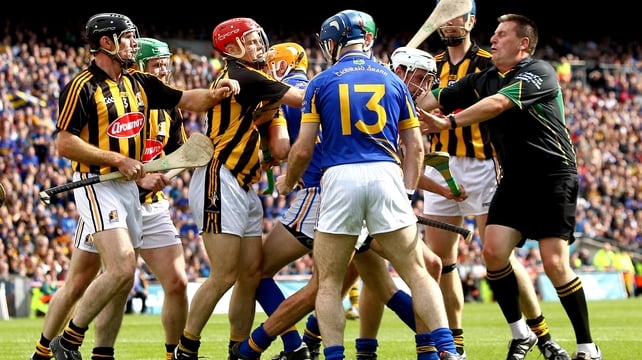 Kilkenny 2-17 Tipperary 1-16
This time around, Tipp were the favourites, with the goal threat of Corbett and memories of last year's convincing win uppermost in the pundits' thoughts.
The rare role of underdog suited Kilkenny fine and they showed how much missing out on that five-in-a-row had hurt as they tore into Tipp, racing into a five-point lead early on.
There was no love lost between the sides at this stage and a 19th-minute scuffle even ended up with referee Brian Gavin getting a bloody nose from a stray hurl.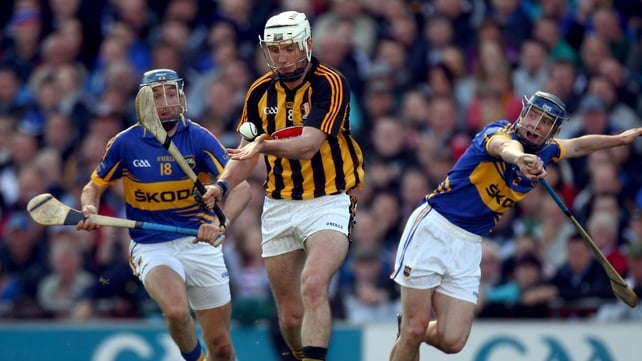 Henry Shefflin and Richie Hogan combined to play the rampaging Michael Fennelly (pictured) in for a well-taken goal and with Jackie Tyrell keeping Corbett under wraps, Kilkenny were cruising at 1-8 to 0-6 ahead at the break.
The Kilkenny fans sensed blood while the Tipp support just couldn't understand how their much vaunted attack had failed to fire.
Kilkenny pulled further clear in the second half through Richie Hogan's beautiful controlled finish before Corbett finally had an impact on the game as he set up Pa Bourke to cut the gap to four with 15 minutes to play.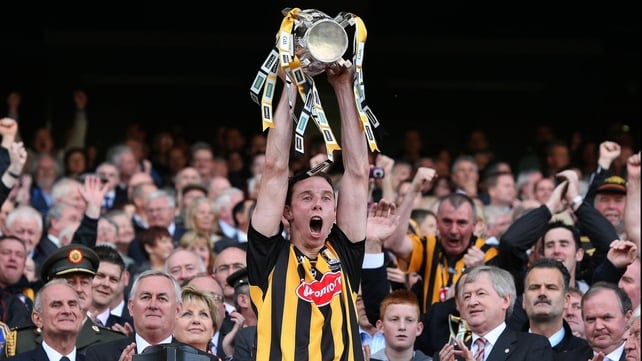 Tipperary threw everything at Kilkenny in the finish but, led by Tommy Walsh, the Cats' backs stood firm and many Tipp fans admitted afterwards that the final scoreline flattered their side, who were comprehensively outplayed and fought on the day.
The Cats were back. And though it was arguably the least compelling of this superb series of final encounters that wouldn't have bothered them one bit. 
Watch 'Kilkenny v Tipperary - The Trilogy' on RTÉ Television from and on the RTÉ Player from 1300 on Sunday 7 September