PRESENTER: Tim Earl
LOCATION: Tynwald Hill, The Isle of Man
As you know this year on our DAWN CHORUS we're celebrating the shared natural heritage of the Celtic world – and for the first time in our 25 year history – we're being joined by one of our Celtic cousins from the Isle of Man.
Tim Earl is a highly experienced local and international birdwatching guide with links to both Manx BirdLife and the Manx Ornithological Society – and right now he's by one of the Isle of Man's most historic sites – Tynwald Hill.
LOCATION: This four-tiered hill is one of the Island's most distinctive landmarks and a signal of the Isle of Man's independence as a self-governing crown dependency. Tynwald Hill, which is located in St Johns, plays host to an open air meeting of the Island's parliament, Tynwald, once a year The hill, which measures around 12 feet high, is thought to be made from piles of stones bonded together with soil from all of the Island's 17 ancient parishes. Tynwald Hill is a registered Thing site which encompasses ancient Viking sites that are the early assemblies found throughout Northern Europe as a result of our shared Norse heritage. Called Things from the Old Norse þing, these sites are places of early attempts by the Vikings to introduce a representative system that allowed disputes to be settled peacefully and such was its success, this system was brought from the Scandinavian homelands to Viking colonies throughout Northern Europe, including Tynwald.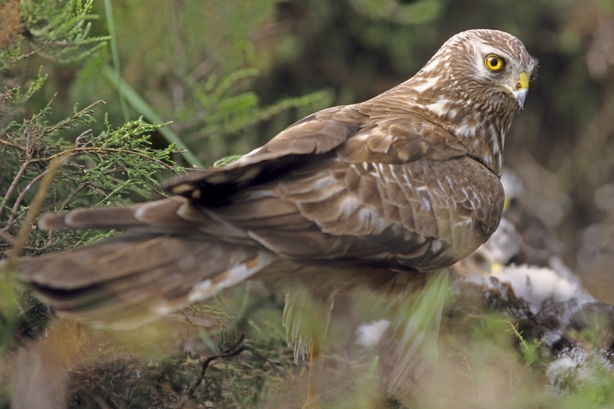 Close up view of an adult hen harrier with two youths - Photo - Getty
TARGET SPECIES: Common songbirds with particular hopes for warblers such as chiffchaff, willow warbler and blackcaps, perhaps cuckoo, whitethroat and sedge warbler. Our great favourites blackbird, song thrush, robin and wren will not be overlooked (overheard?) however. He will be particularly keen to hear the 'chow, chow' of choughs or the 'chek-ek-ek-ek-ek' of a displaying hen harrier, both of which have strongholds in the Isle of Man.