Mooney Goes Wild, Monday November 19th 2018
Philip McCabe, RIP (20/10/18)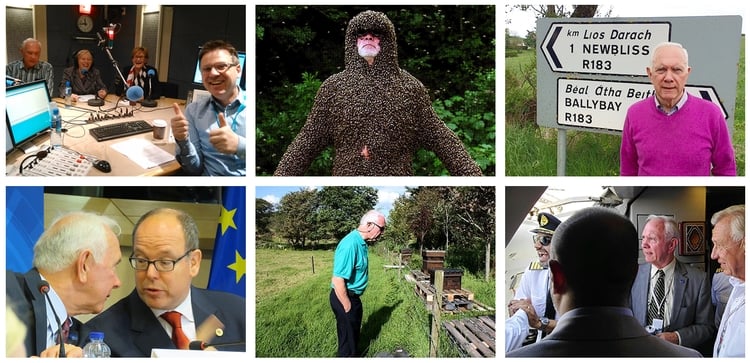 Everyone on Mooney Goes Wild is devastated to learn of the death of our friend and colleague, Philip McCabe. Philip did more for our understanding of the honey bee than a life time of learning could ever have taught us. Kind, thoughtful and generous, he was a true gentleman, and his knowledge, quick wit, and wonderful ability to entertain us with his storytelling meant that he was a pleasure to be around. He will be very much missed. Our deepest sympathies to his wife Mary and family, and all who had the pleasure to know or meet him.
In January 2017, Derek made a documentary called The Beeman, which profiled Philip McCabe, his fascinating life and work. To find out more and to listen to the documentary, click here.
Email: mooney@rte.ie
Facebook: facebook.com/rtenature
Twitter: @NatureRTE
On Mooney Goes Wild: Special - Migration
Bird migration is truly one of the most extraordinary phenomenona in nature. October is a time of travel for countless millions of wild birds - right across the Northern hemisphere, vast numbers of them, belonging to hundreds of different species, are on the move, in search of warmer climes and a reliable source of food.
Many of these birds will cover thousands of kilometres, before they reach their winter quarters - and then, when Spring comes, they will do it all again - in reverse. The island of Ireland finds itself in a unique position when it comes to bird migration. Situated at the very edge of Europe and at the intesection of several intercontinental migratory flyways, it receives vast numbers of both summer and winter migrants. It is the first port of salvation for weary trans-Atlantic voyagers, a warm holiday destination for Arctic nesters eager to escape the polar winter, and a key staging post for several species that are en route to Africa.
But why do some birds migrate whilst others do not? How do they know when they should depart and where they should go? Do they ever get lost? How do they eat? How do they sleep? Why don't they die of exhaustion? How can such seemingly delicate creatures pull off such a monumentally impressive feat?
Belfast-born author Anthony McGeehan has been fascinated by these very questions for decades, and in his new book entitled To The Ends Of The Earth – Ireland's Place In Bird Migration, he has set out to find the answers...
To learn more, Derek went to visit Anthony at the North Bull Island in Dublin, along with ornithologist and zoologist Dr. Richard Collins, Niall Hatch (Development Officer with BirdWatch Ireland) and Eric Dempsey (author, guide and founder of BirdsIreland.com).
To The Ends Of The Earth: Ireland's Place In Bird Migration, by Anthony McGeehan, is published by The Collins Press. The ISBN is 9781848893528, and the RRP is €29.99. To find out more about the book, visit www.collinspress.ie.
Mooney Goes Wild - Programme Podcast 19/11/18 - Special - Bird Migration
Derek Mooney, zoologist Dr. Richard Collins, Niall Hatch (Development Officer with BirdWatch Ireland) and author Eric Dempsey (founder of BirdsIreland.com) head to Bull Island to meet Anthony McGeehan, author of 'To The Ends of the Earth', to learn about the fascinating world of bird migration! For more, visit www.rte.ie/mooney