Mooney Goes Wild, Sunday October 23rd 2016
***MOONEY GOES WILD WINS ROSE D'OR AWARD!!***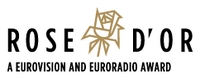 The prestigious annual Rose D'Or Awards (now in their 55th year) honour the very best of international radio, TV and online entertainment programmes, and the awards ceremony took place last night (Tuesday, September 13th 2016). Over 400 programmes from more than 130 broadcasters and production companies in 33 different countries were submitted for this year's Rose d'Or awards. For the first time, a new competition category, 'Radio Event Of The Year' was created. We entered European Dawn Chorus in this category, and we're absolutely delighted to let you know drumroll... WE WON!!! We're absolutely thrilled to pieces, and a massive thanks to all our EBU and BirdLife International partners, we couldn't have done it without you! Click here to read more about the 2016 Rose D'Or awards (in which legendary funnyman John Cleese picked up the Lifetime Achievement award), and click here to relive - and re-listen to - all the beautiful Dawn Chorus birdsong from right across Europe.
***STOP PRESS*** Dawn Chorus Picks Up Another Award!
We're thrilled to let you know that on Friday, October 7th, the Dawn Chorus won the Innovation Award at the PPI Radio Awards in Kilkenny!
***To visit The Mooney Show website, click here!***
Facebook: www.facebook.com/rtenature
Twitter: @naturerte
Looking For Love For A Leftie Snail
A one-in-a-million snail has been making headlines across the globe this week, due to its inability to mate. Nicknamed Jeremy, this left-leaning brown garden snail might look the same as any other, but closer inspection of the snail's shell reveals exactly why this creature is so special.
Jeremy the Lefty Snail (pictured right); photo: University Of Nottingham
Usually, the shell of a snail spirals in a right-handed, clockwise direction. Jeremy, on the other hand, has a left-handed, anti-clockwise spiralling shell. The 'lefty' snail is a mirror image of its other shell-dwelling friends - and this makes it impossible for it to mate with its more common counterparts. Now scientists at The University of Nottingham hoping to study the genetics of this ultra-rare garden snail are asking for YOUR help in finding the lonely mollusc a mate! Professor Angus Davison is an Associate Professor and Reader in Evolutionary Genetics in the School of Life Sciences at the University of Nottingham, and he joins Derek and Richard Collins from the BBC Studios in London to explain just how rare this snail is - and how you can help this lonely snail find love!
For more information on this story, and to view a video of Professor Davison showing the difference between left and right-leaning snails, visit www.nottingham.ac.uk/news/pressreleases/2016/october/lonely-snail.aspx. For more information on Prof Davison, visit www.nottingham.ac.uk/environment/people/angus.davison or www.angusdavison.org/. And if you come across a left-handed spiralling snail, please DO NOT send it in to us, but instead take a photo and e-mail it to mooney@rte.ie, or tweet @naturerte (using the hashtag #leftysnail) or send us a pic via Facebook - www.facebook.com/rtenature.
Mayo Dark Sky Festival
Star gazing is simply spectacular right now as the long, dark nights draw in. Orion, Polaris, the North Star, the Plough - they're just some that you might see if you step out into your garden or look up through a skylight and peer into the darkness. To experience the clearest starlit skies, Co. Kerry and Co. Mayo are the places to be, as they have both received official designation as dark sky reserves.
Artificial lighting is creating light pollution over urban areas, particularly in Dublin, Belfast and Cork and all along the east coast generally. From next Friday, October 28th through until Sunday, October 30th, the Mayo Dark Sky Festival will be taking place in Ballycroy National Park and Wild Nephin Wilderness. To tell us more, Sue Callaghan, District Conservation Officer with the National Parks and Wildlife Service, joins us from our Westport studio to talk about the Festival, artificial lighting in Ireland and the impact that this is having on our wildlife...
For more information about the Mayo Dark Sky Festival, visit https://mayodarkskyfestival.wordpress.com or click here for their Facebook page.
Learning Through Nature
Remember running wild through the fields, fishing in rock pools, climbing trees and building secret dens when you were young? Unfortunately, generations of children are missing out on these priceless experiences and don't have the chance to gather memories of nature and the great outdoors as many of us did in the past. A growing number of studies show the positive effects of spending time in the open air, and this is especially true when it comes to children. Learning outdoors contributes to healthy development and enhanced understanding - but so much education still takes place between four walls. The Lifelong Learning through Nature educational project aims to reverse that trend. It's been developed and trialled in Malta for the past two years, and the time has now come for it to be launched in Poland and here in Ireland. Earlier this week, a landmark transnational meeting of the partner organisations took place in Dublin Zoo. Niall Hatch, Development Officer with BirdWatch Ireland was there, and he tells us all about it this evening...
Some of those attending the Lifelong Learning meeting in Dublin, including Niall Hatch (second from left); also pictured are European Dawn Chorus contributors Jason Aloisio of Malta (far left of photo) and Jarek Krogulec of Poland (far right of photo)
For more information about the Lifelong Learning through Nature project, visit www.birdlifemalta.org/lln.
Humpback Whales Of Cape Verde
Along our breathtakingly beautiful coastline, there's a whole world of marine wildlife just waiting to be discovered: from seals and porpoises, to dolphins and, if you're really lucky, whales. In fact, Ireland is now a whale watching hotspot, with numbers increasing each year and knowing more about the migratory patterns of these magnificent mammals is vital in order to protect them. That's why we'll see, in a film being televised next Saturday on TG4, a team of marine scientists embarking on an ambitious adventure of some 5,000km to the Cape Verde archipelago off the west coast of Africa...
Shot in Ireland, Cape Verde and Malta, The Humpback Whales Of Cape Verde follows Dr. Simon Berrow and an international team of marine scientists on an ambitious adventure to prove humpback whales from both the northern and southern hemispheres use the Cape Verde archipelago as a breeding ground.
The film was made by Canola Pictures in association with the Irish Whale and Dolphin Group (IWDG). Dr Simon Berrow, Chief Science Officer of the IWDG, was the leader of this fascinating expedition, and he joins us now to explain how important it is to understand where our humpback whales travel from...
The Humpback Whales Of Cape Verde, narrated by Liam O Maonlai, will broadcast on TG4 next Saturday, October 29th at 19:15 on TG4. For more information, visit http://www.iwdg.ie/news/?id=2662. And if you're interested in this, you may also be interested in another television programme featuring Dr. Berrow, called Ireland's Oceans - this can be seen next Wednesday, October 26th, at 19:30 on RTÉ 2. For information on all wildlife and natural history programmes broadcast on RTÉ and TG4, visit www.rte.ie/radio1/mooney/generic/2015/0623/710028-whats-on-radio-tv.
Hedgerows: It is an offence to 'cut, grub, burn or otherwise destroy hedgerows on uncultivated land during the nesting season from 1 March to 31 August, subject to certain exceptions'. For more information, click here.
UPDATE: February 29th 2016 - Press Release From BirdWatch Ireland:
Putting the record straight: Dates for burning and hedge-cutting have NOT changed
BirdWatch Ireland, Ireland's largest conservation charity, is very concerned about misinformation that is currently circulating regarding the dates within which the burning of vegetation and cutting of hedges is permitted. It would like to remind landowners that all burning and cutting must cease on 29th February this year and that burning and cutting remains prohibited from 1st March to 31st August.
Despite attempts by the Minister for Arts, Heritage and the Gaeltacht, Heather Humphreys T.D., to change the laws regulating these dates by introducing the Heritage Bill 2016 earlier this year, it is important to note that the proposed date changes were ultimately NOT made. This is because the bill failed to pass through both houses of the Oireachtas before the recent dissolution of the Dáil in advance of the general election.
The laws in place governing the dates for hedge-cutting and upland burning therefore remain unchanged. The period within which cutting and burning is prohibited are set down in Section 40 of the Wildlife Act 1976 (as amended in 2000), which states that:
(a) It shall be an offence for a person to cut, grub, burn or otherwise destroy, during the period beginning on the 1st day of March and ending on the 31st day of August in any year, any vegetation growing on any land not then cultivated.
(b) It shall be an offence for a person to cut, grub, burn or otherwise destroy any vegetation growing in any hedge or ditch during the period mentioned in paragraph (a) of this subsection (above).
The existing law provides exemptions for road safety and other circumstances and should be read carefully to ensure compliance.
Section 40 of the Wildlife Act exists to protect nesting birds. Many of our upland bird species are in decline and are in danger of extinction in Ireland; amongst them is the Curlew, which has declined by 80%. Many birds which nest in hedgerows into August are also in serious decline, including the endangered Yellowhammer. The changes to the cutting and burning dates which had been proposed in the now-defunct Heritage Bill 2016 would have caused serious impacts to these birds. A petition launched by BirdWatch Ireland in conjunction with several other national conservation organisations to stop these changes attracted more than 16,200 signatures and rising.
BirdWatch Ireland would also like to advise members of the public that if they see hedges being cut or fires in the uplands on or after 1st March, such activity could be illegal. In such cases, we would encourage people to contact the National Parks and Wildlife Service (www.npws.ie) to report such activity.
BirdWatch Ireland warmly welcomes the demise of the Heritage Bill 2016 and sincerely hopes that any future administration will consider the importance of Ireland's natural heritage and will not attempt to reintroduce such a flawed and damaging piece of legislation.
To contact your local wildlife ranger, click here for contact details. To read the Wildlife (Amendment) Act 2000, click here.
IMPORTANT NOTICE
Please DO NOT send any live, dead or skeletal remains of any creature whatsoever to Mooney Goes Wild.
If you find an injured animal or bird, please contact the National Parks & Wildlife Service on 1890 20 20 21, or BirdWatch Ireland, on 01 281-9878, or visit www.irishwildlifematters.ie