Mooney Goes Wild, Monday October 15th 2018
Dippy On Tour
On today's programme we welcome a very special visitor to the island of Ireland. Towards the end of the Jurassic period, about 150 million years ago, the Diplodocus still roamed the earth. Thanks to the plentiful supply of vegetation, these huge sauropods were able to thrive and evolve into some of the largest animals the planet has ever known - along with fellow plant-eaters the Apatosaurus and the Brachiosaurus.
The Diplodocus will be familiar to most dinosaur-lovers. With its long neck and tail, small head and four massive limbs, its skeletal structure has been likened to the shape of a modern day suspension bridge.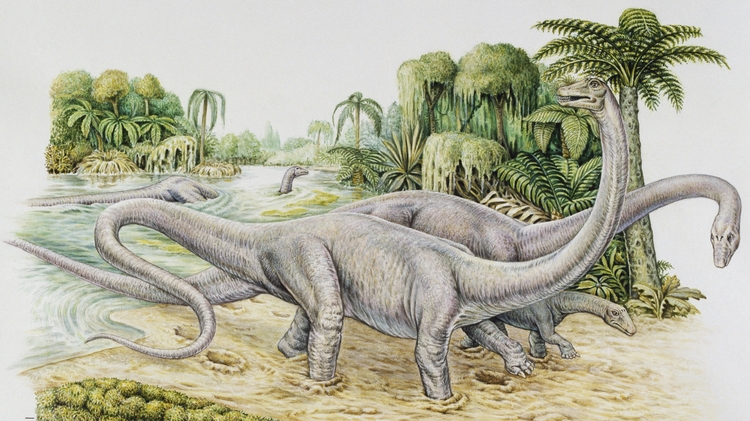 Diplodocus sp, Diplodocidaee, Late Jurassic (Illustration - DeAgostini/Getty Images)
Despite becoming extinct more than a hundred million years ago, the diplodocus, arguably the world's most popular dinosaur, has arrived at the Ulster Museum in Belfast. The exhibition, entitled "Dippy On Tour - A Natural History Adventure", features the British Natural History Museum's 26 metre long cast of the fossilized bones of a Diplodocus, which was found by rail workers in the USA in 1898.
The only place in Ireland you can see this iconic exhibition is in the Ulster Museum – so Derek and Dr. Richard Collins simply HAD to visit! There, they met up with Curator of Palaeontology Dr Mike Simms - a long-time admirer of Dippy...
Dr. Mike Simms with a sketch of Dippy he made in 1968, when he was just 7 years old
Dr Simms' childhood memories on display as part of the Dippy exhibit. Mike wanted do geology from a very young age
The Dippy On Tour - A Natural History Adventure exhibition at the Ulster Museum in Belfast simply is a "must see" event for you and any young people you might bring along with you. It really is a great thing for everyone to experience – regardless of age. To find out more and to book tickets for this FREE exhibitition, visit www.nmni.com/dippy. For further information on Dippy On Tour, visit http://www.nhm.ac.uk/take-part/dippy-on-tour.html.
Crowds expected to flock to Ulster Museum to see UK's most famous dinosaur
Dippy, the UK's most famous dinosaur, is ready to greet visitors to the Ulster Museum as the long-awaited Dippy on Tour: A Natural History Adventure exhibition opens to the public.
The Natural History Museum's iconic 26 metre long Diplodocus cast arrives in Northern Ireland fresh from Birmingham where a staggering figure of more than 250,000 visitors came to see him. His Belfast visit will be the only chance to see Dippy on the island of Ireland.
Thousands of free tickets have already been booked to see Dippy on Tour at the Ulster Museum and anyone planning to visit is being strongly encouraged to book tickets online at www.nmni.com/dippy.
National Museums NI and the Natural History Museum, in partnership with the Garfield Weston Foundation, will bring the beloved dinosaur to Belfast, the third stop on an eight venue tour over almost three years, designed to spark the next generation of scientists and encourage families to explore nature on their doorstep.
Dippy, a plaster cast of the fossilised bones of a Diplodocus found by railroad workers in Wyoming, USA in 1898, took a full week to build by a team of four technicians and two conservators from the Natural History Museum.
At the Ulster Museum he will sit within an exhibition which explores the uniqueness of our natural world and biodiversity across the island of Ireland, and visitors can discover why so few dinosaur fossils have ever been found here.
Kathryn Thomson, Chief Executive of National Museums NI, said: "Dippy is finally here and we can't wait for visitors to meet him. We're thrilled to be the only venue in Ireland to be hosting the iconic dinosaur and we hope that after seeing Dippy visitors are inspired to explore, discover and protect the world the amazing nature on our doorstep. Dippy starts a vital conversation about the importance of understanding and caring for our natural world and it's great to make the connection with our own unique and extensive natural science collections, some of which will sit alongside him."
Highlights from National Museums' NI own collection in the exhibition include:
* Pieces of bone from Ireland's only dinosaurs
* Ireland's Lost Monsters – the fossil evidence of some of the 'monsters' that lived here not so long ago but are now extinct. Paintings, by renowned local wildlife artist Julian Friers, of how woolly mammoth, giant deer, brown bear and others might once have looked, will be displayed for the very first time.
* From Whales to Snails – a display of some of the largest and smallest animals seen in and around the island of Ireland
* Ireland's Special Places – highlighting Ireland's most special habitats and the unique plants and animals that live there
* Displays of bugs, birds and mammals that live on our island.
The Dippy On Tour: A Natural History Adventure exhibition will be at the Ulster Museum until January 6th, 2019. Tickets to the Dippy on Tour exhibition are free. To make a booking and for further information on the exhibition and associated events, visit www.nmni.com/dippy.
All-Ireland Conker & Cone Championship
October is peak conker season. You only have to cast your mind back to days in the national school playground, when the competition was stiff and battles were hard fought to establish which kid had the king of the conkers. Conkers is a game played using the seeds of horse chestnut trees, so there's no shortage of them! And it's a game that can safely be described as good, clean fun.
Whilst many schools and communities have kept the conker tradition going in the form of competitions, Dublin North Bay Tourism has now organized an open All Ireland Conker and Cone Championship Tournament with two ALL-IRELAND titles at stake. We sent Terry Flanagan, our reporter and esteemed conker correspondent, off to St. Anne's Park in Dublin to meet up with Denis McIntyre, of Dublin Bay North Tourism, to find out more...
For further information about the Tournament, which takes place in St. Anne's Park, Dublin, on October 21st 2018, visit www.dublinnorthbaytourism.com/all-ireland-conker-championship.