PRESENTER: Eric Dempsey
LOCATION: Near Newcastle, Co. Wicklow
We are joined by Eric Dempsey – one of Ireland's leading bird experts, professional guide, author – and of course MOONEY GOES WILD regular.
LOCATION: Eric will be broadcasting from his back garden which is in a rural setting approximately 3km south of the village of Newcastle, Co Wicklow and 1km inland from the East Coast Nature Reserve. He has over one acre and has planted a wildlife garden with a wide range of mature and semi-mature trees and shrubs. He has let some areas go wild so have bramble and gorse. He has a woodland close-by and is surrounded by agricultural fields.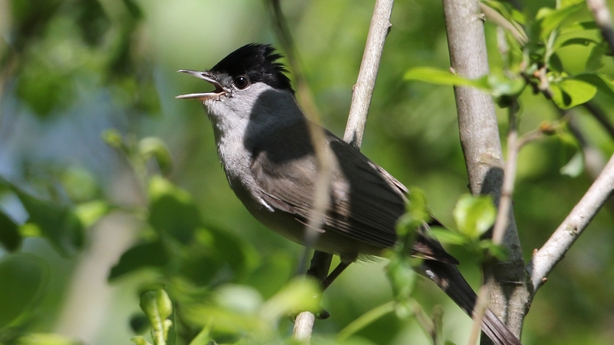 Blackcap (Sylvia atricapilla) Caipín dubh - Photo - Eric Dempsey
TARGET SPECIES: The species he really would love to hear include Yellowhammer and Stock Dove as well as all the usual birds such as Blackcap, Willow Warbler, Chiffchaff, Robin etc.