It was the week that Rishi Sunak took charge.
The British prime minister sacked his hard right home secretary Suella Braverman after making a series of controversial remarks.
He brought back former prime minister David Cameron to cabinet along with the appointments of other moderates to positions of power to appeal to traditional middle class Tory voters.
But he also gave posts to some of the new MPs from the Red Wall seats to satisfy the hard right.
And he reassured that faction by vowing to take on the European Court of Human Rights if it continues to thwart his plans to deport asylum seekers. Another turbulent week for the Conservative party.
But then again when has it really been any different?
Admittedly the plot twists over the past two years have reached new heights of surprise – but the same battle for the soul of the party between the Tory right and more moderate voices has been raging over the past seven years.
In fact, the conflict goes back decades. The same bitter, angry argument keeps revolving around Europe and later migration. All being whipped up by the demands of the Tory membership.
No one needs to explain this to David Cameron, once a pro-remain prime minister who had to resign after losing the Brexit Referendum in 2016.
He was forced into the referendum by a groundswell of demand from backbench Tory MPs that had been grinding on for years.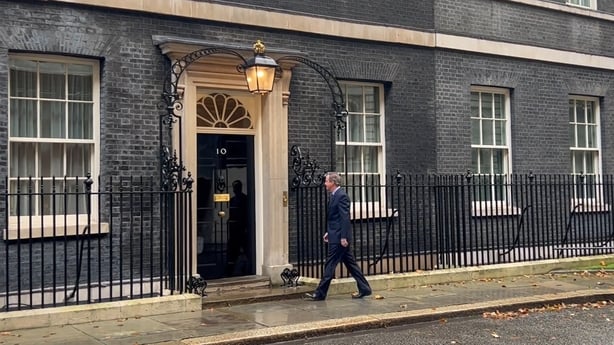 On one occasion, Mr Cameron had faced a rebellion by 114 backbenchers over his failure to include an EU referendum in the Queen's Speech in 2013.
One of his most senior aides had dismissed the significance of this while talking to political journalists.
The aide said it was the members in the local constituency associations who made the MPs do that and that the associations were "mad, swivel-eyed loons".
The outrage that followed publication of those words did nothing to heal divisions in the party.
Those fault lines date back to the days of Margaret Thatcher who derisively labelled her opponents as "wets".
Although an enthusiastic supporter of the Single Market she had opposed continued integration with Europe and has been labelled the "Spiritual Mother of Euroscepticism". She was forced out by pro-Europeans. Then the Eurosceptics came back to haunt and harry her successor, John Major.
During the rebellion among backbenchers over the EU Maastricht Treaty in 1993, Mr Major was picked up on a TV microphone talking about three Eurosceptic members of his cabinet. He was reluctant to sack them in case they would join the rebels.
"We don't want another three more of the b******* out there."
Then, as now, the anger is palpable.
Rishi Sunak was facing a similar dilemma with his cabinet member Suella Braverman.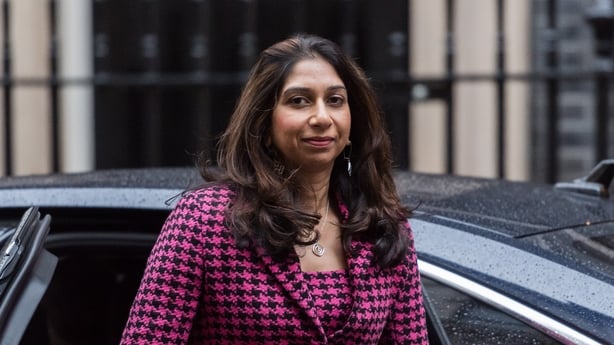 Right-wing newspapers were being briefed that members of cabinet would resign if she was sacked.
There was talk of a massive backbench rebellion among groups like the Common Sense Group and the New Conservatives who represent MPs elected in the former Labour heartlands in the Midlands and the North in the event Mr Sunak held his nerve by sacking Ms Braverman.
The rebellion failed to materialise as it is said Ms Braverman had also alienated some of the hard right with her remarks, particularly on homelessness being a "lifestyle choice".
In her resignation letter she admitted "I may not always have found the right words".
If David Cameron is a symbol of the pre-Brexit divisions, then Ms Braverman has been front and centre of all the rows since then.
As a hardline Brexiteer she was a thorn in the side of her then leader Theresa May.
Ms Braverman was one of the so-called Spartans - a group of 29 MPs who voted against Ms May's EU Withdrawal deal in every single commons vote.
A tearful Ms May resigned as prime minister saying it was a matter of regret that she had failed to get a deal passed.
One of her last words were "compromise is not a dirty word. Life depends on compromise".
But that is not what the Tory right wanted to hear and they preferred the sound of Suella Braverman who promised a hard line on Brexit and migration and being anti-woke in the culture wars.
She became the figurehead of the then-powerful European Research Group who were campaigning for the hardest Brexit possible.
The problem for the Tory right and indeed the party as a whole is that there a contradiction at its heart. The question is whether it believes primarily in traditional values or free marketer ideology.
It was also a basic question thrown up by Brexit as has been pointed out before. Britain could either become more inward with less immigration and more economic protectionism - that is what many Brexit voters thought the plan was - that "things would go back to the way they used to be".
Or else it could become a low tax, low regulation haven for business - the Singapore on the Thames model promoted by Boris Johnson and Liz Truss.
Ms Braverman was on the side of the traditionalists. And she did not waste any time supporting either Mr Johnson or Ms Truss any longer than she had to.
She was the first minister to call on Mr Johnson to resign saying he handled issues "appallingly".
She lasted only 43 days as home secretary under Liz Truss.
The conflict between the traditionalist and free market ideologies came to an explosive climax between the two.
Ms Truss wanted to increase immigration to spur economic growth while Ms Braverman wanted to reduce numbers drastically.
Ms Braverman resigned after what was described as a "90 minute shouting match" with her leader.
Her downfall was brought about by a leaked email. But her resignation letter was a foretaste of what she would say about Mr Sunak.
On Ms Truss's leadership she said: "I have had serious concerns about this government's commitment to honouring manifesto commitments, such as reducing overall migration numbers and stopping illegal migration, particularly the dangerous small boats crossings."
For Mr Sunak she let go completely and accused him of betrayal and of being incapable, weak and dithering.
The Tory membership has never really taken to Rishi Sunak and since he became prime minister his approval rating has bounced up and down in the monthly rankings published by Conservative Home, the website for party members.
Sometimes he has sunk into negative ratings and has never been very popular.
The membership preferred Liz Truss by a huge margin when they got their say in a leadership vote.
Before her resignation Ms Braverman was the fifth most popular in November's rankings - Johnny Mercer, the veterans' minister, James Cleverly, Kemi Badenoch, Penny Mordaunt and Johnny Mercer, the veterans' minister, were the top four."
The Conservative membership now consists of about 172,000 people across Britain (down from 2.8 million in the 1950s).
They have had a hugely disproportionate say in Britain's direction on Brexit since Mr Cameron's aide disparaged them in 2013.
And they are facing electoral meltdown largely as a result of the choices made by those associations.
Nevertheless, many grassroot Tories still feted Ms Truss like a pop star at this year's conference while Nigel Farage was gladhanding as well and being talked about as a future leader of the party.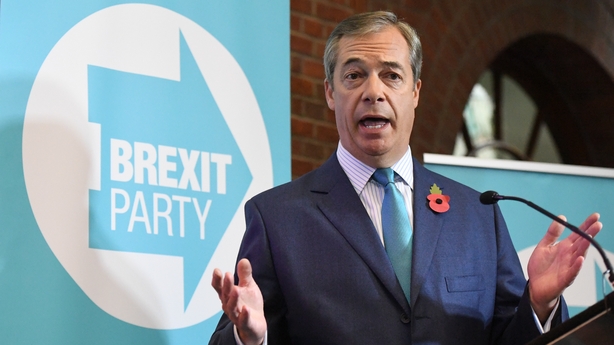 Reform UK, formerly the Brexit Party which was founded by Mr Farage, is currently looking to win over disillusioned hard right and Red Wall voters from the Tories.
However, Mr Sunak has secured the support of an overwhelming majority of the parliamentary party.
He had been accused of being weak and afraid to confront the hard right.
It seems he was just biding his time for the right moment to assert his authority.
It has since been revealed that he was in talks with David Cameron for some weeks prior to the appointment - long before Ms Braverman accused the Met Police of being biased against right-wing demonstrators.
Mr Sunak seems to have solidified his position until a general election which may not happen until October 2024.
But it leaves plenty of time for more drama.