The United Nations Security Council voted yesterday to send troops to quell the brutal gang violence that has engulfed the Caribbean nation of Haiti.
Jeffrey DeLaurentis, the envoy from the United States, which co-sponsored the resolution, said that the council "had made history" by approving this new kind of multinational force.
The force will be led by 1,000 Kenyan police officers and funded by voluntary contributions from member states, including a $100m pledge from the US.
Jamaica, the Bahamas, Antigua and Barbuda have also offered to send security personnel.
The force will operate under a Security Council mandate but not the UN flag, to distinguish it from previous UN peacekeeping missions marred by sexual abuse scandals and the accidental introduction of cholera.
Its mandate will be to support the Haitian national police, counter gangs and secure key infrastructure points, including the airport.
The 15-member Security Council passed the resolution with 13 votes in favour and two abstentions by China and Russia, reflecting a now familiar split in the council.
Haiti's foreign minister Jean Victor Geneus attended yesterday's vote, calling it a "glimmer of hope" for the people of Haiti.
Spiraling violence and Haiti's appeal
Heavily armed gangs are in control of most of Haiti's capital, Port-au-Prince. In the first eight months of this year, some 3,000 Haitians were killed, 1,500 people kidnapped and 200,000 people displaced, according to the UN.
The UN reported that gang members were using extreme sexual violence to terrorise populations under the control of rival gangs. Reprisals by vigilantes against gang members led to a sharp increase in homicides this year.
Haiti's Prime Minister Ariel Henry first called on the UN to intervene a year ago. He reiterated an appeal for the Security Council to "take urgent action" when he attended the UN General Assembly in New York last month.
Henry assumed power after the assassination of the previous leader Jovenel Moise in July 2021. No elections have been held since 2016.
Asked by RTÉ News about whether this new force is in danger of propping up an unelected leader, which may come back to haunt the UN, a spokesperson for the Secretary-General said the motivation was to assist the people of Haiti in the face of a "total breakdown of law and order".
"It's about giving the people of Haiti a chance to rebuild and to live in a society where people can go out of their house, where parents can send their children to school without fear of kidnapping," Stéphane Dujarric told RTÉ News.
"There is a political process and the Haitian leaders will have to come together to respond to their needs of their own population," he added.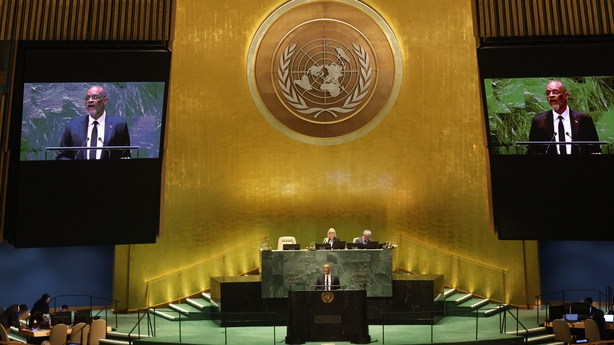 Kenya's police prepare to deploy
Yesterday's resolution welcomed Kenya's offer to lead the force.
The Kenyan parliament will now have to approve the deployment, but Kenya's Foreign Minister Alfred Mutua previously said he expects boots on the ground by early next year.
Critics have pointed to the poor human rights record of Kenyan police, citing torture and extrajudicial killings.
There is a danger of Kenyan police officers "exporting brutality", Otsieno Namwaya, East Africa Director, Human Rights Watch, told RTÉ News.
The resolution states that the deployment will be made for an initial period of 12 months, in accordance with international law, "including human rights law".
It will be reviewed nine months after the adoption of the resolution but it is not clear exactly what the terms of the review will be or how the deployment will be monitored for any human rights abuses.
Russia and China abstain
Explaining his country's abstention, Russia's ambassador to the UN Vassily Nebenzia said that sending armed forces of another state to a country, even at their own request, was an "extreme measure", and that the resolution had not been fully thought through.
During the drafting on the resolution, China had requested language on a total arms embargo to be included. Most of the weapons used by gangs in Haiti are bought in the US and shipped out of ports in Florida.
The language was added but China did not vote in favour, pointing to a need to take a "cautious approach" on interventions in other member states. But there is a complication in China's relationship with Haiti.
Haiti is one of the few UN member states to maintain formal diplomatic ties with Taiwan, which Beijing vehemently opposes. It claims the self-ruling democracy of Taiwan as part of its own territory.
Speaking to RTÉ News, Mr Geneus denied that China had put pressure on Haiti to switch its diplomatic recognition from Taipei to Beijing.
But he had held private conversations with the Chinese mission that he could not share, he told reporters at the UN.