From devastating fires in the north to winter heatwaves in the south, the last three months produced another grim litany of extreme, and often deadly, weather events.
The June-August period was the hottest in history, according to the latest report from the European climate observatory Copernicus.
Here's a recap of how the season unfolded:
Northern hemisphere sweltered
One heat record after the other tumbled over the course of summer in the northern hemisphere.
August was the hottest and driest on record in India.
Japan also experienced its hottest summer on record while in the UK, June's temperatures were off the charts.
And while northern Europe mostly escaped the stifling temperatures this year after a continent-wide scorcher the year before, Spain had no fewer than four heatwaves.
In the US, meanwhile, Arizona's capital Phoenix tied its own record of 18 consecutive days above 43C.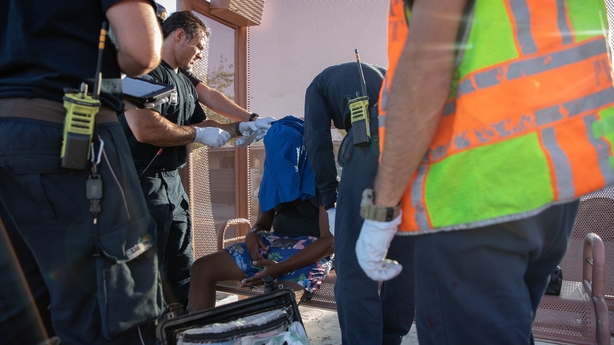 Warmest winter
Temperature records were also smashed in the southern hemisphere, in the depths of winter.
The Argentinian capital Buenos Aires had its warmest 1 August on record at 30 degrees.
Australia's winter was also the warmest on record, creating the conditions for what experts fear will be an intense bushfire season this summer.
Boiling seas
The world's oceans also set a new temperature record in August.
Average sea surface temperatures reached an unprecedented 21C for over a week, according to Copernicus, after months of unusually high temperatures.
Both North Atlantic and Mediterranean Sea had never been warmer in a development blamed for depleting marine biodiversity and contributing to global warming.
Up in smoke
The 8 August fire in the US state of Hawaii was the deadliest wildfire the United States has seen for more than a century.
It burned through around 800 hectares (2,000 acres), killing at least 115 people on the island of Maui and laid waste to the historic town of Lahaina, a former Hawaiian royal seat and a thriving tourist hub.
Canada suffered through its worst forest fire season in recorded history, with nearly 16.5 million hectares, an area the size of Tunisia, going up in smoke.
Wildfires in Greece fanned by dry, windy and hot conditions left 26 dead and burned through 150,000 hectares, including resorts on the islands of Rhodes and Corfu.