Pope Francis is recovering from a three-hour abdominal operation in a Rome hospital that had no complications, according to a Vatican statement.
"The surgery was completed: it took place without complications and lasted three hours," it said.
The 86-year-old was admitted to the hospital this morning for the surgery to repair a hernia most likely caused by scars from surgery in 2021.
"The Holy Father reacted well both to the surgery and the anaesthesia. He is already awake ... he has already cracked a joke," surgeon Sergio Alfieri told reporters.
The surgeon said Francis is expected to take "five to seven days" to recover.
Once his recovery is complete, the pope is not expected to have any limitations on his travels or other activities, he told reporters.
Francis showed no sign that he was about to enter hospital for a planned operation during his general audience in St Peter's Square, where he was in good spirits, stopped to kiss babies and lingered to chat with newlyweds.
Shortly afterwards, he left the Vatican in a simple white Fiat 500 L for the Gemelli hospital, a short drive away, which has a tenth floor suite reserved for popes.
The surgery took place this afternoon and makes it the third hospital stay for Pope Francis since cardinals chose the Argentine as the first Latin American pope in 2013 and is the latest in a string of health problems in recent years.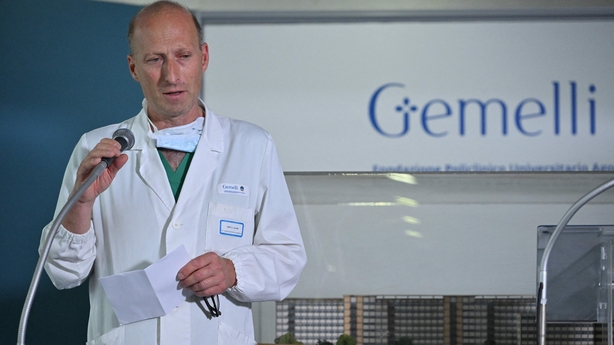 A statement issued before the operation, which was unusually detailed by Vatican standards, said he was expected to stay for "a number of days" to allow for "normal post-operation progress and full recovery of his functions".
It said the surgery was necessary to repair a laparocele, a hernia that sometimes forms over a scar usually resulting from a previous surgery.
It is more common in older people and it can also be caused by obesity or weakness of the abdominal wall muscles.
The pope's medical team had decided in recent days that surgery was required because the condition was causing painful, intestinal occlusions.
Pope Francis is known to be afraid of the negative effects of general anaesthesia, which are also more common in older people.
The statement said the pope would undergo a laparotomy, or open abdominal surgery, and that a prosthesis would be used to reconstruct the abdominal wall.
In a further update, the Vatican said that all of the pope's audiences have been cancelled until later this month.
"As a precautionary measure, all audiences are suspended until June 18," a press officer confirmed.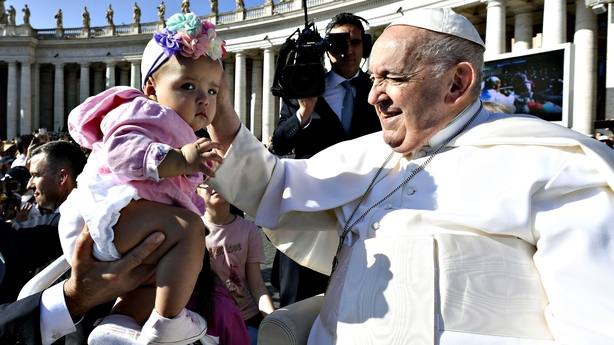 In July 2021, Pope Francis had part of his colon removed in an operation aimed at addressing a painful bowel condition called diverticulitis. He said earlier this year that the condition had returned and was affecting his weight.
He spent around 40 minutes at the same Rome hospital yesterday for what the Vatican said was a "check-up," without disclosing then that it was, in effect a pre-operation visit.
The pope was treated for five days at the same hospital at the end of March with a lung infection and last month skipped audiences for a day due to a fever.
He often uses a wheelchair or a cane to walk because of persistent knee pain. Last year, he did not want to have an operation on his knee because the general anaesthesia for his colon surgery had brought disagreeable side-effects. Instead, he has looked to overcome the problem with laser and magnet therapy.
Despite his health issues, Pope Francis maintains a busy schedule.
The Vatican announced plans on Saturday for him to visit Mongolia from 31 August to 4 September, one of the more remote places he has travelled to.
Before that he is due to visit Portugal from 2 to 6 August to attend the World Youth Day in Lisbon and visit the Shrine of Fatima.
The Vatican yesterday released an official schedule for the trip, giving an indication it was confirmed.
When he was 21, the then Jorge Bergoglio developed pleurisy and had part of one of his lungs removed in Argentina.
The pope has long suffered from sciatica, a chronic nerve condition that causes back, hip and leg pain.
A flare-up of the ailment caused the pope to miss New Year's Eve and New Year's Day services in December 2020, the first time health problems had caused him to miss major religious events.
In 2022, he was forced to cancel trips to Lebanon, Democratic Republic of Congo, and South Sudan because of his walking problems.
He rescheduled the Africa trip and went to both countries earlier this year.
The pope now uses a wheelchair or a cane.