The G7 plans to launch a partnership scheme to diversify supply chains this year, the group's finance ministers said following talks in Japan ahead of a major summit next week.
The ministers did not directly cite a desire to reduce reliance on trade with China or Russia as motivation for the initiative, which focuses on clean energy technology.
But the United States has led a push for export controls on chip components to China, citing national security concerns, and Treasury Secretary Janet Yellen pointed to recent shocks to the global economy.
"Spillovers from Russia's war against Ukraine and disruptions caused by the pandemic have made clear the importance of diversified and resilient supply chains," she told reporters.
Japanese Finance Minister Shunichi Suzuki also said Covid had revealed "the downside of supply chains being too concentrated in one place".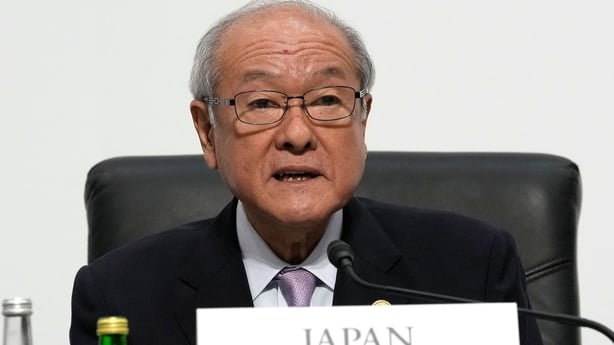 In a joint statement, the Group of Seven's finance ministers and central bank chiefs said they hoped to launch the partnership in collaboration with the World Bank "by the end of this year at the latest".
The scheme, dubbed RISE - Resilient and Inclusive Supply-chain Enhancement - builds on guidance released in April, and will offer interested developing countries "finance, knowledge and partnerships".
How much will be spent on the programme has not been disclosed.
The three-day meeting in the city of Niigata took place just days before the leaders of the group of major developed economies, which also includes France, Germany, Britain, Canada, Italy and the EU, gather in Hiroshima.
Support for Ukraine and the G7's relationship with China is expected to be high on the agenda at the May 19-21 summit, along with nuclear disarmament and action on climate change.
Russian sanctions
As the finance talks wrapped up, the ministers reaffirmed their commitment to put sanctions on Russia and said they were working together to enforce them, but did not announce any concrete new steps to tackle sanctions evasion.
They also stressed the need to bolster financial stability following recent banking sector turmoil, saying their governments "stand ready to take appropriate actions".
Three regional US banks have collapsed since early March, sparking panic among customers and upheaval for the shares of mid-sized institutions.
While vowing to "address data, supervisory, and regulatory gaps in the banking system", the finance chiefs nonetheless asserted that "our financial system is resilient".
The heads of the IMF, OECD and World Bank also attended the Niigata talks, along with finance ministers from Brazil, India and Indonesia.
Discussions were partly overshadowed by the US debt ceiling standoff as the world's largest economy faces its first ever default.
The Congressional Budget Office said yesterday the nation could run out of money to pay its financial obligations by 15 June if politicians fail to agree a deal to raise current limits on government spending.