Australia's flagship carrier Qantas Airways has said this morning that long-serving CEO Alan Joyce will step aside in November, and named Vanessa Hudson as its next chief executive officer.
Ms Hudson, who is currently the airline's finance chief, will be the first woman to lead the century-old airline.
Mr Joyce, aged 56, has been the longest-serving current CEO of a major Australian company, and is considered a towering figure in the global aviation industry. He was born and raised in Dublin.
He served as Qantas CEO during turbulent times as he helped navigate the airline through the 2008 financial crisis, the Covid-19 pandemic, fluctuating fuel prices, and growing competition in the aviation sector.
The flying kangaroo, as its often known, faced a reputational crisis during the pandemic for flight cancellations, cutting jobs and accepting financial support from the government.
Ms Hudson said the airline has been working to rebuild trust among its customers, but she has an uphill task to build ties with the unions, who have had a poor and often bitter relationship with Mr Joyce.
Mr Joyce hired bodyguards in 2011 after receiving death threats over his unprecedented grounding of the airline's entire fleet during an industrial dispute.
Mr Joyce has been a vocal supporter of campaigns for marriage equality, the recognition of Aboriginal people in the nation's constitution and for women's progress in the corporate world.
"There's not many female CEOs in the worldwide aviation industry, and it's a credit to this country that a gay man was appointed 15 years ago to be CEO of the company, and now we have the first female accredited to the board," Mr Joyce said at the news conference.
He said he and his husband would stay in Sydney, focus on community involvement and look forward to other opportunities that may come up.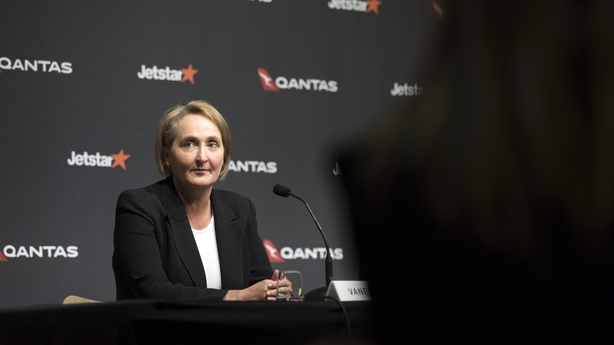 Qantas said Hudson would continue in her current role until taking over as Qantas' 13th CEO at the 2023 annual general meeting.
Ms Hudson will be one of the few female executives leading a major company in Australia, although rival carrier Virgin Australia also has a woman as its CEO, Jayne Hrdlicka.
"I come with an understanding of this organisation that is very deep," Ms Hudson told reporters in her first news conference as CEO designate.
"I think that the experience that I've had, and also recently, in helping manage through Covid, places me in a great position to look forward in terms of all of the investments that are coming with new aircraft, but also continuing to invest in our customers," she said.
Qantas Chairman Richard Goyder said Ms Hudson's handling of the finance and treasury portfolio during the Covid pandemic was outstanding, putting her ahead of almost 40 candidates globally that the airline had short-listed for the job.
Qantas shares were down 2.4% this morning against a broader market decline of 0.25%.
"Vanessa has been market-facing as CFO since October 2019, which will have prepared her well for the very public role as Qantas CEO," RBC Capital Markets analyst Owen Birrell said in a note.