Pope Francis has been diagnosed with a respiratory infection and will require "a few days of appropriate hospital medical treatment", the Vatican said this evening.
The 86-year-old was admitted to Rome's Gemelli hospital for checks earlier in the day after complaining of breathing difficulties, spokesman Matteo Bruni said in a statement. Covid had been excluded, he added.
"Pope Francis is touched by the many messages received and expresses his gratitude for the closeness and prayer," the Vatican said.
The pontiff, who this month marked ten years as head of the Catholic Church, had earlier appeared in good spirits at his weekly audience at the Vatican, smiling as he greeted the faithful from his "popemobile".
However, he was seen grimacing as he was helped getting into the vehicle.
Italian media reported he was taken to hospital by ambulance after suffering from respiratory and cardiac problems.
His appointments for tomorrow morning were cancelled, a Vatican source told AFP.
Francis is due to preside over a Palm Sunday service on 2 April, the start of a hectic week of Easter ceremonies.
The Argentine pontiff suffers from chronic knee pain that has forced him to rely on a wheelchair in recent months.
The Gemelli was the same hospital where he underwent an operation on his colon in July 2021 after suffering from a type of diverticulitis, an inflammation of pockets that develop in the lining of the intestine.
He remained in hospital for ten days. A year later he admitted he was still feeling the effects of six hours spent under anaesthetic during the surgery.
In an interview in January, Francis said the diverticulitis had returned.
Speculation over retirement
Pope Francis had to cancel or curtail activities several times last year because of the pain in his knee and in a July 2022 interview acknowledged that he needed to slow down.
His health has been the frequent subject of speculation, particularly the question of whether he will follow the example set by his predecessor and retire if he cannot continue.
Benedict XVI shocked the world in 2013 by becoming the first pope since the Middle Ages to resign.
The two "men in white" co-existed within the walls of the tiny Vatican state for almost a decade, before Benedict died on 31 December.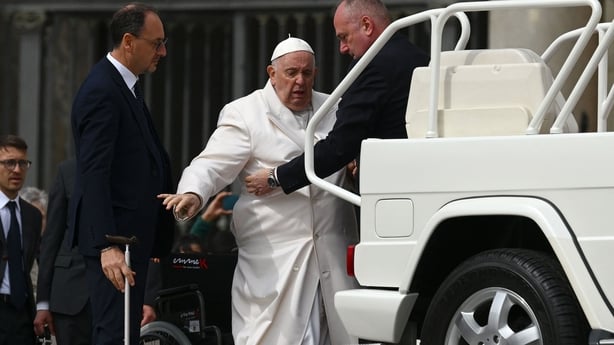 Francis has said he would follow Benedict in stepping down if his health made him unable to do his job.
However, he told an interviewer in February that papal resignations should not become "a normal thing", adding that for the moment it was not on his agenda.
Still active
Despite his advancing age and health problems, Francis continues to travel widely.
Huge crowds greeted him on a visit earlier this year to South Sudan and the Democratic Republic of Congo, a testament to his ongoing popularity.
In the past decade, he has sought to forge an image of a more open, compassionate church, although has faced internal opposition, particularly from conservatives.
Next month, Pope Francis is due to visit Hungary and meet Prime Minister Viktor Orban.
The Argentine almost died when he was 21 after developing pleurisy, an inflammation of the tissues that surround the lung, according to biographer Austen Ivereigh.
He had part of one of his lungs removed in October 1957.
He has also talked about the surgical removal of cysts from the top lobe of his right lung. He insisted he had made "a complete recovery ... and never felt any limitation since then".