Paris police clashed with demonstrators for a third night as thousands of people marched throughout France after President Emmanuel Macron imposed an unpopular pension overhaul without a parliament vote.
Mr Macron's government on Thursday invoked a controversial executive power to force through the bill by decree, which is legal according to the constitution.
The move has caused outrage among the political class as well as angry protests in the street, presenting the 45-year-old leader with one of his biggest challenges less than a year into his second and final mandate.
The growing unrest has left Mr Macron facing the gravest challenge to his authority since the so-called 'Gilets Jaunes' (Yellow Vests) protests four years ago.
The president has since Thursday not made any public comments on the bill to raise the retirement age from 62 to 64 or the ensuing popular discontent.
A source within his circle however said that he was "following developments".
Police banned gatherings on a key Paris square opposite parliament after two nights of unrest at the site, but protesters still rallied for a march in another part of the capital.
Riot police used tear gas and clashed with some in the crowd as trash bins were set on fire at Place d'Italie in southern Paris.
Among them, a 55-year-old woman who said she was there because she couldn't wait until she was 64 to retire.
"I'm already exhausted," said the public health sector employee.
"I sit in front of a computer screen all day. My eyes hurt, my head hurts and I've already had two blood clots."
'Fed up'
Many also demonstrated in other towns and cities around the country after regional unions called for a weekend of protests.
Ariane Laget, 36, was among some 200 people demonstrating in the small southern town of Lodeve.
"We're fed up. We feel like we're being trampled on and no one is listening," she said.
Thousands took to the streets in the western city of Nantes.
"Death to the king," read one placard, in an apparent reference to the president.
Tensions escalated slightly in the afternoon in Nantes as some protesters lobbed bottles at member of the security forces who retaliated with tear gas.
In Bordeaux, in the southwest, police also used tear gas against protesters who had started a fire.
Unions have called for another day of nationwide strikes and rallies on Thursday.
"There is no place for violence. One must respect parliamentary democracy," Digital Transition and Telecommunications Minister Jean-Noel Barrot told Sud radio.
Opinion polls have shown around two-thirds of French people oppose the reform, which will also require people to work longer for a full pension.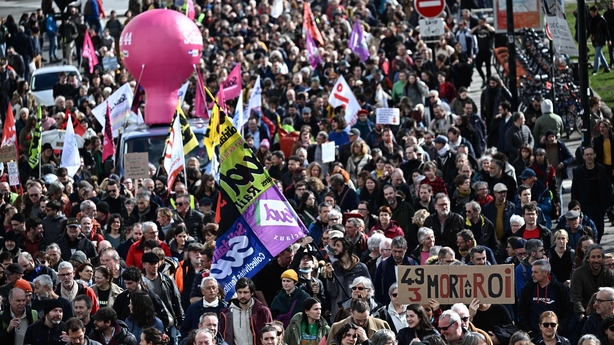 The government has said it is necessary to avoid the system from slipping into deficit, and bring France in line with its European neighbours where the legal retirement age is typically higher.
But critics say the changes are unfair for people who start working at a young age in physically challenging jobs, and women who interrupt their careers to raise children.
No-confidence vote
In parliament, opposition lawmakers have filed two motions of no confidence in the government, which are to be debated on Monday afternoon according to parliamentary sources.
They hope to garner enough support to topple the cabinet and repeal the law.
But Prime Minister Elisabeth Borne's government is largely expected to survive any no-confidence vote.
The motion would need backing from around half the group of opposition right-wing republicans, a scenario seen as highly improbable.
Saturday's protests follow two previous nights of unrest.
Thousands of people rallied in Place de la Concorde opposite parliament yesterday to vent their frustration.
Groups of people threw bottles and fireworks at the security forces, who responded by firing tear gas to try to clear the square. Police said they made 61 arrests.
In the eastern city of Lyon, demonstrators tried to break into a town hall and set fire to the building, said police, who reported 36 arrests.
Refuse strike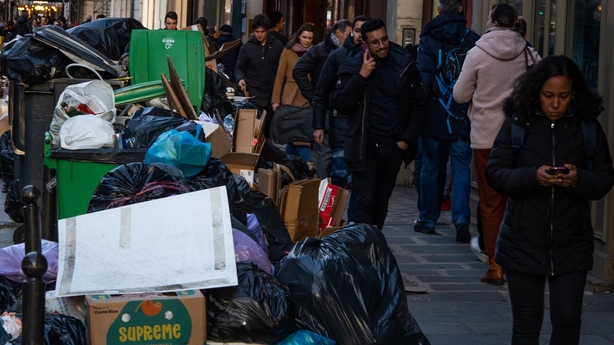 Protests since mid-January have garnered some of the largest crowds in decades, but the popular movement seemed to be starting to wane in the days before the government imposed the bill.
The capital's municipal rubbish collectors have however kept up a rolling strike, leaving an estimated 10,000 tonnes of rubbish festering in the streets, putting off tourists and worrying restaurant owners.
A union representative said that strikers at three incinerators outside Paris would let some garbage trucks through "to limit the risk of an epidemic".
In the energy sector, the CGT union has said strikers would halt production at two refineries by this weekend or Monday at the latest.
Unions from national train operator SNCF yesterday urged workers to continue another continuous strike that has caused major disruption on the network.
Mr Macron put the pensions reform at the centre of his re-election campaign last year.
But the 45-year-old former banker lost his parliamentary majority in June after elections for the National Assembly.
The government used the controversial article 49.3 of the constitution Thursday as it feared it did not have enough backing in the lower house to win a vote on the pensions bill.