Former England footballer turned television presenter Gary Lineker refused to back down after coming under fire for comparing the British government's new plan on illegal immigration to the rhetoric of Nazi-era Germany.
"I have never known such love and support in my life than I'm getting this morning (England World Cup goals aside, possibly)," Mr Lineker, 62, tweeted today.
"I want to thank each and every one of you. It means a lot. I'll continue to try and speak up for those poor souls that have no voice. Cheers all."
The UK's Conservative government intends to outlaw asylum claims by all illegal arrivals and transfer them elsewhere, such as Rwanda, in a bid to stop thousands of migrants from crossing the Channel on small boats.
Rights groups and the United Nations said the legislation would make Britain an international outlaw under European and UN conventions on asylum.
Mr Lineker, a former England striker who presents the BBC's flagship Match of the Day football programme, was warned by the broadcaster to respect its social media guidelines after lashing out at UK Home Secretary Suella Braverman, the minister in charge of the policy, on Twitter.
"Good heavens, this is beyond awful," he said.
He added: "We take far fewer refugees than other major European countries.
"This is just an immeasurably cruel policy directed at the most vulnerable people in language that is not dissimilar to that used by Germany in the 30s, and I'm out of order?"
Braverman, responded to Lineker's comments by telling BBC radio: "I'm obviously disappointed that he should attempt to equate our measures with 1930s Germany. I don't think that's an appropriate way of framing the debate."
Mr Lineker is the best paid presenter at the publicly funded BBC with an annual salary of £1.35m (€1.51m), according to figures published last year.
This is not the first time he has been attacked for commenting on politics, with BBC Director General Tim Davie telling him last year to avoid the subject.
A BBC source quoted by Britain's Daily Telegraph said of Mr Lineker's asylum comments: "We are taking it extremely seriously and we are going to have a very frank conversation with him."
There is no huge influx. We take far fewer refugees than other major European countries. This is just an immeasurably cruel policy directed at the most vulnerable people in language that is not dissimilar to that used by Germany in the 30s, and I'm out of order?

— Gary Lineker 💙💛 (@GaryLineker) March 7, 2023
Mr Lineker has long insisted he is free to express his political opinions as he does not work for the BBC's news or current affairs departments.
However, in October, he was found to have broken the BBC's impartiality rules with a tweet about the Conservative Party.
Responding to Liz Truss, the then foreign secretary, urging a boycott of the Champions League final when it was still scheduled to be held in Russia last year, he wrote: "And her party will hand back their donations from Russian donors?"
Mr Lineker's criticism of new asylum policy was "not acceptable" and "disappointing", Downing Street has said.
Prime Minister's Rishi Sunak's press secretary told reporters: "It's obviously disappointing to see someone whose salary is funded by hard-working British (licence-fee) payers using that kind of rhetoric and seemingly dismissing their legitimate concerns that they have about small boats crossings and illegal migration.
"But beyond that, it's up to the BBC, who I think have said today that they'll be having a conversation with Gary Lineker and it's not for me to comment further."
She was not aware of plans to make a formal complaint to the BBC, saying it was a matter for the broadcaster.
UN rights chief 'deeply concerned' over UK plan
The United Nations rights chief has criticised the draft law, warning it would violate international law.
"I am deeply concerned at this legislation," Volker Turk said in a statement.
"Such a wholesale ban preventing people from seeking asylum and other forms of international protection in the UK would be at variance with the UK's obligations under international human rights and refugee law," he warned.
Mr Turk said the legislation also raised a number of rights concerns, for example by violating the right to an individual assessment, as well as bans on arbitrary immigration detention.
It could also run afoul of bans on collective expulsions and so-called refoulement, or returning someone to a country where they could face torture, cruel, inhumane or degrading treatment or punishment, he said.
"All people compelled to leave their country of origin to seek safety and dignity abroad are entitled to the full respect of their human rights, regardless of their migration status or mode of arrival," he said.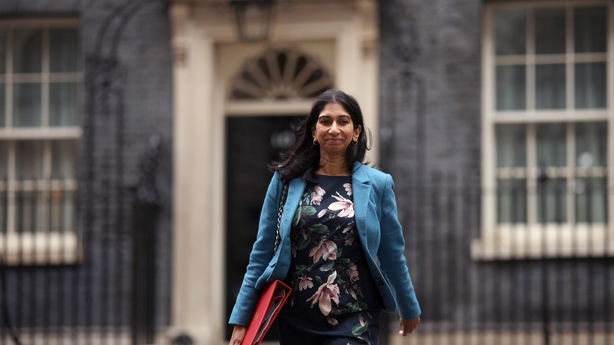 However, Ms Braverman insisted the Illegal Migration Bill did not break the law despite admitting there is a more than 50% chance the legislation may not be compatible with the European Convention on Human Rights (ECHR).
She told Sky News: "We're not breaking the law and no government representative has said that we're breaking the law.
"In fact, we've made it very clear that we believe we're in compliance with all of our international obligations, for example the Refugee Convention, the European Convention on Human Rights, other conventions to which we are subject.
"What's important is that we do need to take compassionate, but necessary and fair, measures now because there are people who are dying to try and get here.
"They are breaking our laws, they are abusing the generosity of the British people and we now need to ensure that they are deterred from doing that."
Tory politicians condemn remarks
The former footballer was also criticised by Immigration Minister Robert Jenrick, who said that the presenter is "so far out of step with the British public".
Mr Jenrick told Times Radio: "My children are the grandchildren of Holocaust survivors and I think those sorts of words should not be thrown around lightly.
"Gary Lineker is paid for by the British taxpayer and it's disappointing that he is so far out of step with the British public."
Tory party deputy chairman Lee Anderson wrote: "This is just another example of how out of touch these overpaid stars are with the voting public.
"Instead of lecturing, Mr Lineker should stick to reading out the football scores and flogging crisps."
In response to those comments, Mr Lineker said on Twitter it was "great to see the freedom of speech champions out in force this morning".