A Russian flag was discovered painted onto the base of Denmark's "The Little Mermaid" statue in what police said was a "case of vandalism" at Copenhagen's most famous landmark and a popular tourist attraction.
It was not immediately known who was behind the incident, a police spokesperson said.
Denmark has been a vocal critic of Russia alongside other Western nations following last year's invasion of Ukraine.
A few puzzled tourists photographed the vandalised statue this morning.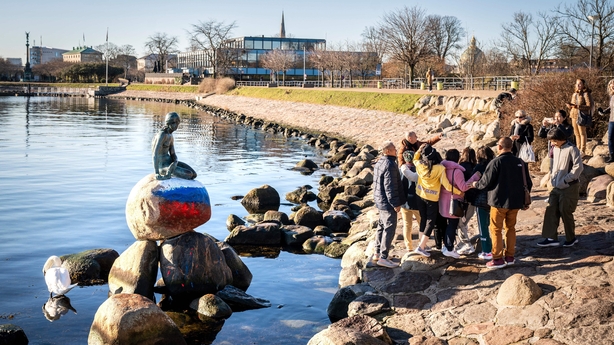 The Little Mermaid - inspired by a character in Danish poet and author Hans Christian Andersen's 1837 fairytale of the same name - is a 175kg statue by sculptor Edvard Eriksen.
The statue, which sits on a relatively secluded waterfront promenade, has been vandalised numerous times over the years - including when the mermaid's head was stolen in 1964 and 1998, as well as when an arm was cut off in 1984.
In 1998, vandals cut off its head again, but it was later returned, before the statue was blown up in 2003.
It has been tagged and painted many times, most recently in 2020 with the mysterious inscription "Racist fish".