The New Zealand government has declared a national state of emergency after tropical storm, Cyclone Gabrielle lashed the North Island.
Minister for emergency management Kieran McAnulty signed the declaration as tens of thousands of homes were left without power after heavy rain and strong winds.
"We expect the impacts of Cyclone Gabrielle to get, unfortunately, worse before they get better," said Rachel Kelleher, Deputy Controller Auckland Emergency Management.
"It's not the time to be complacent," she added.
The cyclone is the second significant weather event to hit Auckland and the upper North Island in just a few weeks.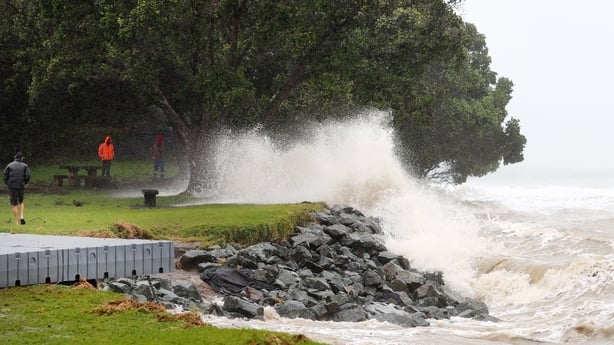 Last month Auckland and surrounding areas were hit by record rainfall that sparked floods and killed four people.
New Zealand Prime Minister Chris Hipkins announced NZ$11.5 million (€6.8 million) package to support community groups such as food banks and to groups impacted by the floods.
Today, many schools and local government facilities across Auckland and the upper North Island were closed and people were being asked not to travel if possible.
Electricity is out for 46,000 homes, mobile phone service is patchy in some areas and trees have come down and roofs lifted off.
Public transport has been disrupted with ferries, buses and trains either suspended or operating on a reduced schedule.
Air New Zealand has cancelled 509 flights and said flights will resume tomorrow when the weather is expected to improve.
Police said they were trying to locate a person who was on board a boat near Great Barrier Island this morning, after responding to reports the boat was in distress.
"The Police Maritime Unit, with assistance from Eagle, have attempted to approach the boat throughout the morning, however conditions have been challenging, and at this stage no one has been located," they said in a statement.
Met service meteorologist Georgina Griffiths said overnight that Auckland and Great Barrier Island could see heavy rain and winds.
"I think parts of Auckland that have not yet seen challenging wind conditions are expected to see gales overnight," she said.
"Storm surge is still coming and might peak with the high tide at 2am for eastern parts of Auckland."
She added that given Auckland was already saturated, some localised landslides and surface flooding was expected.