A new rocket that would double Ukraine's strike range in its war with Russia was included in a $2.175 billion US military aid package, the Pentagon said.
The new weapon, the Ground Launched Small Diameter Bomb (GLSDB), will allow Ukraine's military to hit targets at twice the distance reachable by the rockets it now fires from the US-supplied High Mobility Artillery Rocket System (HIMARS).
The 151km GLSDB will put all of Russia's supply lines in eastern Ukraine within reach, as well as part of Russian-occupied Crimea, which Moscow annexed in 2014.
"As part of the USAI package, we will be providing Ground Launched Small Diameter Bomb to Ukraine," Brigadier General Patrick Ryder told a news briefing at the Pentagon. USAI stands for Ukraine Security Assistance Initiative (USAI).
The aid pledge opens the door to many more deliveries of the GLSDB.
When the new rockets arrive, it will mark the first time Ukraine has seen its rocket range grow exponentially since US furnished HIMARS in late-June last year.
HIMARS have a 77km range and were instrumental in Ukraine's counter offensive against Russian forces, which invaded on 24 February 2022.
In response, Kremlin spokesman Dmitry Peskov told RIA news agency that it was important not to forget what President Vladimir Putin had said in Volgograd yesterday. In a speech, Mr Putin said "we have the means to respond, and it won't end with the use of armored vehicles, everyone must understand that".
France, Italy to send Ukraine missile systems
France and Italy have agreed to deliver mobile surface-to-air missile systems to Ukraine, according to the French defence ministry.
The systems, called MAMBA or SAMP, are a vehicle-mounted battery of medium-range missiles designed to offer protection from airborne threats such as missiles and manned or unmanned aircraft.
The missile systems, jointly developed by NATO members France and Italy, will help Ukraine "defend itself against Russian drones, missiles and aircraft", the ministry said.
The deliveries were a response to an urgent request by Ukraine's defence minister Oleksiy Reznikov made to his French and Italian counterparts to assist with "the protection of civilian populations and infrastructure from Russian air attacks", it said in a statement.
During a visit by Reznikov to Paris on Tuesday, French Defence Minister Sebastien Lecornu had already announced that his country would ship 12 more Caesar truck-mounted howitzers and fresh air defence equipment to Ukraine.
France has yet to commit to sending Leclerc main battle tanks to Ukraine.
Norway orders 54 tanks as it faces 'new Iron Curtain'
Norway has said it will buy 54 new generation Leopard 2 tanks to replace older versions, adding it faced "one of the most difficult security situations since World War II".
Planned for several years, the order will enable Oslo to renew its fleet of 36 ageing Leopard 2A4 tanks, some of which are to be donated to Ukraine.
The Leopard 2A7 order with German defence manufacturer Krauss-Maffei Wegmann is part of a 19.7 billion kroner ($1.96 billion) defence allocation already adopted by parliament.
The exact cost of the tanks was not specified. There is an option for 18 more new Leopard 2A7s.
"We find ourselves ... in one of the most difficult security situations since World War II", Prime Minister Jonas Gahr Store told reporters at the Rena military base.
"We have a serious situation due to the Russian invasion (of Ukraine). I call this a new 'Iron Curtain'", he said.
Norway had been hesitating between the latest generation Leopard tank and the South Korean K2 Black Panther.
The choice of Leopards will enable the Scandinavian country to align itself with its Nordic neighbours -including Sweden and Finland which are vying to join Norway in NATO - and Germany, the government said.
The first deliveries are expected as of 2026 and will run until 2031.
Only 36 of the 52 Leopards Norway bought from the Netherlands in 2001 are still in service.
Oslo announced in late January that it would donate some of those tanks to Ukraine but did not specify exactly how many nor when they would be delivered.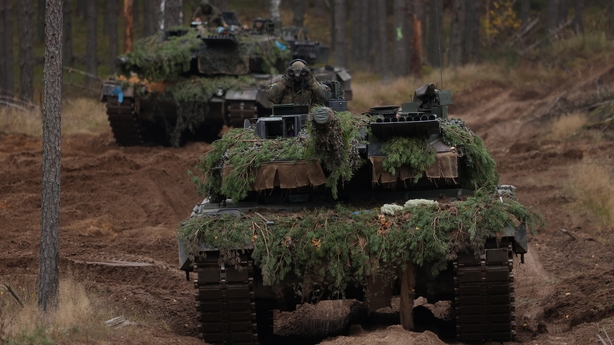 Germany confirms approval tanks to Ukraine
Meanwhile, Germany has approved the export of Leopard 1 battle tanks to Ukraine from industry stocks, a government spokesperson has said at a news conference in Berlin.
The spokesperson declined to comment on the number of tanks that would be exported.
The German government is also in talks on buying back 15 Gepard tanks from Qatar to send there, the Sueddeutsche Zeitung newspaper reported, citing government sources.
The Leopard 1s are not as advanced as the new generation Leopard 2s that Germany and other countries pledged last week, but could be delivered sooner.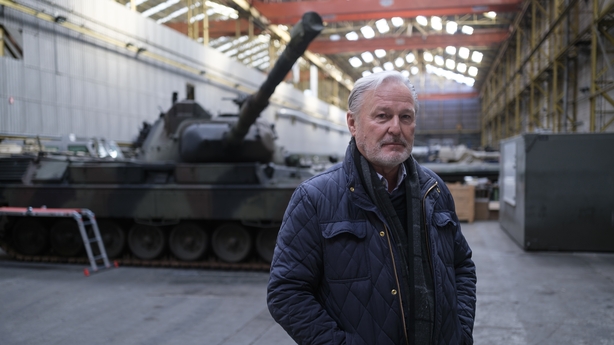 Belgian considers buying back tanks for Ukraine
Freddy Versluys does not like to be called an arms dealer. But he does have a big warehouse full of second-hand tanks for sale.
Standing next to dozens of German-made Leopard 1 tanks and other military vehicles in the chilly warehouse in eastern Belgium, Mr Versluys stressed he is the CEO of two defence companies with a broad range of activities, such as making sensors for spacecraft.
But buying and selling weapons is part of his business too. And it's the tanks that have brought him into the spotlight over the past few days, as he has engaged in a public battle with Belgian Defence Minister Ludivine Dedonder over the possibility of sending them to Ukraine.
While other Western nations have pledged in recent weeks to send main battle tanks to help Ukraine repel Russia's invasion, Belgium has not joined that group, for one reason above all: It doesn't have any tanks left.
It sold the last of them - a batch of 50 - to Mr Versluys's company more than five years ago.
Asked why he bought the tanks, Mr Versluys, said that was his company's business model - it bought unwanted military equipment in the hope that someone else would want it in future.
"There are still countries in the world who have these Leopard 1 tanks. So there's always a possibility either to sell spare parts or to sell additional tanks," he said.
But, he added: "Of course, it's a gamble... Maybe tomorrow we will have to scrap them (or) ten years later they can still be there."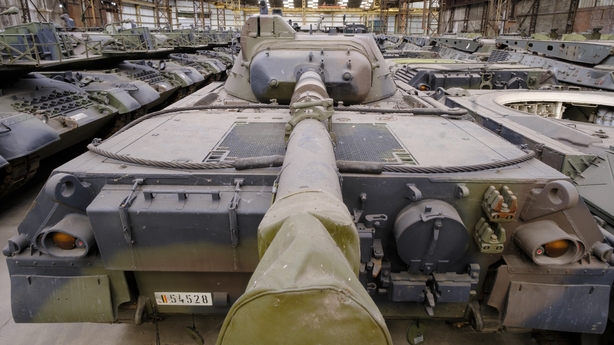 Ms Dedonder has said the government has explored the idea of buying back tanks to send them to Ukraine.
But she has blasted the prices quoted as "unreasonable" and "extremely high".
Tanks sold for €10-15,000 each are being offered for sale at €500,000, despite not being operational, she has said.
We need your consent to load this rte-player contentWe use rte-player to manage extra content that can set cookies on your device and collect data about your activity. Please review their details and accept them to load the content.Manage Preferences
The spat highlights a predicament faced by Western governments as they scramble to find more weapons for Ukraine after almost a year of intense warfare - arms they discarded as obsolete are now in high demand, and many are now in the hands of private companies.
Ms Dedonder hasn't named Mr Versluys's company, OIP Land Systems, in her accusations. But Mr Versluys is sure he is her target. Ms Dedonder declined a request for an interview.
Mr Versluys has taken the unusual step of going public to dispute the minister's assertions, offering a rare insight into the workings of a business that often prefers to keep a low profile.
Mr Versluys said his firm bought the 50 tanks for about €2 million and only 33 were useable.
That would mean a unit price of €40,000 for 50 tanks, or some €60,600 for 33.
He said his selling price could range anywhere from several hundred thousand to close to a million euros but that would include work to refit the tanks, which he insisted could be highly expensive.
Replacing the system that controls the gunfire could cost €350,000 per tank, replacing asbestos in the engine could cost €75,000, he said. Each tank had to be assessed individually.
"We still have to look at what is their actual status and what we have to spend on them to make them suitable," he said.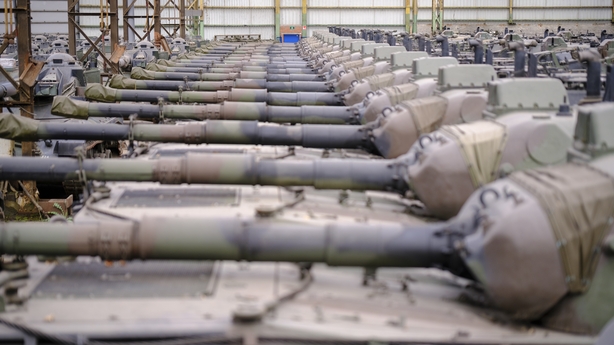 Military hypermarket
As part of his public offensive, Mr Versluys has given journalists tours of his warehouse on the outskirts of the provincial town of Tournai.
It resembles a military hypermarket, filled with lines of Leopard 1 tanks in dusty green and black camouflage and scores of other military vehicles, along with shelves stacked with spare parts and piles of webbing.
In his sales pitch, Mr Versluys also emphasises that refitted Leopard 1 tanks could be battlefield-ready in months - much more quickly than new models ordered today, which will take years to produce.
The Leopard 1 is the predecessor of the Leopard 2 tanks that Germany, Poland, Finland and other countries agreed last month to send to Ukraine.
It is lighter than the Leopard 2 and has a different type of main gun. The models in Mr Versluys's warehouse were last upgraded in the 1990s.
Yohann Michel, an analyst at the International Institute for Strategic Studies think tank, said Leopard 1 tanks would not be as valuable on the battlefield as their successors.
But, he said, they could still be of some use in taking on older Russian tanks and in supporting infantry units, particularly if they were refitted to a high standard.
If Belgium does not buy back the tanks, another country could purchase them for Kyiv.
Mr Versluys said he had held discussions with several European governments about that option.