Taoiseach Leo Varadkar has met with UK Labour leader Keir Starmer at the World Economic Forum in Davos.
It is understood they discussed the Northern Ireland Protocol impasse.
A Labour readout of the meeting said they discussed the need to proceed at pace in finding agreement over the protocol.
"Keir Starmer and Taoiseach Varadkar also discussed the importance of strengthening British-Irish relations, their mutual commitment to that enduring relationship, and talked about areas both countries could work together on in the future," the statement said.
Mr Varadkar earlier expressed regret that the protocol was imposed on Northern Ireland without the support of unionists.
Speaking to the BBC while in Davos, he said the EU was willing to be "flexible" and "reasonable" in negotiations with the UK to achieve "broader support" within Northern Ireland for the post-Brexit trading arrangements.
He said the prospect of London and Brussels striking a deal before the landmark anniversary of the Good Friday peace agreement in April was "very real".
"I do have regrets and a regret that I have is that in the same way Brexit was imposed on Northern Ireland without the support of both communities, the protocol was imposed on Northern Ireland without the support of two communities," he said.
"And that wasn't possible at the time for various reasons, in part because the Executive was not functioning, so there was no-one to speak for Northern Ireland. But that has created difficulties."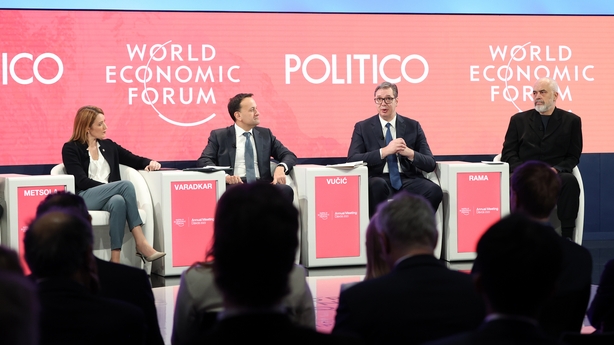 Yesterday, Mr Varadkar took part in a panel debate entitled Widening Europe's Horizons, alongside European Parliament president Roberta Metsola and Serbian president Aleksander Vucic.
He also met political leaders and the chief executives of US multinationals.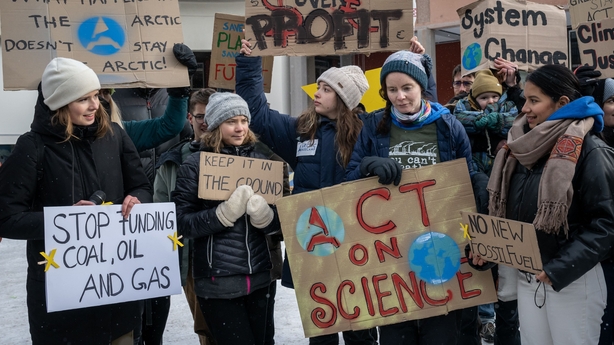 Thunberg, protesters demand 'climate justice'
Separately, Greta Thunberg and other young climate activists held a small protest accusing the global elite at Davos of doing little to save the planet.
Some 30 protesters gathered in freezing temperatures down the road from the WEF congress centre, holding signs reading "SOS" and chanting "What do we want? Climate justice! When do we want it? Now!"
"One thing I don't think we realise and feel and comprehend in places of such wealth and power and greed is that planet Earth around us is in immense, immense pain," said Pakistani campaigner Ayisha Siddiqa, who attended WEF panels this week.
"The delusion of this event is so absolutely ridiculous. It's horrendous."
Ms Thunberg, who was briefly detained by police in Germany earlier this week during a protest against a coal mine expansion, did not speak during the Davos demonstration.
She participated in a panel discussion on the sidelines of the WEF on Thursday, where she accused the global political and business elite attending the forum of "fuelling the destruction of the planet".
Reporting by PA, AFP