Ukrainian President Volodyrmyr Zelensky has issued a "call for speed" in giving aid to Ukraine, warning that "tyranny is outpacing democracies".
"The time the Free World uses to think is used by the terrorist state to kill," he said, amid rising pressure on Germany to greenlight exports of its heavy Leopard tank to Ukraine.
Addressing the World Economic Forum in Davos by video link, Mr Zelensky told assembled prime ministers and business leaders that speed was of the essence in providing heavy weaponry.
"The supplying of Ukraine with air defence systems must outpace Russia's next missile attacks," he said. "The supplies of western tanks must outpace another invasion of Russian tanks."
At the forum, Mr Zelensky was asked whether he was worried about his own personal security after his interior minister was killed in a helicopter crash. He said he was not worried.
"My views haven't changed. We need ammunition, I'm in no hurry anywhere," he said.
The Ukrainian leader first addressed the forum last May, nearly three months into the war, but before Ukraine's successful counter offensives in August and September which resulted in the liberation of huge swathes of territory.
Since then the brutality of the war has intensified as Russian and Ukrainian forces engage in a grinding bloody battle along the contact line in eastern Ukraine.
Kyiv says it has a narrow window to push Russia further back, or to prepare for a Russian offensive in the spring, but for both options they need western battle tanks.
While America, Germany and France have provided infantry fighting vehicles, the focus now is on battle tanks. There is a growing clamour for Berlin to permit the export by other NATO members of German made Leopard 2 tanks, and for Germany to send its own tanks.
Speaking ahead of President Zelensky, German chancellor Olaf Scholz made no reference to the tank issue. However, he said Germany had poured €12 billion into economic, humanitarian and military support for Ukraine and that support would continue.
He also told delegates that Germany's energy supply for this winter is secure, adding that the ability of Europe's largest economy to swiftly wean itself off Russian gas has shown how flexible and speedy it can be.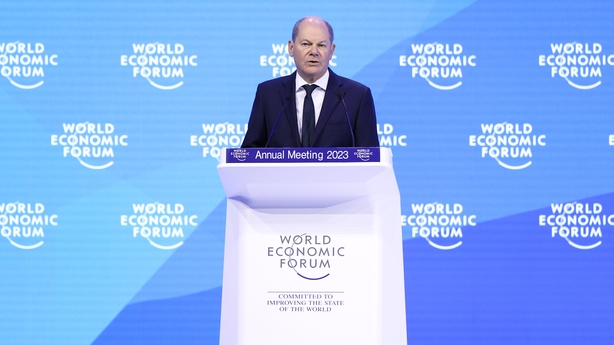 In an upbeat speech, Mr Scholz highlighted efforts to get over the energy crisis unleashed by Russia's invasion of Ukraine, including the swift creation of liquid natural gas terminals.
These terminals will help replace Russian pipeline gas that used to account for half of Germany's gas imports.
This is the first winter gathering at Davos since before the pandemic and delegates at the Swiss mountain resort are contemplating the chill winds of global recession and the deepening impact of Russia's invasion of Ukraine.
Taoiseach defends trip to Davos
Taoiseach Leo Varadkar and Minister for Finance Michael McGrath are arriving in Davos later tonight and will take part in a series of events tomorrow.
Mr Varadkar defended his trip to Davos and said he would only spend a day and half at the Swiss ski resort.
He added that he would have a busy schedule of engagements which would otherwise take weeks to organise.
Mr Varadkar was responding to People Before Profit's Richard Boyd Barrett who said that his attendance raised much bigger questions than the controversy surrounding Minister for Public Expenditure Paschal Donohoe.
Taoiseach @LeoVaradkar has said some people are "fur coat and no knickers" and questioned whether an Oxfam report on inequality looked at gross wealth or net wealth. He added that some Irish billionaires don't live here and don't keep their assets here | https://t.co/EaBcfxbxmd pic.twitter.com/Oozv1rcqnA

— RTÉ News (@rtenews) January 18, 2023
Mr Boyd Barrett raised the issues of "gross inequality" between the "super rich" and those being "crushed" in the housing and hospital crisis and referenced a report by the charity Oxfam.
The Taoiseach said that many of those named as billionaires in the report are "fur coat and no knickers" and questioned whether the report was dealing with gross wealth or net wealth.
Mr Varadkar said many of theses individuals did not live in Ireland and do not keep their assets here.
With additional reporting by Tony Connelly, David Murphy